UNDERTOW Milgram Silverdust Records (2006)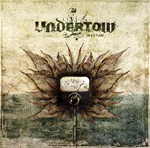 Undertow's imminent release Milgram manages to provide a reasonable amount of variation whilst staying in keeping with the hardcore genre and Undertow's own style. It changes from being fast and furious to slower but still heavy and chugging. There is one band that spring to my mind when I think of aggression in this style - Pantera. And like Pantera, Undertow are able to play both their fast and slow material well and Milgram is composed in a simplistic, uncomplicated way.

The album kicks off with a very nice doomy intro, and then forges ahead into Stomping Out Ignorance, two more fast-paced tracks followed by a slower, almost doom, tempo in Homemade Funeral. This is not, however, a ballad - these guys know how to keep the heaviness in their slower music. There is also a more typical ballad in This Is The Worst Day ... Since Yesterday, which is pretty enough but didn't fire my imagination. This is followed by what is probably the album's most brutal track, D- Mood and then we have the outro which is pretty much the same as the intro.

There are two main faults I find with this album. The first is to question its originality - as I have already mentioned above they do remind me of Pantera and also Crowbar a great deal and I couldn't say that they differ enough for my taste. It may be that this is because I spent my younger years listening to Pantera and my ears aren't attuned to hearing stylistic differences. It doesn't seem to offer anything new. I would say that they do differ to Pantera and Crowbar in some of the sound effects they use but unfortunately those same effects don't particularly appeal to me. The other fault would be that it doesn't particularly move me. I can listen to it happily enough but I wouldn't choose to play it.

The album does not contain anything much in the way of complication such as guitar solos. It is simple, heavy riff-lead hardcore. For its genre it lives up to expectations and it may well please hardcore fans. Undertow have been going twelve years and there is a certain maturity in their composition; although simplistic this is not always a bad thing and inexperience sometimes leads to over-complication.

All I can say is that if you like Pantera, Crowbar or maybe even Slipknot, give it a try, you may love this album. If you like hardcore, watch out for the Undertow!
***
Review by Amanda Hyne