Up until a year ago, my relationship with Patrick Savelkoul, vocalist and founding member of Callenish Circle, was strictly professional. The release of the band's 5th studio album "Pitch Black Effects", though, allowed me to become better acquainted with the frontman's artistic side, and brought this relationship to a whole new level. Patrick was very generous in answering my questions, and more than eager to prove that there are some Dutch extreme metal bands that are not afraid to experiment with their music.
Hi Patrick. I was really looking forward to talking to you again, and what better occasion than the release of the band's 5th studio album. How has this past year been for you and the band?
Patrick: Hey dude… cool to hear from you again! Last year we have been working really hard to get the new album written, recorded, mixed and mastered. The year 2004 we more or less had a sabbatical on the live-front since our drummer Gav was really occupied building his own house. So we only played a couple of Dutch headline shows early 2004, a few festivals during summer and a mini-tour with Dismember in September. Not that much compared to our live-activities in the 2 years before. Anyway halfway though 2004 we started working on our new album that we recorded, mixed and mastered during the spring and the summer of this year. In the meantime (late 2004) we also re-released our complete pre Metal Blade Records history on a 2 CD (titled Forbidden Empathy). That's basically what we did the over the last 1,5 years.
Rene 'Rocco' Rokx (bass) is no longer a member of the Callenish Circle family. What is the reason for his departure, and why did that happen a month before the release of the album? Have you guys parted ways in a friendly manner?
Patrick: Rocco simply didn't have the time and motivation anymore to combine Callenish Circle with his daily job and his own metalpub (Ed & Rocco's). He hardly showed up at rehearsals when we were working our asses off to write the new album, so he also didn't contribute to the new album musicwise. Eventually (with just a month before the recordings started) we decided to continue without him and asked him to leave the band permanently. A big risk since we didn't have a replacement yet by that time.
Anyway he fully understood our decision and there are no hard feelings whatsoever. In fact we will play a last goodbye show tomorrow in his pub Ed & Rocco's. I mean he was part of the band since 2004 and on a personal level he's still a cool guy but we simply had to move on. You must know it takes a lot of time and energy to play in a band like Callenish Circle. Just think of weekly rehearsals, playing shows/festivals/(mini)tours, writing new songs, recording albums, doing interviews, taking care of business matters etc etc. So you really have to be 110% dedicated otherwise it doesn't work.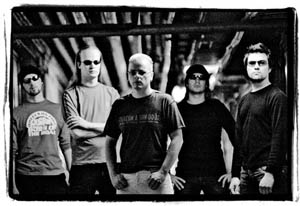 You have already announced that Wim Vossen (Stormrider) is going to help you with the bass guitar duties on the upcoming tour. Is there any possibility that he will become a permanent member of the band? Which are the qualities that a musician needs to have in order to join your team?
Patrick: Wim 'Tha Fox' Vossen already played a couple of shows & festivals with us and it really feels good to have him in the band. He's a friend of the band for a long time already and to be honest I think Wim was the missing link all these years. As you know we had quite some troubles finding the right bassplayer. After playing a couple of rehearsals and one festival it felt as if he was in the band for more then 10 years already and also on a personal level he's a really great guy. So as far as things look now he will become a permanent member soon. We will make a final decision by the end of the year but as everything keeps on going like now he will definitely join Callenish Circle permanently.
What it takes to become a permanent member in Callenish Circle… well first of all you need to be a capable musician which means you have to play really tight and besides you need to have sufficient technical skills to play our material. Furthermore you need to have a good pair of ears and the capacity to contribute to the songwriting process. Even though it's mostly Ron and Gav being responsible for the basics of a new Callenish Circle song there is still enough room for input from the other members. But what's maybe even most important… you need to be 110% motivated and dedicated to play in Callenish Circle as it really takes a lot of blood, sweat and tears and you often have to bring sacrifices in your social (family)live. We simply can't have the Callenish-train slowed down by a member who's not willing to invest the same time and energy as the rest of the band members.
The new album has been given the title "Pitch Black Effects". How does this titled reflect the musical context of the album?
Patrick: Since Gav is responsible for the albumtitle I will have him speak a few words on this…
Gav: A few years ago I was in Berlin visiting the Jewish museum. Besides the whole Jewish history the most impressive part was (regrettably) everything concerning the holocaust. One room in the museum was created to give the visitor an impression of how it would feel to be locked in one of the camps. You must imagine to be in a concrete building ; pitch black, cold, humid, alone, feeling really tiny, desperate and the only light was too far way and unreachable. For some reason this made a huge impression on me and when I read a poem a few months ago it immediately reminded me of my visit to that museum. The poem told a story of someone in a hopeless situation, who got their energy from really simple things, like this beam of light coming into the room every morning. The poem described this experience as coming from a completely dark environment (pitch black) into a light environment. What you get is this overexposed effect. Besides the title ´[PITCH.BLACK.EFFECTS]´, the song 'Schwarzes Licht' describes this whole story and the overexposed effect also comes back into the artwork.
Most Thrash/Death Metal outfits that originate from the Netherlands are mainly influenced by the American Death Metal scene, but in Callenish Circle's case, inspiration comes from various "sources", the most important of which is Scandinavia. Do you find it more challenging to create songs which combine all those different elements, rather that just focusing on one specific style of music?
Patrick: Indeed… over here almost everybody seems to play US styled Death Metal… fast, faster, fastest… which I personally find pretty boring but that's just my personal opinion of course. Music-wise, we are indeed partly influenced by the Scandinavian sound but on [P.B.E.] we are floating more and more away from that sound. For the new album we wanted to explore some new fields and experimented with new influences. As you can hear we added quite some electronic soundscapes to the new album, for which Gail Liebling (also producer of the album and our live soundengineer for a long time) is fully responsible. Gail is not really involved in the metalscene so he's also not familiar with all these new metalbands. That's definitely an advantage cause he's listening with really fresh ears, without being influenced by other (metal) bands. Furthermore the new album sounds groovy as hell and we also experimented with different drumpatterns, different kinds of guitar riffing and the vocal lines were also worked out really thoroughly. All this in order to create a fresh, modern and variating sound but ofcourse without loosing the typical Callenish trademarks from the past. Personally I find it pretty boring to listen to an album that sounds 100% Death, Black or Thrash. With this album I dare to say that we created something really fresh that is difficult to categorize.
I remember reading some old interviews where you mentioned that the style and sound of the band has been evolving throughout the years. Is "Pitch Black Effects" the result of the same musical process that started with the release of "Drift of Empathy" back in 1996, or did you follow a totally different "musical vision" this time round?
Patrick: Definitely yes… if you listen back all our releases throughout the years you will notice that on each new album we developed musicwise but without doubt it was a natural development. Of course, if you compare our demo from 1995 with the new album [P.B.E.] you will hear a big difference but it would have been really questionable if we would still sound the same as in 1995/1996. I don't think we would still be together if we wouldn't have developed our sound throughout the years… as a musician you need to be challenged again and again and for us it's no challenge to record the same album over and over again. That's why all our albums sound different but without loosing the typical Callenish Circle trademarks that are present on every album.
When did you guys start working on the ideas that were to take form in the ten songs that are featured in "Pitch Black Effects", and how did you envision this release prior to its creation?
Patrick: Well basically we started working out some global ideas early 2004 but it wasn't before autumn 2004 that we actually started rehearsing and writing new material in the rehearsal place. At home Ron and Muuk already worked out some global ideas though. One thing was really important and that was that we were not going to record another album in the vein of F_P_D and MP//YP. For the new album we really wanted to explore some new fields and add some fresh elements to our already existing sound.
Can you explain to us what is the process of the creation of a Callenish Circle song? Do you all get involved in that process, or is it the result of a few individual members? Are you the person that makes all the big decisions, seeing as you are the one that formed the band?
Patrick: Musicwise Ron (guitarist) and Gav (drummer) are responsible for the basics of a new song. Mostly Ron writes new guitarriffs at home (sometimes assisted by Muuk, the other guitarplayer) and when he has enough ideas he brings them to the rehearsal place and together with Gav he starts building up the song based on a certain songstructure. The other members can give their opinion as well and as a band we keep on changing details untill we are 110% satisfied with the song. So it can take quite some time before a new song is completely finished and even in the studio minor changes might occur when it turns out that there is still room for improvement. For this album we bought a multi-track recorder so we were also able to record demo-versions of all songs with a good soundquality. This was an advantage 'cause we were able to judge the new material already at a pretty early stage and so we had sufficient time to change and adapt the material if that was necessary.
Since I am also taking care of the management and bookings I make a lot of decisions businesswise yes but real important matters are usually decided by the 3 members that are already active in the band since 1994. That's Gav, Ron and myself.
I have already established the songs that I found more to my liking, but I am really interested to hear what your personal favourites are, and the reasons that makes them such. Can you make a small presentation for each song, by giving an explanation as far as both the musical and lyrical context is concerned?
Patrick: Personally, I really like 'Ignorant' and 'Guess Again' because of the cool vocal-lines. Furthermore 'This Day You Regret', 'Behind Lines' and 'Sweet Cyanide' are great to play live too. So basically these 5 songs are my personal favorites on the album but that doesn't mean I dislike the other 4 tracks of course.
I saw that you guys posted the song "Ignorant" on your official website. Why did you choose that specific song? Does this song summarise the feeling of the whole album?
Patrick: Yes and no… 'Ignorant' contains some new and fresh elements that we wanted to pre-present to the metalworld but that doesn't mean the rest of the songs are all in the vein of 'Ignorant'. Personally I think we made a very variating album and no song sounds similar to another. Every song sounds has its own identity and that's what we aimed for while writing the new album. I mean it's no use to write 4-5 the same sounding songs for 1 album.
One of the things that I really liked about "Pitch Black Effects" was it's clear and powerful production, which gives an extra colour and strength to your ten compositions. Some bands find it quite daring to work on their sound with more than one person - yet you guys used three different people! Was that a decision that you made as a band, or was Metal Blade also involved?
Patrick: Thanx… we are also very satisfied with the sound of the new album. It was a decision that we made completely on our own so Metal Blade Records wasn't really involved in this decision. Of course they had to agree on the budget. Anyway for us it was clear that we were going to record the new album with Gail Liebling as producer. He's our live engineer for a very long time already and he exactly knows how CC should sound. Definitely since he was also going to contribute a lot with his electronic soundscapes it was an absolute must to have him involved in the recordingprocess as well. We choose to have the album mixed by Tue Madsen 'cause he produced some very good sounding albums lately. Last but not least we decided to work with Peter Neuber (Mega Wimp Sound) again for the mastering. He's a real mastering specialist and he really knows how to boost an album to the maximum. We already worked with Peter on our former album MP//YP and he did an excellent mastering for that one so it was obvious that Peter would master the new album as well. All in all this triple combination worked out really well… as you can hear yourself.
How long did it take to record the album, and how demanding was the whole process? Did you guys also have to travel to Denmark and Germany, or did you leave matters in Tue Madsen and Peter Neuber's capable hands?
Patrick: We recorded the album over a period of 2 months but in working days it must have been about 4 weeks. Then Gail and Ron headed to Denmark for a week where they mixed the album together with Tue in his Antfarm Studio. Then the mixed recordings were send to Peter and it took him a couple of weeks to master the album but I am not sure how long he spent in days on the album since nobody of us was present while he was doing the mastering.
Patrick, you used to work in the promotional department of a record label, so you are totally aware that even the best of albums needs good promotion - especially nowadays, with hundreds of albums being released each year. What are your plans for promoting "Pitch Black Effects", and which of the elements of the album are the ones that will hopefully attract the attention of people?
Patrick: At the moment we are still in the middle of the interview campaign organized by Metal Blade but next year we aim to play as many interesting shows, festivals and (mini)tours as possible so 2006 is fully reserved for playing live and we also won't write or record a new album next year so we can fully concentrate on promoting the album.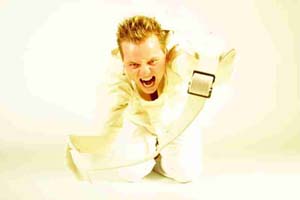 Would you say that Callenish Circle's music attracts a specific audience, or do you have people with many different musical tastes visiting your shows?
Patrick: I think we more and more attract an open-minded audience… I mean our sound is hardly to be labeled as pure Death, Thrash of whatever Metal anymore, since we use quite some different influences and elements in our music. Definitely on our new album where we experimented a lot with the electronic stuff.
When it comes to touring, you always seem to focus on Germany, the Netherlands and the neighbouring countries. I understand that these are the areas where you are most popular, but what about the rest of Europe? You must have people from other countries expressing their interest in the band!
Patrick: Well these matters are not only in the hands of the band or the band's management. When we go on a European Tour the tour agency books the dates and the band doesn't really have an influence on that. But so far we have played quite a few European countries (UK, Denmark, Germany, Belgium, France, Spain, Austria, Switzerland and Czech Republic). I agree it's about time to play in the rest of Scandinavia and some other Eastern European countries but as I said it all depends on the booking agencies and the local promoters in these countries.
Do your plans to promote "Pitch Black Effects" live only include festival dates, or are you also going to play in normal venues? Which of the two do you prefer?
Patrick: Yes we are also going to play regular shows in venues… just a coincidence we got booked for a couple of festivals now. Personally I really like to play big festivals with a big stage cause I can really perform as a frontman is supposed to do. On the other hand, playing a clubshow is cool because of the more personal interaction between band and audience.
You have made quite a few interesting statements in the past, the most important of which was that you are not willing to play for any other band other than Callenish Circle. Do you continue to support this idea today?
Patrick: Yep… I simply don't have time to do another band aside from Callenish Circle. When Callenish Circle will quit one day I will probably not continue my career as a vocalist in another band, because it will be really hard to put the same energy and dedication in someone else's band. But as always never say never… it's just how I look at things right now.
The first ten years were quite difficult for the band, but now it feels like everything is working well. I am sure that many new bands are facing the same problems that you did back in 1995. What is your message to them?
Patrick: Always keep on doing your own thing and believe in your own music, don't follow trends or hypes, never give up and last but not least enjoy what you are doing 'cause that's the most important of playing in a band eventually.
Are there any new bands that you have recently heard that you believe deserve our attention?
Patrick: To be honest I haven't heard that many metalbands lately so that's a pretty difficult question for me right now.
Patrick, thank you very much for taking the time to answer those questions. I hope to see you soon in London. A message to your fans.
Patrick: Thanx for the interview and all the best! See you on the road in 2006! In the meantime keep an eye on our websites: www.callenish-circle.com or www.myspace.com/callenishcircle
Cheerz, Pat.
---
Interview © 2005 John Stefanis