If any past attempt to invest in the music of Construcdead left you with the impression that they are just another Soilwork-influenced outfit, then you probably haven't yet listened to their latest full-length release "The Grand Machinery". Pure Metal offered it's hospitality to guitarist Rickard Dahlberg, who explained how the recent changes in the band's outfit helped them release one of their heaviest albums to date.
Hi, guys! Quite a few interesting things have happened to the band this year, mainly the release of your third album, 'The Grand Machinery'. How satisfied are you with the result?
Rickard Dahlberg: We are more than pleased with the result of this album, I wish we had made this our second album instead of Violadead. This album represents all that we are, and stand for, this is the real Construcdead. No boundaries. Everything on this album is as good as we could make it, and I still listen to it every day, even though I've had it since April. So I guess that says it all. A superb album. Every one of us is more than pleased with the final cut.
The band has been around since 1999. What do you feel you have accomplished so far with 'Construcdead'?
Rickard Dahlberg: Well, we haven't been touring as much as we have wanted to, but hey, you can't have it all. But still, we have been around here and there and we have made some very good friends over the years, got to prove ourselves on stage, off stage. But most importantly for all of us in the band, is that we have come so far that we've got a record deal. That means much. To be able to record your own music and release it, so that people can get a chance to hear what we think music should sound like. A lot of people never get that chance, we are more or less blessed with that gift.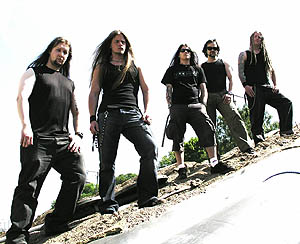 Is 'The Grand Machinery' a concept album in any way? What 'grand machinery' are you alluding to exactly?
Rickard Dahlberg: Hmm, concept.. Well I guess what Jens (Vocals) wanted to say with "The Grand Machinery" is that we are all part of a big system, nothing you can ever escape no matter how hard you try. 'Cause everybody in this world needs to fill some part to make the Grand Machinery work, roll smoothly. It's like you try to do something different, like start working out or running every day or so, in just a while you get stuck with it, routine, no matter what you do, you always end up with a schedule. That's The Grand Machinery. An everlasting wheel. That just keeps turning and turning, still ending up the same way.
You lost two of your band members (Peter and Johan) days before you started recording the new album. Did this affect the final product at all? Did the new members influence the album with their own input or did the songs already have a finished form when you stepped into the studio?
Rickard Dahlberg: Well, they didn't leave the band, they were kicked out 4 days before we started recording. We just felt that they didn't put energy at all in the band, never rehearsed, didn't write lyrics and so on. So we took the decision to kick them from the band rather than having them in the studio, complaining and coming with ideas to songs that we already had finished. So the recording couldn't have gone better, it was very relaxed with just the 3 original members, Jocke the producer and new vocalist Jens Broman, who did an amazing job in just 4 days before we entered the studio. He has got it. He wrote lyrics, and dedicated himself 100% for this recording. I don't now anyone else who would have done something like that in such short time, poor guy had hardly even heard the songs when he started recording vocals for it. But it went great.
This is the second time you have chosen the Fear and Loathing Studio do you feel that you have found the band's natural environment there? Will you go there again for your next album?
Rickard Dahlberg: Hell yeah!! Jocke Skog is THE MAN!! He brings out the best in all of us! He is a machine, all he needs is coffee!! He has such great ides on how things should sound, how we should play certain riffs, etc. I can't think of a better place to ever record an album than in Fear and Loathing studio, we really feel at home there, everything is just very relaxed. You don't even feel that time passes you by there. It's just fun to be there.
What made you decide to release the four-track EP 'Wounded' months before the new album. Did it serve as a 'taster', perhaps for the new sound the band has adopted for 'The Grand Machinery'?
Rickard Dahlberg: Well, yes and no, we wanted to try out the studio before we decided to record a full length album, and it gave us some inspiration to write some of the songs that came on The Grand Machinery. We also wanted to get the "Wounded" video out, so to release an EP, was just a fun thing to do, but also to get people to see that we had gone back to the sound that we started out with.
Where do you see the differences and similarities between 'Violadead' and 'The Grand Machinery'?
Rickard Dahlberg: Ha.., well we are much rougher now.!! Similarities, You can still hear some of the smooth riffing on some of the songs on TGM, but that is also all. This album is so much more than Violadead ever was. The sound for starters, now it is raw, in your face, explosive. Just krank up the volume on the opening track and you'll see what I mean, it's like standing right in the middle of a war! Violadead never even got close to the same hard sound. We are more aggressive now than ever before, more structured on the songs, real songs, not just riff after riff on each other. But a red line on all of the songs.
What major changes have taken place in the band in-between the two full-length releases?
Rickard Dahlberg: Well, new members. And a harder sound than before, now we actually feel like a "family" - a Construcdead family, well bound together. Everybody is good friends, we hang out together, drink beers, play videogames and stuff like that. We didn't have that before. Now everybody is happy, I mean it is really fun to go to practice these days, I didn't feel that before. I guess that'll show on stage as well, we all trust each other.
What is the best way of describing the band's current 'sound'?
Rickard Dahlberg: Hmm, I think the best way is to listen to the new album. I can never describe it well enough, 'cause people always have their opinion on how things should sound. For example: we play death, but some people will call it 'melodic Thrash', so the best way is to listen to the album, make up your own mind, and "categorise" us. It's a hard album. Best we've ever done so far. But we've just started.
Did Peter Wicher's role of producer and engineer on 'Violadead' provide publicity to the band? Do you think he 'shaped' the sound on that album to a certain extent, such that you could really hear the Soilwork influence on your music?
Rickard Dahlberg: Yes, Peter was a great help during the recording of Violadead. He created the sound on that album, he did a lot of work on that album, and he really put his heart and soul into his work on the album. Sadly, we were drawn over the same line by all magazines and radio stations etc. "The Soilwork clone".. That wasn't the intention - we wanted Peters help on the album because he is a great songwriter and knows how things should sound. But I guess some people can't see that. Well, we are still very good friends with the Soilers, and if we get a chance to work together again, we will.
Can you tell us about the cover art you choose for your releases - both 'Violadead' and 'The Grand Machinery' have some quite disturbing imagery. What are you trying to convey to us with these illustrations?
Rickard Dahlberg: You really should ask the creator of the images.. Jocke Harju, our former bassplayer. He plays nowadays together with Face Down once again. He is the brain behind all covers, booklets, and pictures. I just think the pictures look really cool, so I'm satisfied with that. But the pictures have to do with the album titles, that's for sure. Just make yourself an image of the word Violadead, and the front picture, I bet you'll see what Joakim is trying to say.
Would you say that it is one of the 'roles' of Death Metal bands to shock the audience both with lyrics and the images they choose?
Rickard Dahlberg: You have to. You have to make disturbing pictures and lyrics nowadays to get people's attention, not just for the audience, but for yourself. The lyrics written and the choice of illustrations have something to do with everyday life. Its described in such a way, so that you'll react. But yes, it is a role. When you get up on that stage, you are transformed into something that people want to see. Something that people pay you money for. So of course you have a responsibility to them.
The new album seems to have a more straightforward approach - more aggressive and perhaps faster - than on your previous albums. Was this a conscious decision, in order to move away from the In Flames and Soilwork influences that some people found had influenced your previous efforts too much?
Rickard Dahlberg: hmm, the songs we wrote for this album came straight from the heart and soul of Construcdead. Sure, we wanted a harder more raw sound on this album than the previous, but the songs just came together this way. This is the way we want to sound, it took us sometime to find the right road, but now that we have found it, we will stick with it. Cause it fits us just fine, we feel very at home with the music we play.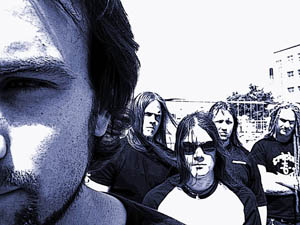 Which has been your favourite release to make so far?
Rickard Dahlberg: This one, The Grand Machinery, without a doubt!!
The first album Repent was also fun to release since it was our debut album, but now, when we have such a strong album in hand. This one. The best so far.
Do you feel that your music is targeted purely at the fans of the 'Swedish' Death Metal sound, or do you think that there are elements that will attract a wider audience?
Rickard Dahlberg: Hopefully, a lot of people will find this album great and listenable, not just the fans of "Swedish death". I think that even though the album is raw and fast, there is something for the not so "die hard fans of death", It has got a good structure of songs, some melodic elements as well, and clean riffing. It is a good album in a lot of ways.
Many of the band's members have been involved in side-projects, one of which is Terror 2000. Do you feel this affects the dedication to Construcdead or does it enrich the band's sound by exposing its members to other outside influences?
Rickard Dahlberg: I haven't noticed anything negative about Erik playing in other bands, he just grows as a drummer that way. So I guess it is just good, we still practice the same days as before. I think it is important not to stand still to long, but to be open to other things, like other bands. it widens your view of music, hopefully we can take advantage of all the different elements that we get our impressions from.
The Swedish Death Metal scene is one of the most saturated metal markets. What is it about Construcdead that you feel will single the band out among so many other players?
Rickard Dahlberg: Our dedication to our music, our will to be something more than just another band among the rest. We have the future in our hands right now, and with such a strong album as we have got right now, it is impossible to be just "another death" band. We are unique. A well-oiled machine that will stop at no cost. Just make sure you see us live together with Soilwork and Hatesphere on this European Tour, October. You will see that we are more than a lot of the bands out there today. We don't just put riffs together and call it a song, we work with it until all of us are satisfied with it, that makes us care about what we do.
One of the first bands you toured with were Soilwork. What are your plans for touring for the new album - supporting a band of Soilwork's calibre or would you intend to headline?
Rickard Dahlberg: We are once again the opening act to Soilwork and Hatesphere on their European tour this October, We will support our new album that way, hopefully get some more connections and be able to do some more touring on this album. We are not yet big enough to be headlining., But time will tell.
You seem to be enjoying a healthy working relationship with a lebel from your won country - Black Lodge. Do you feel that have from them the support that you need in order to achieve your goals as a band? Can you see this relationship evolving in the years to come?
Rickard Dahlberg: We have a good relationship with Black Lodge. I can't see any reason to break up with them, they have been handling everything with us very professionally so far. I can't really complain about anything. We'll see how everything goes now with the release of The Grand Machinery. But I guess we'll be working together for some time to come.
Your message to your fans, please!
Rickard Dahlberg: Thanks to all of you people who come to the shows, buy the records, talk to us. We really appreciate it, you are the reason why we still write music, record albums. keep up the good work! You people are the best, the ones who have made us what we are today. Don't forget to leave us a message every now and then in the guestbook, it makes us happy! www.construcdead.com
Cheers people!
---
Interview © 2005 John Stefanis