For most Metal bands, the Underground scene is the first step towards higher recognition and better CD sales. For the German extreme metal outfit Desaster, though, it seems that it is more like their natural environment. Taking advantage of the wonders of modern technology (e-mail), I managed to get the band's drummer Tormentor to talk about the band's latest "lesson in violence" that's entitled "Angelwhore", his impressions from the "Days of Darkness" festival, as well as his thoughts for the future.
Hi there, Tormentor. Before we start this interview I want to congratulate you for the creation and release of "Angelwhore"! This is the other promo, along with the new Nevermore, that have been constantly flirting with my CD player for the last few weeks! I guess that you must feel extremely proud, but also relieved now that the album is finally ready. Give us an insight of what's happening in the Desaster camp at the moment!
Tormentor: Hails mate! Tormentor here... Yes, of course we are very proud of our "Angelwhore". We really spend a lot of time on this album. Thanxx a lot for the flowers!
At the moment we are preparing for our South American tour, which starts in 10 days. Metal Blade really gave us many interviews that kept us very busy the last few weeks. But anyway... we are ready for thrashing Brazil, Peru and Colombia!
For most people number thirteen is an unlucky figure, yet it took you guys that exact number of years in order to get the break that you deserve and sign with a big label like Metal Blade. I assume that even if you used to be superstitious, this is no longer the case?
Tormentor: Haha, what's so special that we signed to a bigger label?! You know, our music is still and will be the same. The only reason why we signed to MB was to have more promotion outside Germany to play more shows outside. This wasn't possible before. We really don't care what other people think or say about the band. We did and still do our own thing. But the most important thing is to keep your face and stay as you are! And we do! We really have a good contract with the label. They really give us the freedom a band like Desaster need. We all have our regular jobs beside Desaster, and that keeps us independent! We only do things WE like...
As part of the Iron Pegasus family, you enjoyed the status of a cult/underground outfit. Now that you moved to the "big league", how easy will it be to preserve that image? Should any of your older fans worry about any major changes in the near future as far as the band's style and musical direction is concerned?
Tormentor: Desaster will be Desaster forever and in eternity. Believe in me, mate! I think we are still "underground" because we still do all things in the band by ourselves. And also our music still isn't for the masses. MB knows that we are and will not be a mega- selling band. That wouldn't fit with our ideology! I don't know what people think what's more important, the music or the label a CD was released! So... we don't care!
I was informed that the LP version of "Angelwhore" is going to be released by Iron Pegasus and not Metal Blade. Is that your way of showing your appreciation for the label's support, which started since the release of "Tyrants of the Netherworld" back in 2000? Are you going to continue working with them in the future, or is this going to be the last product of your collaboration?
Tormentor: Yes, you are right! Costa did a lot for the band and I think we still going on working with him, if he likes, of course! He did a great job in the past and helped the band in many ways! But the first item we released at Iron Pegasus Records was the Split-10" with our brothers in Metal, PENTACLE from the Netherlands.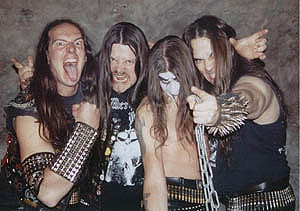 So far, I have managed to see the band twice in a live environment and it is a strange coincidence that both times it was on Irish soil. What was your impression of the "Day of Darkness" festival? Did you enjoy the whole atmosphere and the reception of the crowd?
Tormentor: What a fu*k... yes... man, we like Eire! The crowd of maniacs that we met was so brilliant! Thanxx a lot to the organiser for that great weekend we had in Ireland! Hopefully we can come back soon and kick your fu*kin' asses again! Too bad that our friends from Primordial weren't there at the Day of Darkness fest. They had to play a gig in Germany... haha. But the atmosphere was really great. We had to wait for many hours, which was good to have a "few" J pints of Guinness, cider and Kilkenny. Next day all of us had a good hangover which was killed by a great Irish breakfast! Hehe...
I found the line up of that festival to be very successful. Did you enjoy playing with a band like Rotting Christ? Which are the things that you believe that you have in common with them and the rest of the bands that played that day?
Tormentor: My favourite bands on this festival were Mourning Beloveth and Waylander. Rotting Christ isn't my cup of tea...äähh beer. I only like the earlier records a bit. But they are great guys!
There are many good things about "Angelwhore" that we can talk about, but let's start with Sataniac's contribution on the album. I remember reading some old reviews where people were a bit sceptical as to whether he will be able to fill Okkulto's shoes. Will you agree with me that his excellent work in "Angelwhore" is more than enough to convince anyone that he is the right frontman of the band?
Tormentor: Yes, you are right. He did a great job on the last album and I really like his voice much more instead of the old singer. He's much more brutal and aggressive. But that's my point of view. We told him to do his own thing and not to start copying Okkulto. You know the old one needed nearly 10 years to be that singer he was at the end before he left the band. So Sataniac also needed a bit to fit with the band. But he did it very fast I think. He's absolutely a 110% "desasterous" member.
There are quite a few bands out there who claim that their music combines perfectly both Thrash and Black Metal elements, but in my opinion it is only you guys and Destroyer 666 who have managed to achieve that perfect harmony. How would you describe the band's style and sound in the year 2005, and which of your oldest releases has most similarities with "Angelwhore"?
Tormentor: I think that "Angelwhore" is a combination of some of the previous albums. It has the "metallic" and "speedy" part of "Hellfire's Dominion" the "darkness" and "evil face" of the "Tyrants of the Netherworld" album and also the brutal and fast side from the "Divine Blasphemies" output. So all that together is "Angelwhore" in my point of view. Yeah, Deströyer 666 really is a great band and we respect them a lot. They also do their own, unique way to play Metal and it kills 100%!
Which of the ten compositions of the new album did you present to your audiences in the recent concerts that you did, and what were the criteria for choosing them? Did you enjoy the way these songs sounded live? How were they received by the crowd in general?
Tormentor: The song "Ghouls to strike" was also released on our first live album called "Brazilian Blitzkrieg Blasphemies" which was recorded 2003 in Sao Paulo/ Brazil. After we finished the song- writing we played some songs live like "Angelwhore", "Havoc" and "Conqueror's Conspiracy" and the audience really liked the songs very much! Some songs from the new album aren't that good to play live because the are too long or not even fast enough! Haha... It's not a problem to play them live, because all songs we wrote we are able to play live, but we prefer the faster and shorter ones... hehe
Listening closely to your new album, one will realise that your music is influenced by the Thrash scene on both sides of the Atlantic. Seeing as you are a German outfit, would you say that the influences of Kreator and Destruction were always stronger than those of Possessed, Exodus and Slayer?
Tormentor: That's a hard question. I think our main influences are bands like Slayer, Hellhammer, Kreator, Razor and some more! So as we are from Germany, our main influences are from here! But the whole Thrash scene in the eighties is kind of an influence for us beside the early beginnings of the 2nd coming of Black Metal in the beginning of the 90's. I think everything that is Metal is important for us! Haha...
Another impression that I got by listening to these songs is that this new album was a product of a collective effort. Now, does the fact that Infernal is the only remaining member of the band's original line up also mean that he has the strongest voice in the band? What is the most usual way of composing your material?
Tormentor: Haha, yes Infernal is the boss. Of course! But we all have our work in the band and it works well. In case of writing new songs, Desaster is a riff orientated band and all begin with the main riff! After that drums and base will do their job. And at the end are the vocals. After that we work on the song like the endings, a good middle part and some special breaks etc.
One of your main links to Black Metal is your lyrics. Is Sataniac the only member of the band that contributes in that field? How important are the lyrics to you, as a drummer?
Tormentor: Sataniac has his own way to write lyrics... it very different to the old singer, but still evil and morbid. But I think we still have some Black Metal elements in our music. But that's a point of view. Within the years we found our own, unique way to write songs and play that typical Desaster style. That's what's really makes us proud!
You were obviously aiming for a gloomy/dark production for "Angelwhore", which I think that you have managed to achieve. Now, I know that the album was recorded at the ToxoMusic Studios, but what I don't know is the name of the producer. Can you fill in the gap, for me?
Tormentor: Yes, his name is Wally Walldorf and he is a singer in a long running German Punk band called Toxoplasma! He really knows how scratchy and dirty instruments have to sound like! We worked with him many times before. For example the last album, some 7" and 10" songs were recorded at his studio! The working process is great and relaxed all the time.
How long did you spend recording the album, and how much did you enjoy the whole process? There must be millions of things that a band must be aware of in order to achieve a good production, but what would you say are the key points, based on your experience?
Tormentor: You know, we are that kind of band who rehearse 'till death before entering the recording studio. After all songs were written and rehearsed as much as possible we booked the studio to record the songs. So that's the reason we are mostly really quick. For the recordings we needed from Thursday to Sunday all guitars, drums and bass including all soundchecks. And a week later Sataniac started to scream etc. The good thing was that ToxoMusic is here in Koblenz, which means that we also had the time to start mixing within the week next to working our regular jobs. So the mixing period was a bit longer in days... but not in hours! We really worked hard an intensively on a good sound. We don't like this typical modern sound many bands of today have, so it isn't that easy to find and create an individual, special "Desaster- sound" ... But again we found it, I guess.
As I mentioned in my album review, there are no bad songs on "Angelwhore", yet I do believe that songs like "The Blessed Pestilence", "Angelwhore", "Conqueror's Supremacy" and "Nihilistic Overture" are the strongest of all. Are any of your personal favourites mentioned in my list?
Tormentor: Yes, I also like the opener very much. It represents Desaster very strongly. It includes all typical Desaster trademarks like fast, black, thrashy, speedy and a small medieval touch... Another favourite for me is "Havoc" because of the fastness and the middle-part. Also the Outro was good.
Most of the recent Metal Blade releases carry either an additional DVD or a CD with plenty of extra material. Is there going to be a limited version of "Angelwhore", and if yes, what is it going to feature?
Tormentor: No, originally we considered doing something like this. But, every band is doing that, so we prefer doing a good and attractive LP version for it!
I was checking on the Metal Blade website to see what your future touring plans are, and I saw that apart from a few central European dates, you are only planning on having a short South American tour. Are you guys going to visit the United Kingdom at some point in the near future?
Tormentor: That would be killer, mate! Maybe, if there's someone interested to book us for one or two shows. Just send an email and we can work something out! Yes, the South American tour is coming soon and we start to get a bit nervous! Haha... Last time was killer and this time I think it looks much better! But, we'll see!!!
What I really admire about the members of Desaster is their willingness to be close to their fans. Apart from Demoniac, I can only remember Fisher from Cannibal Corpse being part of the audience and listening to the support acts. How important is this contact with your fans and how influential is their opinion in general?
Tormentor: The most important thing is that we are still Metal Fans and I really like listen to other bands of course! I cannot understand bands which stay the whole time in the backstage room and wait for their show! That isn't my cup of tea. I want to meet other metalheads, having some beers and see bands. That I did before I joined Desaster and this is what I still like to do in the present. It's normal for us!
What is the next big thing that you are going to focus on as a band? What is your general approach as far as the band's future is concerned?
Tormentor: There's nothing really planned for the future right now. We are writing new songs, playing some shows. Next week we go first to South America. After that we'll play some shows in Germany and the Netherlands. For next year we already were confirmed for two gigs in Sweden and one German Open Air. We are thinking about releasing a 7" or 10" with another band maybe... but nothing is confirmed yet...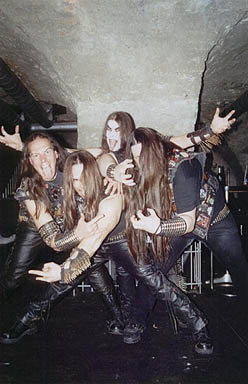 Have there been any music journalists who have failed in your opinion to understand what it is that you are trying to do as a band? Have you read any reviews for past releases that you feel that were unfair? What would you like to say to them now?
Tormentor: Haha, for us it isn't important what other people write about the band. Of course it's nice reading some good reviews, but we would never change something because of somebody wrote something negative! We know that Desaster isn't music for the masses and we'll never want it to be! We play music we like and if maniacs like it it's a great feeling. And if there are some people who don't like it, it's ok too!
In our many music-related conversations, my friend and I used to refer to Sodom, Kreator and Destruction as the holy trinity of German Thrash Metal! What is your opinion about their recent releases? I have to admit that nowadays it seems that Kreator are the only ones to come up with something really exciting!
Tormentor: You know, I am a real big Sodommaniac for many years now and I also really like their newer releases!! One of my favourite albums is a "Newer" one called "Get what you deserve" ... Kreator made some really bad albums in the past (like "Endorama" etc.), but their "come back" "Violent Revolution" was really great! I really love that album! In case of Destruction I have to say that their newer records are ok, because the songs are great but I really hate this typical modern sound. But on stage Schmier and Co. are totally destroying and like a bulldozer!
Tormentor, thank you very much for taking the time to answer to these questions. I hope that I will soon be given the pleasure to see you guys live - this time on English soil! A message to your fans and the subscribers of Get Ready to Rock.
Tormentor: Oh, this is the end? Ok.... haha.... Thanxx a lot for this really interesting interview... this was very rare in the last time! Of course it would be great to play one day in England and give you some total Desaster! For information have a look at www.total-desaster.de or write to tormentor@total-desaster.de ... keep the flame burning and
BANG OR BE BANGED!!!
---
Interview © 2005 John Stefanis