One word that definitely describes Farkas Zoltan (Guitars / vocals), frontman of the Hungarian metal outfit Ektomorf is passionate. A few minutes after having finished their set, opening for Children Of Bodom, I met the friendly musician at the backstage rooms of the London Astoria. With the excitement of an eighteen year old, he explained how Ektomorf managed to overcome all the difficulties in the beginning of their career, his satisfaction with the success of the band's latest release 'Live and Raw', and a few tips about the band's upcoming studio release "Outcast".
It's good we've finally been given the chance to do this interview - last time when you were on tour with Kreator and Dark Tranquillity I didn't get the opportunity to meet you. That was year ago and today I saw that the crowd was reacting much better towards your music. How do you explain that?
Farkas: I really don't know, man! The show with Kreator was the first one we ever did in England and it was good, because people seemed to really appreciate what we do. After that, we did our own headline tour and last year we came back to do a gig at the Underworld. It was a Sunday evening, yet there were 150 people, which was f*king really good for us. It was also really good tonight, 'cause when we went on stage, we expected nothing. You see, the music that Children of Bodom play is very different from ours - it's like black and white, so getting such a good reaction from their crowd was really awesome…The same thing happened yesterday in Bradford, a place that we never played before. People went crazy - not as crazy as the London crowd, but they were really respectful and also bothered to come and talk to us after the show. That made us feel really proud.
It looks like Nuclear Blast did a good job in promoting the band, but you guys also managed to improve yourselves this past year. To me, Instinct sounds more mature.
Farkas: That's true, and it's because we have played a lot of shows together, man. Today is the 46th day on the road since we left home (Hungary). We did 22 dates back in October, and that was after having played so many summer festivals and other shows during the year. We sound so much better now, and that is also due to the fact that we have out own sound engineer who does a great job - he's like the fifth band member. Today, though, he did something stupid. I had an interview with a radio station and the rest of them decided to do a soundcheck! I am the kind of guy who always attends soundchecks and I will be doing that as long as I play music. It is important to me, because I have to 'feel' the stage and also warm up my voice. I came back, and the soundcheck had already finished! That was not good for me - I couldn't hear anything when I was on stage!
That's why they were constantly making signals towards the consoles.
Farkas: Yeah, man, because I couldn't hear anything from the monitors. Anyway, our sound engineer is a good guy and this is all good fun. We have our own crew and even if I was given the opportunity to visit the States, I wouldn't go if I couldn't take these guys with me. It is important that we do everything together.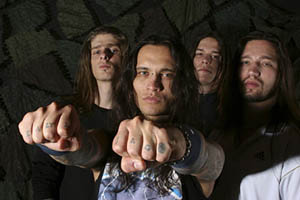 So, when we talk about Ektomorf, we are talking about a big family?
Farkas: That is correct and I always want to keep things like this. That was the idea when Ektomorf were formed ten years ago. Of course, apart from my brother, there is no other original member here nowadays and as you see, he played today with a broken leg!
That was quite surprising indeed - I didn't notice that when he was on stage!
Farkas: He didn't move that much. He didn't brake anything, he just had an operation to remove a tumour from his leg. I told him that it would probably be better to get someone else to go on the road, but he didn't agree. So has to spend most of his time sitting in a chair when he's on stage. We are indeed a big family and that is very important to me, as is my music. I love my music and I also love the fans. I always go out to meet them after each show. Most of them are really surprised to see us there. You see, bands like Children of Bodom have 2000 people cheering for them, but they don't go out to meet them - maybe they're scared…I don't know. I have to go to our fans to show them our appreciation, because they are the ones who bring us here to play. Both fans and crew are important to me.
OK, I need you to clarify something for me. Tonight's show is a continuation of the tour for the promotion of 'Instinct' or are you now more focussed on promoting your new DVD release?
Farkas: Well, both, but there is a strange story behind the DVD release. I was sitting at home one day when I received a phone call from Nuclear Blast and they informed me of their decision to make a DVD release out of our performance at last year's "Summer Breeze" festival. You see, we knew that the show was being recorded, but we were not aware of the fact that it was destined to become a DVD release! We just played as we always do, and that's why it's called 'Live and Raw': because it's live and raw! (laughs)
When they informed us about their decision, I told them 'OK, but let me see how it is before you do anything, but their answer was "No, we do not have enough time. We have to do this and trust us, this is killer material". We also decided to include "Kali Jag" which is out third ever release remixed and with a nice booklet, so what you have here is a DVD and a whole album at a good price. I wanted to do something more, like and Interview or footage with our fans, but we had no time for that. We are promoting 'Live and Raw', but this tour is really more about continuing the promotion of 'Instinct'. We have also prepared 7 new songs and we intend on going to the studio somewhere in June or July. This is a really busy period for us. After this tour, we will go to Moscow for a gig and also St Petersburg and Germany for a show in order to do a few weekend shows in front of something like 1000 people. This is also cool, because they usually do that with hardrock bands, but the fact that they decided to ask Ektomorf makes us feel really proud. People really like Ektomorf in Germany - we always play in front of something like 500 people. Ah! After the recording of the new album we will also go to do Wacken!
Wacken? That's great - I'll see you there as well!
Farkas: You're going to Wacken? That's cool. We are going to play the Party Stage, but it's going to be at 23:00 at night, so it's going to be f*ing hell!
Talking about 'Live and Raw', the majority of the songs are from 'Instinct'. I understand that this is an important release for you guys, but I know that the same applies for 'Kali Jag'. Would you say that that album helped Ektomorf make that extra step towards world-wide recognition?
Farkas: With 'Kali Jag' we made our first big step, this is the album that took us out of Hungary, and that was not easy, man. We used to move in the same circle all the time, playing for people who didn't give us any respect. They used to call us the 'Gypsy guys from the village'. Well 'Kali Jag' helped us play in bigger places than the ones we used to play in the past - places, which didn't even have a toilet! After this release, people started talking about Ektomorf and our shows began to increase in quantity. The really important album for us, though, is 'Instinct'. This album is doing well even though we have had our own share of problems with this stupid comparison between us and bands like Sepultura and Soulfly - some people have been really mean and evil towards us. Some of them have said really awful things!
I have read quite a few negative reviews myself, but one thing I found really interesting was the fact that these reviews mentioned that there are a few elements in your music that are quite personal. Is it a real success to hear your enemies saying positive things about your music?
Farkas: That is true, but to what are important are the fans. If they thought we were only a copy of those bands, they would not have reacted to our music. If we were only a bad Sepultura copy, we would not be on the stage tonight! Think about it - a label like Nuclear Blast would not have offered a contract to a bad copy, would they? We are doing our own thing here. And yes, my biggest hero is Max Cavalera, but also James Hetfield, Dave Mustaine and Rob Flyn.
I am stuck to the music of the early 90s and bands like Pantera, Deftones and Biohazard. I am open to many things, but this is the only kind of music I want to play because of the energy involved. Ektomorf is all about energy and that is what I'm trying to produce when I'm on stage. I am sick and tired of all those bands that cannot be bothered to move their a**es on stage. Most of them are only interested in posing. This is not about music, this is all sh*t! The fans don't want to see this but most of them are too young to know any better.
When you come to an Ektomorf show you want to prepare yourself for a very energetic show. This is power, man and when power leaves Ektomorf, Ektomorf will die! These people cannot stop us with their reviews! Look at the DVD and see how many people were jumping up and down at the Summer Breeze show! We are not a copy band! People who say these things are jealous and I hate jealousy! I am happy to see another band being good on stage and I always support good bands.
I believe that people should live their own lives and not to try to f**ck the lives of others. I really appreciate journalists who say their opinion about an album, but they can do it in a decent way and not by insulting artists. Some reviews that I read were simply unbelievable!
Let's talk about your new songs. How much of this energy that we feel today is going to be included in the new album?
Farkas: Energy is going to be 100% again. The new album will be called 'Outcast', because that is exactly how we feel, especially on that tour! I love Metal but people treat me strangely because of my choice to wear Adidas tops. Some say that I look quite trendy, but I say f**ck them - I feel good like this. I feel like an outcast in their respect, I feel an outcast because of some people's reactions towards our music and I feel an outcast because I am a gypsy. The new songs are going to be heavy and the same- titled composition is going to destroy everything (laughs). H is tunes in A, it is only one string, only one riff, but it makes you feel as if you are about to collide with a train (laughs). The new album will feature some really fast thrashy songs like the ones in 'Instinct' and 'Destroy' and also some different ones. The other day, I had a visit from the German Metal Hammer at home.
We did a three-page interview, during which I played a song for them on the acoustic guitar and I somehow managed to scream instead of sing, as I should. They went nuts! It is an acoustic composition with only guitar, drums and bass, but it is a killer. I always wanted to write a slow song with emotional feel and really angry lyrics that would not sound like an average ballad and I did it! The Metal Hammer guys liked it so much that they even asked me for a copy. We also decided to do a cover of a Prodigy song.
It's good that you chose a non-metal band for that purpose - I never understood the need to play a metal song in a different way!
Farkas: Exactly. I mean, I love to do a song like 'Fight Fire with Fire', but the truth is that I really cannot play it (laughs). I am not a huge Prodigy fan, but I really like the song 'Fat of the Land', which is all about groove! I decided to do 'Fuel My Fire', which is the last song of the album and really crazy punk sh*t! We played that cover on out last tour and everybody liked it - even the Metal guys! We are going to record it with some de-tuned guitars and my angry vocals and I guarantee that you will not recognise that it is a Prodigy song!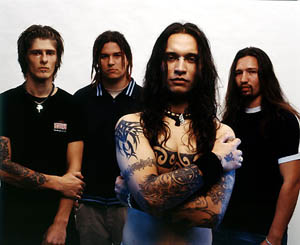 OK, so how long are we to wait before 'Outcast' is released?
Farkas: Well, the new album is going to be out in January and two months later we will begin our headline tour. We are not going to play any huge venues, but we are going to go everywhere. Many promoters showed interest in Ektomorf and that is good! You know, this is going to be our third studio album with Nuclear Blast and I think that it will be the most successful one - I feel it! You saw what happened here tonight and, believe me, the new songs are even better. We also get very good promotion, so I'm sure we'll be back very soon. We have 7 new songs and we will probably add 3 or 4 more to those. I don't think that you need more than that, so let's do it!!!
What about the first two albums? DO you have any plans for re-releasing them in the near future?
Farkas: Well, even I don't have them! I don't say I am not proud of them, but I am not interested in playing those songs any more. I was eighteen when I wrote them and now I'm thirty, so I see these things in a different way. I believe you can get these albums from the Internet. The problem is, though, that the lyrics are in Hungarian! You know, in Hungary we get abuse for singing in English! I tell them that the reason I use English is that I want all people to understand what I have to say, but they accuse me of betraying my roots. I don't forget my roots, man - if I do, I will be nobody! I just don't want to sing in Hungarian any more! I want people to understand what I have to say and English is the perfect language for that.
Where do you picture yourself and the band in a few years?
Farkas: I don't know, man. I'm going to do this for as long as it feels right. I really believe in things like the 'fire' that burns inside and I also believe in God, but not religion. As long as God is with me, I feel the fire burning inside and as long as I see people loving our music, I will keep on doing this. One thing is for sure: Ektomorf are always going to be heavy! Maybe not Heavy Metal, but definitely heavy!
Thank you for the interview, Farkas. A message to your fans?
Farkas: I want to thank everyone for their support, regardless to whether they were here tonight or not. Feel free to check out our albums and always believe in yourselves - that's the most important thing!
---
Interview © 2006 John Stefanis