EKTOMORF 'Instinct' Nuclear Blast(2005)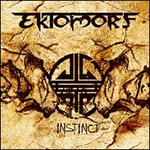 Oh my God, what is happening here? It feels like it was only yesterday that I had to review "Destroy", the fifth studio album of the Hungarian Metal outfit Ektomorf. Now, less that a year later, I am about to make a review for the band's latest studio album "Instinct", which I have quite recently received from Nuclear Blast. The one conclusion that I've managed to make is that, either the band is composing material at Mach 2 speed, or that I have lost all sense of time and space.
The truth is that I've always felt that I had some "unfinished business" to sort out with Ektomorf in one way or another. "Destroy" was a very interesting album indeed, but I remember feeling that there was much room for improvement in terms of the quality of the compositions and the correct "migration" of "foreign" elements in the band's music. From what I've just said, you understand that the main question that occurs is whether the members of Ektomorf have managed to present us with something more "advanced" this time round.
Well, in terms of musical direction, the four musicians are not giving us anything amazingly different than what was presented though their previous studio effort. All the references to late Sepultura/Soulfly are once again clearly recognisable, meaning of course low-corded guitar riffs, screaming vocals and a generally aggressive vibe and attitude. What they did manage to do though was to make their twelve new compositions a lot more interesting and "accessible" than the ones in "Destroy". This time, I felt that it was much easier for me to relate to most of the compositions of this album. Songs like "Set Me Free", "Instinct", "Burn" and "United Nations"(my personal favourite), sound far more confident and well structured, which definitely shows that Ektomorf have managed to take their music to the next level. You will still find quite a few folk/oriental elements in the vast majority of the songs (use of Sitar, etc), but in a more "mature" and appropriate manner.
Lyrics wise - well, let's just say that it is not difficult for any decent human being to be pi*sed off with what's been happening in the world lately. Ektomorf's lyrics are as "angry" as always, with highlights being the ones in "Fu*k You All" and "United Nations" (I sincerely hope that they will not get into any problems for this!). These lyrics are the driving power of this band, and I guess that you will be right in assuming that they are considered to be equally important as the music.
Overall, I believe that the Zoltan brothers should be quite pleased with themselves. "Instinct" is indeed a very good studio effort, and from what I have gathered from the reaction of the people who have quite recently seen them on tour with Dark Tranquillity and Kreator, and also by the general reaction of the music press, they will pretty soon find themselves playing in bigger venues next time that they find themselves on tour. I suggest that you go and see them in one of their live shows, because only then will you manage to understand and feel what this quartet has to offer.
****
Review by John Stefanis