I always find great pleasure in interviewing bands, which are now making their first steps in the music industry. I believe it's because they have not yet been either corrupted or disappointed by the way this industry works and the vibe that you get when talking to most of them is unique. Well, the Italian Thrash/Death Metal outfit Adimiron have just released their debut album "Burning Souls", and Alessandro (the band's guitarist) has agreed to answer the questions that I have prepared for him.
Hi guys, I will first ask you to introduce yourselves to our subscribers by giving us a short bio of Adimiron.
Alessandro: The project Adimiron started in 1998 under the name of "Angel Of Darkness! by the idea of Alessando (guitars) and Davide (drummer). In 2001 the bands changed moniker. We decided to transform the name in Adimiron. Over 7 years ago we decided (me, Davide and two others classmates, to found a metal band.
For 4 years we played in a garage and after this period we tried to record a demo called "Everlasting Fight". After the positive feedback from Italian magazines, which encouraged us, so we organised a thirty-gig tour around Italy to promote the stuff in a good way. After this tour we decided to record another 5 tracks demo called Eclipse and without the help of any label we managed to sell 2000 copies of that release.
Consequently many promoters begun to be interested to Adimiron's music and inserted our group in their tours as support band for some shows...so in 5 months we played supporting Destruction, Enthroned, The Crown, Belphagor and Dismember. We also played in many festivals around Europe supporting bands like Blind Guardian, Opeth, Annihilator, Dark Funeral, Behemoth, Vader and many others. After these tours we booked for a month the best and most important studios in Italy to make our real first album, "Burning Souls", that a perfect fusion of our experiences and feelings in these years of intense work on the road...
Most of the Italian bands that are better known to the masses of the Metalheads are the ones that play Power Metal, still there have been quite a few extreme Metal bands such as Sadist, Mortuary Drape and Bulldozer whose importance to our music cannot be described in words. What made you choose to follow the path of "the few"? Were you at all influenced by any of the previously mentioned bands?
Alessandro: Simply we play the music that we'd like to put into our own stereos. And we write the songs we'd like to listen to from our favourite bands...
Yes unfortunately, as you said, Italy is full of Power Metal bands. Some of them are great and innovative, the others are various clones and scripts. But I also think that at the moment many bands are working hard to prove that the Italian extreme scene may be able to give birth to many killer and awesome acts. Returning to your question, we are surely not influenced by the bands you mentioned. Adimiron play a different style respect the bands you said...
Your first recordings saw the light of day between 2001 and 2002 in the face of the four track demo "Everlasting Fight" and the mini-CD "Eclipse", both of which were received with enthusiasm by the underground Metal community of your country. Knowing that the dominant current style in Italy is Power Metal, how easy was it for you guys to achieve such recognition, and what was the main reason for it?
Alessandro: "Everlasting Fight" was the first idea of a band. We were too tired to play in a garage without any possibility to play in another place...the sound of this demo is not good - in our opinion - but the people liked it very much and that increased our hope to become someone in this kind music. As a matter of fact we worked very hardly for a year and we made Eclipse that we sent around the Europe and not only. The music in these works is a pure melodic death metal with many keyboards and some black part.... The influence of power metal in many Italian bands it isn't a problem for us. We wanted to do a kind of metal with many influences but we are not much interested to Power Metal.
The purpose of this interview is to give you the opportunity to present to our subscribers your first studio effort "Burning Souls". Tell us a few things about the idea behind the eight compositions that make up this album. How different is it from your previous recordings?
Alessandro: The principal differences with our other works are concerning the use of keyboards (less in "Burning Souls" than in our demos), we tried to create a new kind of atmosphere, a more strong and violent atmosphere with Death/Trash riffs. I think our sound incorporates also Thrash and Black influences, consider like for example a song like "New Day Denied". After the introduction you can immediately find a thrash riff and a chorus in pure melodic black metal style. However I'm sure our thrash influences are most evident respect to the black ones. And by the way… the black influences we're speaking are linkable to the melodic scene of black metal and not to the true-black metal genre. Our black atmospheres are quite different respect the true black metal.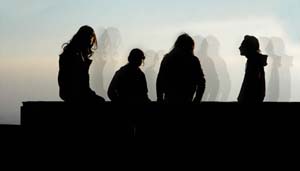 I appreciate the fact that you chose to include many different styles in your music, what I really enjoyed though was the fact that they all co-exist in equal proportions. How did you manage to achieve that? Does the fact that there are so many different styles presented in "Burning Souls" mean that all four members of the band come from different musical backgrounds?
Alessandro: Sure, we have different background but we are conscious that Adimiron stile is a fusion of our favourite kind of metal. In fact is possible for me to call our music like a melodic death/black/trash metal taking inspiration from the Swedish and the American scene - in particular from bands like The Haunted, Death and Nevermore.
There are many things about this album that will impress the one who will decide to give it a chance. Allow me to say that the most important factor in my opinion is the amazing guitar work, which is not only influenced by the extreme sound, but also by more melodic bands/artists. Being a band with a single guitar player, how well do you think that you will be able to present the music of your album live with only one guitar player on stage?
Alessandro: The problem with one guitar on the stage is that we can't do all our harmonisation and rhythmic parts above all in guitar solos. Now that there is a second guitar player in the band (Danilo) and so we have more possibilities to play a gig with the same sound of our album.
It seems like the more effort you have put into the music of the album, the less you have made in writing the lyrics that will accompany it. Is your singer Leonardo Gioia the person that handles those duties, or is there more than one lyricist in the band? Is there a specific concept that you refer to in your lyrics? Which are the issues that provide you with all the necessary inspiration as far as the lyrics are concerned?
Alessandro: All the Lyrics are composed and arranged by Leonardo (vocals). Their subjects are basically concerning episodes of real life considered trough a metaphysical approach. War, insanity, uncertainty, doubts typical of our current way of live become the origin of unpleasant events and that creates the opportunity for a deep reflection on our limits, our human weak points, our ideal or ethical inadequacies and so on.
It's been almost a month since the album was released in the market, and you have obviously formed your strategy for the promotion of the "Burning Souls". What was the first reaction and what are your future plans for greater promotion of the album?
Alessandro: The promotion of "Burning Souls" is based above all on our live activities. In fact we try to confirm some European gigs but now we have to play only in Holland and Belgium (January) and surely thank to our many interviews we can have a better approach with the people.
You have opened gigs for some of the most important Metal bands such as Destruction, Annihilator, Opeth, Enthroned and Virgin Steele. Which one of these gigs was the most memorable of all, and which was the band whose style and attitude has affected and inspired you the most?
Alessandro: There isn't a band that really inspired us but we learn some important lesson in every tour. We can be headliner band and we can also open the gig for some important band. This was important for our improvement because the most important thing for us it is to have the possibility to play our music with big crowds under the stage. I mean people that believe in metal. For example it happen that in one tour (I think to the European tour) we were headliner for 4 gigs but the last gig of this tour we supported "Dark Funeral" in Rome.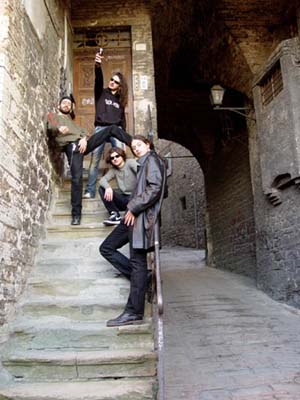 The Metal market is constantly "bombarded" with new bands that are all aiming at winning the race for recognition. What is it in your opinion the thing that will make Adimiron win that race?
Alessandro: Well, we know each other since high school and our passion for this kind of music linked us day after day. Our formation did not change in the years, the reason is simple: before being members of this band we are friends, we are like a family. It is difficult to say whether our attempts can be successful... anyway we believe in our dream and so we are here - with many sacrifices but we are here.
Well, you have managed to release your debut album, and you also have a contract with a well-known label - Karmageddon Media, which means that you have managed to climb the first important step of the ladder. What will be your next move, and how far are you willing to go with the band?
Alessandro: To tour as more as possible to promote the album, to make our first video clip, and work for the new album. At the moment we have 4 new killer songs. We'll enter in studio on July 2005 to record and mix the album. Then we'll make mastering in ultra professional American studios. At the moment we're defining some particulars about it. The only certain thing is that we're really pleased of the new songs. They are faster and more brutal than Burning Souls. Our style is evolving with time...you'll listen to Adimiron in future...believe me!
What do you want to achieve collectively as members of Adimiron, and individually as artists?
Alessandro: I think that I gave you this answer when I told you that we are like a family and Adimiron is the only serious band we play in. >From 1998 we played together in the same band (even though with different names) and so the most important thing is the band and only after that we take in consideration our individual capacities.
Well, I believe that the last words belong to you. Please provide us with an epilogue for this interview.
Alessandro: I'd like to thank all our supporters and fans, all the people that bought "Burning Souls" and the people will buy it after this reading. Adimiron is here to make you see that it's not necessary to be Swedish or Americans to make some innovative Death - Thrash music. No trend music - no clichés...only extreme, in your face metal. Massacre is guaranteed, don't worry!
Related>>Album review
---
Interview © 2004 John Stefanis