When it comes to explaining the purpose and musical vision of Paths of Possession, founding member Randy Butman (bass) is more than capable of providing the right answers - ones that will make us understand why this US outfit deserves our full attention.
If the question is whether this quintet, with the well-known frontman George "Corpsegrinder" Fisher (Cannibal Corpse) in their ranks, is capable of producing enough noise to satisfy the fans of extreme metal, the answer lies in the twelve compositions that compose their second full-length album "Promises in Blood".
Hi Randy. Welcome to Pure Metal/Get Ready to Rock. Apart from doing interviews with magazines & websites, what other activities are you currently involved in?
Randy: Hi, and thanks. Lets see...apart from my job, we are beginning to write some new material, and the other thing that sucks out all my time is this addicting game on the PC..."World of Warcraft". I can't quit playing it. We all play except for jay, and we are trying to get him to get it. But that's all my time pretty much...work, band, Warcraft. I gotta find time to sleep. Also, me and Jack just got back from a horror convention in ft. Lauderdale, it was pretty cool.
You must be more than happy to have finally released your second full-length album "Promises in Blood". Why did we have to wait for five long years in order to hear your band's latest musical proposal?
Randy: Well, that's a long story.... We paid for the first one ourselves and couldn't afford to make that many copies...but after that we kept jamming and playing shows for the next year and we started slowing down and having problems. We were pretty much over, but we eventually got our sh*t together and recorded a split with Florida's Dark Faith...that was in 02 I think. That was the first recording with George. It was then that we began talking with Metal Blade, and it was right after that that we lost our guitarist and drummer. So it took us a while to find the right guys and by the time we were ready, Cannibal was on the road in support of The Wretched Spawn, so we kept writing and when they were done we scheduled our studio time.
"Promises in Blood" consists of twelve quite interesting compositions. Are they a product of a collective effort or are they the result of one of the band member's personal vision?
Randy: Basically we all write and contribute. One of us may even write a whole song but everyone then gets involved with it and we put our own spin on it...so sometimes it might wind up a lot different then when it started. This is the first time that I' ve really been in a band where everyone works so well together, and its really weird because we all have different influences and writing styles, so you can hear a lot of that in our songs.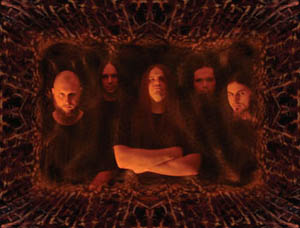 Would you like to tell us a couple of things about these twelve songs - emphasising a little bit more on "Erzsebet", "Promises in Blood" and "Through the Fiery Halls", which are the songs that I found most to my liking?
Randy: Sure...first off, there are 3 songs re-recorded off the Legacy disc...they are Darklands, The Second Coming, and Bring Me The Head of Christ. And there are 3 songs re-recorded off the split, these are, The Butchers Bargain, A Heart for a Heart, and The Icy Flow of Death.
We re-recorded these because the first 2 recordings had a very limited run and we wanted to keep these songs in our live set and wanted people to get a chance to hear them. Everything else is new and we aren't going to re-record any of the older stuff from here on out. At least we don't plan to.
Erzsebet is pretty much Jacks baby. He had this short acoustic thing that was originally going to be a sort of bridge between 2 songs. But when we got into the studio and he started laying it down, Jack almost completely re-wrote it. Him and Erik sat in there just laying down all this new sh*t. So it developed a life of its own and we just decided to make it a song instead of a backpiece.
Promises is one of mine mostly. I wrote most of the music except the leads of course and a few of the riffs in the middle. This wasn't going to be the title track but somehow it wound up that way. The lyrics are about a guy who is summoning this demon from the pits of hell that has promised him this ancient power, but eventually the demon starts to take control of the guy's existence.
Firey Halls also was mostly written by me. It originally had a different middle that no one liked...so we wrote the new middle just 2 weeks before we went in to record. The lyrics are about turning away from everything to be where you belong. That's pretty general but.....I guess you will understand if you read them.
I quite recently read an interview, in which you mentioned that your plans are to make a video for the song "Bleed the Meek". Why did you choose one of the most melodic songs of the album for that purpose?
Randy: We really had a long debate about this. We weren't sure really which song to do, but we didn't want to have to edit any songs. So the longer ones were already cut, and we were left with just a couple of songs and we just decided on Bleed. I know that this song doesn't really represent the core of our material but I think that it's a solid song. So we talked about it with Metal Blade and we wanted to make sure that the lyrics were fine and we wouldn't have to worry about any censors. And they think that this song will be ok without having to be edited. And that's what really sold us on this choice.
Which are the basic ingredients that a composition needs to have in order to be described as a typical Paths of Possession song?
Randy: Well we don't really set out to write anything in a particular style, although me and Jay are really the ones that are into the harmonies and such. I tend to write songs that are too long and we always wind up shaving parts off. That's a tough question because we are pretty much open to whatever anyone writes...unless it just sucks.
What is the most appropriate visual representation for a Paths of Possession song? Are you going to use traditional Death Metal thematology, or choose something new and unusual?
Randy: We have a couple of ideas. This is our first time at this, excluding George, and I am pretty nervous about the outcome. I would rather not do a video rather than have one that comes out wrong. But we have been talking with the guy who is going to shoot it and stressed what we want, and he is assuring us that he can do it. So we will see. We aren't going to have a huge budget, and we begin shooting the first week of December.
For the recording process of "Promises in Blood", you have worked with another ex-Morbid Angel guitarist - Erik Rutan. Are you satisfied with his contribution in building the sound of this album?
Randy: Erik was a pivotal key in this album, I couldn't be happier with his contributions. He was like an additional member of the band. He was really pushing us and fu*king with us, it was great. He really lit a fire under our asses. It's the first time I've been in a studio like this with a pro producer and engineer. Erik is great and we really hope to record with him in the future. I think we will all see a lot of bands seeking out Erik, already he is set to record the new Cannibal in October.
Since the birth of the band in 1999, Paths of Possession have had quite a few important people involved with their music, among them ex-Morbid Angel guitarist Richard Brunelle! What do you remember from your collaboration with him, and how different is the band today, one year after his departure?
Randy: It was great working with Richard; he is an amazing guitarist with this unreal way of writing. Sometimes he would write parts or arrangements and I couldn't even grasp where he was coming from until we got everyone in on it. He was really easy to work with as well. The situation was pretty much the same as it is now, as far as writing together, Rich was open to everyone's ideas, the band isn't really that much different, because Jay and I both were heavily involved with the writing back then. We lost Rich but we gained Jack who writes some pretty cool shit.
Has Richard contributed to any of the thirteen albums that are featured on "Promises in Blood"?
Randy: Yeah, he was in on the 6 older ones, Darklands, Bring Me the Head, Second Coming, those the most...he also wrote a few riffs on Icy Flow and Butcher. Rich has definitely helped to shape this band.
You found Richard's replacement in the face of Jack Goodwin. What made him the obvious choice, and how much has his contribution influenced the band's style and sound?
Randy: We had talked to and jammed with a couple of guys, which never worked out. It was Pete the singer of Dark Faith that told me about Jack, I think that Jack's old band Djinn used to play gigs with Dark Faith. And Jack wasn't playing with them anymore and he lived close to Tampa. So I called him and talked to him, we eventually met him and jammed and he was learning our songs really fast. He was really the first guy that we tried that put forth effort to learn. And the second time we jammed he showed us these riffs he was working on, and we combined them with something I was working on and it eventually became Bleed the Meek. He just really fit in with us. He wrote most of the Empty Gods track which is my favourite song on the disc…
One of the most important additions to the band's line up was that of George "Corpsegrinder" Fisher behind the microphone. How confident do you feel having him as a frontman of your band?
Randy: Really, I feel the same as when I was doing the vocals. I was pretty confident with the band before, but George does bring an awesome presence with him to the live show. He has a killer voice and he is totally metal and people know it. He does add a lot to the band.
George's involvement in Paths of Possession seems to have worked both in favour and against the band's best interest, seeing as his obligations towards Cannibal Corpse occupy most of his free time. Are you happy moving in such slow rhythms? I really hope that it will not take another five years before we get to listen to the band's next release.
Randy: Well one things for certain, it won't take that long. We hope to be recording near the end of next year. Its a lot better now that we have things on track, but when you are in a band and having to work all week, pay rent, pay bills, and try to save a few thousand to record.... It's tough. Now that we have some backing its taken a huge amount of pressure off us and we can focus more on what we are doing rather than "how the hell are we gonna do this?". We all knew that we would have to work around the Cannibal schedule, but so far it hasn't been an issue. While he is touring in support of their new album we will be writing our next one. We are also going to try to squeeze in a few tours along the way. George is into this band too and he wants to take it on the road as well.
I remember reading an old interview with Richard, where he referred to the importance of the word "Paths" as part of the band's name. He interpreted it's meaning as the band's need to add many different elements to their music - something that will become obvious to anyone who decides to invest in "Promises in Blood". Which were the main sources of inspiration in the creation of this album?
Randy: I cant really speak for the other guys, but I have always been a huge Maiden fan, that's the reason I started playing bass in the first place, I have also been really into Dark Tranquillity and Amon Amarth. But I wouldn't say that they really influenced my writing but they definitely inspire me. Obituary as well. I have always thought that John Tardy has the sickest voice in metal.
Many people expected Paths of Possession to have many similarities with Cannibal Corpse, which is not quite the case - especially in the vocals department. Was that a conscious decision on your part? How would you describe the style and sound of the band on "Promises in Blood".
Randy: I always have trouble describing what we sound like...so I always say that we are part thrash, part melodic, part death, with a little grind. As for the vocals, that was mostly George. He wanted to sing different than he does in Cannibal, I think that he wanted to show people that he has versatility in his voice, he sings a lot more mids on this disc than he's ever really done before. I think it sounds great, he sings low a lot too. But why would he even want to do something else if it sounded just like Cannibal. I keep trying to stress to everyone that we don't sound alike at all. If someone goes out to get our disc expecting that, then they will be disappointed.
When you are composing your songs, are you consciously aware of the fact that you will one day have to present them in a live environment? Do you feel that these twelve new compositions of yours are easily translated into such an environment?
Randy: We have played all these songs live with the exception of Erzsebet, that one I don't think would go over good live. But I do think about that when we are writing. That is very important to me. If its not going to be good live or translate well live then why should we do it? I don't know about the other guys...but I am constantly analysing the new material thinking about that.
I know that your current plans for live performances involve only a few gigs in the States. What about Europe and the rest of the world? Are we going to be lucky enough to enjoy such an experience, or is the Cannibal Corpse "beast" going to devour this desire of ours?
Randy: Right now, our plans are to do a full US tour in February, hopefully we can do some gigs in Canada as well. We also hope to come to Europe for some festivals next summer, we have talked about this with Metal Blade and I guess it all depends on how well we do over there. We all really want to do it though, but we will definitely do a European tour later in 06. As for the rest of the world.... I'm not sure, we want to tour as much as possible but we do have to work around their schedule. We will be out there though.
My "spies" also informed me that you have already started preparing material for the band's next album. Have you already decided as to the musical direction that you need to follow, or are you simply collecting ideas at the moment?
Randy: We are collecting new ideas, we have a few things but nothing even near completion yet. We really busted our asses preparing for the studio and we took a small break. But now we are into full swing again, starting to write and gearing up for Febuary's tour. We aren't going to write in a particular style though, we will do things as we've always done them, and that is just work with whatever anyone writes. We don't really have a method other than that. I know that Jack and Jay both have some new things that they are doing, and I am working on one as well.
There are quite a few people out there who think that Paths of Possession is a side project. What is your answer to that, and what are we to expect from the band in the near future?
Randy: I answer that with a "Hell No, this isn't a side project"!! I wouldn't put so much effort towards a side project. This is the perfect band for me, we have built it up very slowly but I am very into this band and am ver proud of the new album and the response its been getting. George is very into this band as well, he has liked what we were doing back in 2000 and he is definitely into it. You will see more Paths albums and more and more Paths tours.
Randy, thank you for taking the time to answer these questions. The last words are yours!
Randy: Thank you for the interview, if you guys decide to pick up this disc, let us know what you think on the forum at pathsofpossession.com, also there is a free download for Bleed the Meek at metalblade.com, it doesn't fully represent the whole of the disc, but its there. Thanks again!
---
Interview © 2005 John Stefanis