PATHS OF POSSESSION 'Promises In Blood' Metal Blade (2005)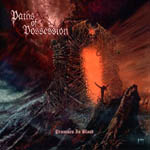 When you are the frontman in one of the most popular Death Metal bands, you know that each and every activity of yours will sooner or later attract the attention of the music press. I don't know how George "Corpsegrinder" Fisher (Cannibal Corpse) feels about this whole thing, but I am sure as hell that the Floridian Death Metal outfit Paths of Possession must be delighted having him as their frontman. By the end of the day, this is by far the best promotion that any band could really ask for.
Paths of Possession are a relatively new band, since they were first formed in 1999 by current members Randy Butman (bass, backing vocals) & Jay Fossen (guitars), and ex-Morbid Angel guitarist Richard Brunelle. Their first album "Legacy in Ashes" was released in 2000, but George's contribution in the vocal department began three years later, with a split E.P. release with Dark Faith - an E.P. that was entitled "The Crypts of Madness". It may be that George's name generated interest in the band, but his obligation towards Cannibal Corpse also meant that Paths of Possession were given fewer opportunities to record their material or enjoy an extensive tour. That is obviously the reason why they had to wait for five years in order to see the release of their second full-length album "Promises of Blood".
Even though I really like Cannibal Corpse, especially their first four albums, I hated the idea of Paths of Possession moving in a similar musical direction. Fortunately, "Promises in Blood" sounds much different from anything that Cannibal Corpse have released so far in their career - even in the vocal department. It is the first time that I can claim to understand George's lyrics without having to consult the booklet, and that is indeed quite refreshing. On the musical side of things, the first few songs of the album are really not representative of what Paths of Possession are really all about. Songs like "Darklands" and "Bleed the Meek" are quite "Scandinavian" and quite unusual for a US Death Metal outfit, but "The Butchers Bargain" moves closer to classic Cannibal Corpse formulas. Up to that point, I was enjoying a really interesting album with catchy riffs and a really good production, but things were about to change...for the best.
I was almost paralysed by the amazing power of "A Heart for a Heart", and totally surprised by the beautiful melodies of the two minute instrumental composition "Erzsebet". Well, we are already on the eighth song, with four more to go - what more should we expect? Much more, because these remaining four tracks are the best compositions of the album! The same-titled "Promises in Blood" is one of the best Death Metal songs that I've heard lately, based on a monstrous riff which is influenced by early Morbid Angel. "Bring Me The Head of Christ" mixes 80's Thrash with classic US Metal, and is slightly different from "Through The Fiery Halls" which has a glorious Epic feel to it. The last song of the album "The Icy Flow of Death" left me with the best of impressions about this album and the capabilities of this band.
I am really quite impressed by "Promises In Blood", to the point that I will gladly recommend it to all Death Metal nutters out there. There is a natural separation of this album into two parts with the second being superior to the first, so my only hope is that their next release will be better balanced. I am definitely looking forward to their next album, and I hope that it will not be another five years in the making!
****
Review by John Stefanis