It may not be that often that you get to see a Power Metal band from Norway, but when it happens, it's normally something really worth waiting for. Having been around for the last two years, Communic has been described by quite a few people as Norway's answer to Nevermore. That sounds like a compliment to me, but let's see what one of the founding members of the band, guitarist/vocalist Oddleif Stensland, has to say about that.
Hi, guys. It's good to see a Norwegian band choosing a style other than Black metal, for which the Norwegian Metal scene has been known in the recent past. Please tell us about how you got together and a little bit about the band's history.
Oddleif: We are a band based on the south tip of Norway, actually as south as you can get. Communic as a band was born in March 2003, but we have been around in the underground for around ten years now in different bands and projects. In short notes, I was doing time as vocalist in another local band, it was here I first met up with Tor Atle. I mainly consider myself as a guitar player and songwriter, so just doing vocals on someone else's music was kind of boring in the long run, and I had been fooling around with the ideas of forming a new band. One day I asked Tor Atle if he wanted to join me for a weekend in a local studio that we could use for free, we recorded 4 songs just to have some fun, and didnít have any rehearsals up front. We thought that it ended up sounding cool and I called up Erik, that I had played together with in other projects and asked if he was willing to drop into the studio to put some bass on the songs. He did and then Communic was born. We started working on the material for a "pro" demo and recorded three songs that we thought showed the potential of the band. Immediately after we released the demo, we signed a management deal with "Intromental Management", and in the end signed a record deal with well respected Nuclear Blast. Today we all have full focus on Communic, and that brings us up to date.
What does the name 'Communic' signify?
Oddleif: When I started fooling around with the idea for this band, the original idea I had was "CommunicHate", but in the end it didnít make sense and I didn't have anybody to hate, hehe, so I narrowed it down to "communic" as a short for communicate or communication. And that is actually what we are trying to do with our music.
It is not common to find Power Metal bands with only three members. Why is Communic a 3-man show?
Oddleif: Before we went into the studio to record this album, we tried out another guitar player, that was actually very skilled, but it didnít feel right. Some of the dynamics in our sound disappeared in some way, and it just became too much. Maybe this is because Erik on bass claims much room in the overall sound, and when we had two guitars it just went overkill. It has to feel good at the rehearsal room and it didnít. I donít think it will be a problem performing it live as a trio, well, Peter Jensen that recorded the keys on the album is teaming up with us for most of the live shows, but those where he canít, we will play as a trio and itís a challenge for sure, but then again very dynamic and tight.
Does the fact that you are only three influence the sound of the band in any specific way?
Oddleif: Yes I think so. It leaves the same amount of focus on every instrument. The bass parts are just as important as the guitar parts, and when we create the music itís easier to agree on stuff. Too many chefs, too much messÖ
Let's go straight to the album. You have been described as having been influenced by bands, such as Psychotic Waltz, Candlemass, Soilwork, In Flames, Sanctuary and Nevermore. Having listened to your album, I find the most relevant influences to be Sanctuary and early Nevermore. Would you say that the other above mentioned bands have equally influenced your music?
Oddleif: I think we have most of our influences from the metal scene in the eighties and the early nineties, so I can agree on some of them but I donít always agree. But its also useful to get compared to other bands, because its quite hard to frame the music in Communic. When you are a young and new band such as Communic, you need to have some comparison to other "bigger" bands, so the consumers know what they may like or not within tons of genres and bands that are popping up these days. How can they find the band they may like? The labels and magazines try also to find this match and put these stickers on bands, and I think that itís an advantage actually. The disadvantage is, of course, if people blame you for just doing what other have done before you, but I guess it always has been like this. There are to many bands sounding the same out there and it is in some way cool to be mentioned in the vein of Nevermore and Candlemass and so on. But we are for sure a band who's not afraid to explore different areas, and we really think that we have found our own unique style in some way.
You invited Danish keyboard player Peter Jensen to perform on the album. How much did Peter contribute to or change the music of Communic? Have you ever considered taking Peter on as a permanent member of the band?
Oddleif: All the music was recorded before Peter entered the studio. He had heard the pre production that we had done up front, and he made his own ideas for the key parts. In the studio we worked together, picked the best parts and used some other ideas as well, and it was all recorded within seven hours. It would have been cool to have Peter as a permanent member, but he lives in Denmark and we are in Norway, and I would like it to be on every rehearsal and get together if so. Also the fact that as a trio we have found a way to arrange songs so it will probably be done this way the next time around as well.
The songs on the album 'Conspiracy in Mind' have an average duration of approximately 7.5 minutes. This is quite an unusual and risky approach for any band to take, let alone a newcomer to the scene. What is the reason for you deciding to structure the album in such a way?
Oddleif: Yeah, the songs are quite long as you said, but I donít think itís only for trained ears. We will have to see about that... Itís not too "brutal" when it comes to the production and the technical stuff is not too advanced or in your face, so that the listener falls of the wagon, but still its in there but yet easy to listen to, I guess. We have tried to keep the focus on the groove, and make it interesting and tried to make good songs. The songs also have these twists and turns that keep the listeners attention all the way. It was never intended to make the songs so long, but it just turned out this way, and to us the songs feel complete and that is what's most important.
Further to this, does the length of your tracks become problematic for getting airplay time, as it is well known that most radio stations will not play anything over 3-4 minutes max? How important is that kind of publicity to the promotion of Communic?
Oddleif: We don't want to make a 3 or 4 minute song if it doesn't feel complete, just to get airplay or whatsoever. That's also why we didnít have any expectations on how people would react to the album, so itís really amazing to see how much people actually are into the album, even though its not main stream. Many stations have played the songs already so it looks good, even though they are quite long. I think that they will play it if they like it.
Who is the main composer in the band? It would seem logical that you and Tor, as founders of Communic, would perform this role. Or is it a joint effort?
Oddleif: I make all the music, but only in bits and pieces. I have the whole song ready as ideas for guitar and vocals, but Erik and Tor has to figure out what to play before a song is complete, and put some of themselves into the music. Itís kind of a puzzle, and together we arrange the songs until everyone is satisfied.
How do you set about writing your lengthy compositions? Do you believe that your approach requires a different technique from that which is normally adopted by non-progressive bands, i.e. shorter, technically less complex songs?
Oddleif: It always seems like we have problems ending a song, because there as so many ideas and parts that we want to be included, but to us it doesn't feel like the songs are this long and I like to think that is because of the changes in the music, constantly keeping it interesting. So to us, itís really hard to make a short song!!!
There seems to be a central theme to the tracks on this album. Is 'Conspiracy in Mind' a concept and, if so, tell us something about the idea behind it, please.
Oddleif: There are no concepts that are binding the songs entirely together, so it is not a concept album. They are more like small stories in their own, but there is a red thread to be found that are binding the songs together in some way.
How does the idea behind the album reflect the different emotional themes running through it?
Oddleif: As I said, there is no total idea behind the album, but itís strange how the songs actually fit so well together. There are no left over on this album, and all the songs are there for a reason, and it just feels complete. I think that the emotional feeling over this album is generated by the differences that the members in Communic bring to it, Ďcause we are so different when it comes to our personalities, and everyone brings different emotions and personal feelings to the music.
I will not put you in the difficult position of having to choose your favourite songs of the album, but I will say that the ones that spoke to me the most are 'History Reversed' and 'Communication Sublime'. In your opinion, why do you think that these two tracks could make such an impression?
Oddleif: I donít actually know. Itís really nice to hear that these songs move or touch the listener in some way, and it seems like people finds their own favourites on the album. Maybe itís the melodies in the vocal that does it, but I donít know the solution to your question.
Do you believe 'Conspiracy in Mind' to be an album that is easy to understand and 'click' with or do you think that it requires some work and time on the part of the listener?
Oddleif: To get fully into the album I guess it takes some spins, but I also think that when people are playing it for the first time, they hopefully to play it over again. But I think that if people easily can judge if this is something that they like or not, even after the first listen, but then grow, and more details will come forth.
Tell us about the lyrics of the album. Did you have a specific conspiracy in mind when you were composing them?
Oddleif: These songs and lyrics are quite personal to me and are quite hard to explain, because I want people to find their own meaning to them, so itís not written in clear words!. A song like "they feed on our fear" is based on some experiences I had as a child. "Ocean Bed" is about my fascination for the ocean, and the powers that it withholds. "The distance" is also a story from my life, and I find myself in the other lyrics as well, but people will have to find their own interpretations of this, and itís probably not what I have in mindÖ Well, itís not a happy album Ė I can tell you that, and there is no happy endingÖ I don't have any rules when it comes to the lyrics or the music, but everything that affects me in the daily situations may end up as a lyric inspiration or something. Some of it comes to me as personal issues and stuff that irritates me in the daily life. Some inputs come to me from watching the news and issues in the world today, and are the news actually telling us the truth???
Bands with progressive or more technical musical backgrounds, such as Queensryche and Fates Warning, seem to give more emphasis to the meaning of their lyrics. Do you agree and, if so, why do you believe this to be the case?
Oddleif: To me the lyrics are quite important, and they are very personal for me. But I donít think that Tor Atle and Erik care too much about them. I think its more up to the personality that writes it, instead of what genre you are playing in, but maybe you are right. Haven't thought about that actually.
Do you have any plans for touring?
Oddleif: There will be a European tour starting up April 1st, together with Ensiferum and Graveworm that will last for 2 1/2 week, and we are also confirmed for the Rock Hard Festival this summer and hopefully some more festival gigs this summer. We are really looking forward to get out, play these songs live.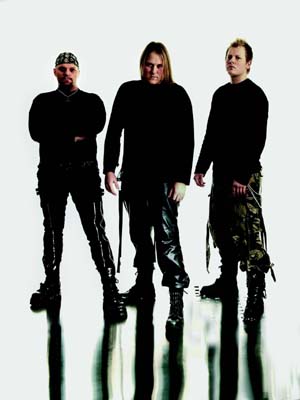 Do you think the addition of a second guitar player would help you to do justice to the 'Conspiracy in Mind' tracks on stage?
Oddleif: Well, honestly, as we talked about earlier, I really like the fact that we are a trio, and this is the way that these songs has been written. Off course the keyboard will bring that extra dimension onto the stage as well, so the sound will be just as heavy I think. People are questioning if we actually can do it, but then again they have to show up and check it out.
How confident are you in the success of the album? Which countries do you expect to receive the most support from?
Oddleif: We donít try to think too much about how successful this album is going to be. We will continue out path anyway, but for sure we hope for some good feedback and that people check the album out.
There does not appear to be any direct connection between the cover art and the title of the album. Could you enlighten us in this respect by explaining the main idea behind the images used?
Oddleif: The artwork is made by Matias Norťn (www.progart.com) I really like it and it matches our music and the theme in some way. The artwork is more or less as the lyrics. Open for interpretations, and I guess that when people have read the lyrics, heard the music and seen the video, some clues will be laid to the puzzleÖ
What would be your ideal follow-up to 'Conspiracy in Mind'? Do you see your self continuing along the same lines with your next effort?
Oddleif: After the summer we will start to focus on the next album. We have nearly two songs ready by now already, and they sound very promising, and have loads of ideas for the rest of the album as well. It seems that we are continuing in the same direction, but more defined in our own sound I guess. If everything goes as we're planning, we will have our 2nd album ready sometime early 2006 again, but it depends on how much live jobs there will be supporting "conspiracy in mind" and if we get time to do it. Only the future can tell.
You must be pleased with the contract you have with Nuclear Blast and the fact that such a large label has decided to invest in you in the long-term? How do you picture the band's future in five years time?
Oddleif: Well that's a tough one. Hopefully we have around 3 or 4 albums out by then, doing a lot of touring, getting on more and bigger festival billsÖ
Finally, a message to your fans.
Oddleif: As a final, I hope people will check out our album, as we think we have something to offer in the world of metal these days, and hopefully we meet up with some of you when we go on tour through Europe in April. So if you haven't bought the album yet, empty your wallet at your nearest dealer NOWÖ
Cheers!
---
Album review
Interview © 2005 John Stefanis