COMMUNIC 'Conspiracy In Mind' Nuclear Blast(2005)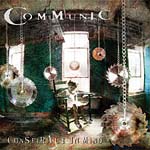 The contribution of Norway to the international Metal scene has been very important, especially since the beginning of the 90's, when a whole generation of young and frustrated musicians expressed their artistic "insecurities" through one of the purest forms of aggressive music, better known as Norwegian Black Metal. The impact of that movement was such that many people still find it very difficult to believe that this cold Scandinavian country is capable of producing anything other than bands with plenty of corpsepaint on their faces and with the intention of releasing fast noisy riffs from their amplifiers.
That of course is not the case - there have been quite a few bands like Conception for instance, which even though they had a totally different approach to music than that of Darkthrone, Burzum and Emperor, managed to gain the love and appreciation of Metal fans wordwide. In March 2003, three quite skilful musicians decided to add the name of their band to the important list of non-extreme Norwegian Metal bands. Oddleif Stensland (guitars/vocals), Erik Mortensen (bass) and Tor Atle Andersen (drums) are the members of the Power Metal outfit Communic which are just about to release their debut album "Conspiracy in Mind" through Nuclear Blast.
It didn't take too long for me to realise that "Conspiracy in Mind" is going to be one of those albums that will become a really good friend of my CD player…why? The members of Communic have added a variety of different elements to their long and interesting compositions, but it is without doubt that the one band that has been the main source of inspiration for this trio is the American Power Metal outfit Nevermore.
There is not a single moment on this fifty eight-minute album, which could not have belonged on either "In Memory" or "The Politics of Ecstasy". Oddleif Stensland's voice is equally powerful and emotional, a sign that he had been a worthy "student" of such a unique frontman as Warell Dane (Nevermore/Sanctuary). In addition, the band has managed to successfully reproduce the early Nevermore guitar sound, which is considered to be the point where Power and Thrash Metal can meet in harmony. I will not agree with Nuclear Blast, which labels the band's style as partly progressive, though. It is true that the average duration of each composition is seven minutes (quite a long time indeed), but the band's intention was not to explore any progressive paths but to make their compositions more interesting by composing more technical, but at the same time memorable riffs and melodies.
There are seven compositions on this album, all of which were recorded in a Danish studio by a man called Jacob Hansen who definitely needs to be congratulated for his good work. My favourite songs of the album? Well, that's indeed a very difficult task, but hey…let's just say that I tend to like a little bit more songs like "History Reversed", "They Feed Our Fear" and "Communication Sublime", with the latter "sitting" at the top of the ladder.
I am very excited and at the same time quite worried about the future of this band. After such a great debut, which will be their next move? Are they going to be given the attention they truly deserve? Well, if that does happen, then I guarantee that you will be listening to their name quite a lot in the future.
****
Review by John Stefanis