When you have a band like Bolt Thrower releasing an album such as "Those Once Loyal", the least you can do is to commit yourself to do an interview. Well, after plenty of effort and a huge delay that was due to the fact that British Deathsters started the first leg of their European tour earlier than anyone had expected, I managed to get Barry 'Baz' Thomson (Rhythm/Lead guitar) to answer some of my questions. Well, it looks that, for a music journalist, I was treated with leniency after all!
Hi Barry, and welcome to the "Pure Metal" pages of Get Ready to Rock. Bolt Thrower has been around for the last twenty years, assaulting our nervous system with well-co-ordinated groovy riffs and unique guitar melodies! Are you still enjoying this music "adventure" that started back in 1986? What are your plans in order to celebrate your 20th anniversary?
Baz: Hi, yeah thanks for reminding me it's twenty years! It really doesn't feel like it. It only seems like yesterday that we were going out on tour for the first time. The only plans we have to celebrate are for an extended European tour, of which we have done the first part. Then we are playing our first open air festival in years, Rock Hard, in Germany. Apart from that we will probably have a beer together or something like that.
It took you guys five years to return with a new album, during which, many things happened within the ranks of the band. Was there ever an issue of calling it a day, as it was widely rumoured after the departure of David Ingram? What was Metal Blade's position during the period after the release of "Honour Valour Pride" and today?
Baz: No we never considered calling it a day - we respected Dave and his decision to quit, but that was him and not us, so we just carried on as normally as we possibly could by asking Karl to rejoin. Metal Blade have been the same throughout all the line up changes and releases, they moan at us, we moan at them - but in the end everything works out ok - just like a good marriage!!
Well, your latest album "Those Once Loyal" has recently hit the stores, and it has already featured my list of the best extreme metal albums for 2005! Are there any other music journalists out there who share the same thoughts with me? How would you describe the response that the album has received from my fellow colleagues so far?
Baz: The response has been excellent from fans and critics. The interest in the band is amazing and shows that if you put the effort in you will be rewarded. We have really worked hard on improving Bolt Thrower over the years, investing in equipment and spending more time recording. I think this had a major impact on how the album came out. We still think we could do a better album though, I am still not 100% happy with it, which is a good thing as it helps you to do better in the future.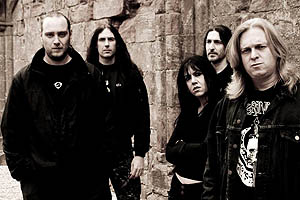 Even though your music was never particularly complicated and technical, as it happens with many Death Metal outfits nowadays, one of your biggest achievements was the creation of your own personal sound and style - both of which can be identified from miles away! Which, in your opinion, are these elements which create such a positive reaction towards the band's music, and how visible are they in your latest release?
Baz: We try to write catchy songs with catchy riffs. That's it, plain and simple. We have our own style that's for sure, and we aim to keep it that way. We always said we would never change our style, and in the earlier years we were said to be doing the same album over and over again, so its nice now that we are getting some credit for not changing what we do. As for the latest release, 'Those Once Loyal', the same thing goes. Its guitar/bass driven songs that have catchy riffs with a little something in each song that sets it apart from the rest.
A comparison between "Honour Valour Pride" and "Those Once Loyal" is almost inevitable, and even though I really like the former, I found the latter to be slightly more interesting and effective. Did this small break help you re-evaluate a few things? How beneficial was it, to the creative process of "Those Once Loyal"?
Baz: I don't think it mattered either way. When the album gets close to recording we ramp everything up and put in 110% to making it the best we could. However looking back on it, the album came out great, but what if we would have had another year on it - would it have been any better? If we did another album next year, would it be more spontaneous and a different edge? We will never know. As a unit, we work well at the 11th hour and even if we had everything done and finished well in advance we would still change stuff in the studio 'cos you are in the zone!
When I listen to a new album nowadays, I find it relatively easy to identify the songs that I find to be more to my liking, but things were not that easy as far as "Those Once Loyal" was concerned. It took me ages to decide, but I eventually identified "At First Light", "The Killchain" and "Last Stand of Humanity" as my personal favourites. Can you please share your thoughts and perhaps give us a few interesting tips as far as these songs are concerned?
Baz: 'At First Light' was one of those songs that came together really easy. I would say one of the quickest. So from that point of view there is not a lot to say on it because it just happened. In regards to 'The Killchain', we had the main riff in the song for a long time prior to it all coming together. It was hanging around and we decided to bring back 'Cenotaph' riff and it fitted perfectly in front of it. After that it still took some time completing it, trying different styles of riffs after the verse section and in the end we just settled for a basic power chord section, as the previous riff was busy. That whole process seems like it was over a weekend but it probably took 4 months to get that one nailed down. 'Last Stand of Humanity' was one of the first ones we got worked out and I love the middle of it - hopefully we will play that one live in the next part of the tour.
The concept of war has always been the source of inspiration for the band's lyrics, and also one of the band's trademarks. How do you manage to work on that concept for the last twenty years without getting creatively drained? Is your country's rich military history responsible for your general approach and understanding of that concept?
Baz: Yep, you've got it, it's a never-ending topic and source of material. If we ever get a little drained we can just go into the future or fantasy warfare so I think we are sorted for lyrics for the foreseeable future!
Barry, as the band's guitarist and founding member of Bolt Thrower, you are the one responsible for keeping this "war machine" working. Is the task of song-writing a lonely post, or does the rest of the members of the band assist you in that respect?
Baz: We all have a responsibility for keeping the band going, so its not just down to one person. We all have different roles in the band and use our skills accordingly. Nobody in the band is a glory hunter and so we don't promote individuals. Everyone has a job to do and Bolt Thrower expects everyone to do their duty.
You have once again chosen to work with Andy Faulkner for the production of your new album. Which are the similarities and the differences that you can detect in your co-operation this time round? Is the production that you have achieved for "Those Once Loyal" the natural evolution of what started back in 2001, or was this a totally different project?
Baz: Andy was always going to do the album, we work well with him. Plus he is a great lad. The difference is on the sound on this one. We wanted to hear what it would be like mixed by him on his own, then we sort of worked out a mid point between what he thought and what we thought. After a few rattles we thrown out of the pram we got to a point that everyone was happy with and we went with that as the overall feel for the album. The desk was different to the one we used last time and this helped loads when it came to the mix. We also used a tempo click for Kiddie to make sure we pushed the songs at recorded it at the right tempo to keep it lively because sometimes we will record a few bpm slower than we wanted. Its nobody's fault - its just you are relaxed in the studio and you tend to play a little more laid back. I would say those are the main differences on this one. As for the similarities - its Bolt Thrower and its done at Sable Rose ;-)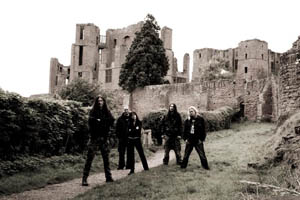 Do you normally enjoy yourselves during the recording process, or is something that you are really keen on getting through with the soonest possible? Any funny or strange incidents that are worth mentioning?
Baz: I love hearing the song for the first time with 2 guitars on it. That's when you know if you have got the sound and songs right. Nothing really happened on this one, but after nearly 4 months in the studio, rehearsing and recording, I was glad to finish it.
Your 8th studio album features the return of Karl Willets behind the microphone! Now, his vocals are quite similar to that of David Ingram's in "Honour Valour Pride", to the point that I found it hard to realise that an actual change indeed took place! Now, we all remember that Karl left after the release of Mercenary, due to his inability to commit to the band's tour schedule! Is he going to handle the vocal duties in the already scheduled 2006 European tour, or are we going to see another guy standing behind the microphone, as it happened in the past with both Martin Van Drunen (ex-Pestilence, Asphyx) and Dave Ingram (Benediction)?
Baz: No, Karl's back for the long haul - we have done the first leg of the tour already and it was great to have him back.
Yesterday, I felt a bit nostalgic and played the video that you did back in 1991 for the song "Cenotaph". I still think that it's really cool, but with technology on your side, you can now perform miracles in that domain. Which is the song that will be faced with the duty of representing the album on that respect, and how have you pictured its presentation?
Baz: Hmm - not thought about that really - probably choose a faster paced one. We will have to discuss it with the label and see what budget there is available, so I find it hard to answer that one. The only thing I will say is that we will do one, but might have to do it ourselves like the 'Inside the Wire'.
You obviously have a loyal fanbase supporting you all those years, but what about the young metalheads? Do you see them attending any of your shows? What is it that they should expect to find in your music that would convince them to join the big Bolt Thrower family?
Baz: The tour had a lot of younger kids...its great to have people of all ages at the shows. Long may it continue, we value their support and they are welcomed into the Bolt Thrower community. I think they all know what they will get at a Bolt Thrower show a good package with low entrance and T-shirts prices. As for the music, only they can answer that, but I would like to think that they felt they were part of it all too!
I was told that, while you were recording "Honour Valour Pride" you invited a few journalists to attend those sessions. Is it true that you had prepared a small surprise to them which involved army uniforms, ropes and plenty of war paint...Do you have any confessions that you would like to make, or was my information totally inaccurate? Has Bolt Thrower been the target of strange and false stories in the past?
Baz: Your close, what happened was we set them up. We got some friends of Gav's to pretend that they were Military and they had driven onto an M.O.D army base. We have it on film...its hilarious...lets say they needed a change of underwear - we should put it on the web site as pay back for all the bad reviews bands have received from critics over the years!! After a while of driving them round in circles in the back of an army wagon they were told that they had to earn the right to hear the new album. Basically they needed to go through some army training - nothing hard, but it was nice to see them sweat.
Guys, thank you for your time in answering my questions. I hope to have the pleasure of doing many more interviews with the band, in the years to come! Your last thoughts?
Baz: Thanks for the interview, can't wait to get back out for the second part of the tour!! Roll on April!!!
---
Interview © 2006 John Stefanis