Amon Amarth are definitely amongst the hardest working bands in the metal scene.
It was less than six months ago that I last saw them live in the UK supporting Fintroll and today they will once again open for another band, namely Dimmu Borgir. In the relatively comfortable surroundings of the band's tour bus, located in the parking area of the London Forum, and with the sounds of Olavi Mikkonen's guitar filling the air, I spoke with the band's gentle giant and frontman Johan Hegg about their upcoming US tour, the unprecedented success of their triple DVD "Wrath Of The Norsemen" and their plans for the future.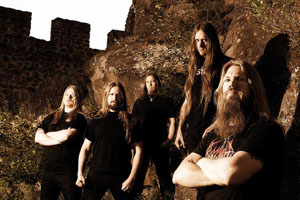 Welcome Johan - it's really nice to have you back almost six months after you toured the UK supporting Fintroll.
Johan: ...yes, something like that...it was back in April that we last visited the UK.
Obviously we are all happy to see you guys again, but it feels weird that you decided to come back so soon, especially knowing that in November you are starting a full scale US tour. I would expect you guys to get some rest instead of doing another handful of shows here.
Johan: We are doing a full tour actually - it's five weeks that we are talking about here. For us it's another good opportunity to get out in Europe and play for bigger crowds than we normally could do. Of course, when we play countries like Germany, Holland and Belgium we may be on the same level with a band like Dimmu Borgir audience wise, but when it comes to countries like Spain, Italy and the UK or even Eastern Europe and Scandinavia we feel that we need to get some more exposure, and to do that we need to support a really good band and Dimmu Borgir is one of the best out there.
Do you expect a large number of Amon Amarth fans screaming their lungs out for you this evening at the London Forum?
Johan: I hope so! We've had some really good shows so far in the tour, so I hope that we will have some of our fans here tonight, but as I said the UK is a country that we only recently started touring more and we definitely need to expose ourselves more to people...I think that we will have a good show tonight.
English metalheads have traditionally been more supportive towards bands of a more dark and atmospheric musical orientation, and that's been the case since the early days of Black Sabbath. Do you believe that an up-tempo Epic sounding band like Amon Amarth will manage to win them over at some point?
Johan: I hope so (laughs). It's hard to say really...so far the shows we've done here in the UK were really good, so we don't see any reason why this tour should be any different. Of course I'm fairly certain that a lot of fans which support Dimmu Borgir have never heard of us before but that is one of the key things - that's why we're on this tour, to get people start listening to our music.
Having just said that, do you find it particularly difficult to approach a more Black Metal orientated crowd with your music. What's your experience been so far?
Johan: No, not really. I haven't felt any difficulties at all. I don't know - for me it's like doing any other show really (laughs).
The US tour that you are going to take part in November also featured Decapitated and Sonic Syndicate - none of which sound close to what the music of Amon Amarth stands for, so you seem to be once again part of a very interesting package.
Johan: Yes (laughs)...we wanted to get some bands together that we felt could contribute something to the tour. Decapitated is a band that has a very good reputation in the US and Himsa and Sonic Syndicate are bands that are in the music style that's quite popular in the US right now - both of them have a growing reputation right there at the moment. We believe that this would be a good package for the fans and that is the reason why we made this decision.
What types of venues are you going to be visiting in the US in terms of capacity? Your DVD "Wrath Of The Norsemen" became gold there quite recently, which I also want to congratulate you for, so with that in mind, do you expect to play in from of 2000 or 3000 people in average?
Johan: Thank you. I don't believe that we will play in front of such big crowds, to be honest. I think that the average capacity of the venues that we will be performing will be close to 1000 people, which is quite decent. Of course, some venues will be smaller than that and some others are going to be bigger, but I do think that this is going to be a decent tour. Most of the venues that we will be visiting we've been there before and they are really good venues - others, of course, I haven't been to but judging from their capacity and location they should be really good shows.
Is the reason behind this tour to further promote the already successful "Wrath Of The Norsemen" DVD in US soil, then?
Johan: We will be promoting the DVD, but also our last album "With Oden On Our Side", which of course was released after the DVD (laughs) and it's a more recent release. We are still trying to build our name and I believe that a headline tour in the US is a perfect end to the tour for our last album.
I have been following your band's career for quite a long time now and I seriously believe that "With Oden On Our Side" is the best album that you guys have released so far. I do feel like I'm stealing your lines here, but this is indeed the case here. Are you still satisfied with the overall result?
Johan: (laughs) Yes, most definitely! It's one of those albums...we definitely feel that it's the strongest one we've done so far. This is something that all bands say, of course, but that's a fact. We've always tried to top ourselves with everything and in retrospect I can say that "Fate Of Norns" was not as strong of an album as we would have hoped, still it has two of the most popular songs that we've even written on it, so...it depends on who you talk to, of course, but I definitely feel that this album came out really well. We've had that feeling both before and after we've recorded it - I still like this album really much.
To me it feels that you manage to master simplicity with every new album - simplicity being the classic rule of Heavy Metal music. Every single song on "With Oden On Our Side" was based on a simply but extremely catchy melody. What are your thoughts on that comment?
Johan: I agree. You don't have to overwork everything to make things good. Some of the best bands out there are very simple straight-forward in their musical orientation. That's what we've always kind of looked for but we also want some kind of tension to co-exist with these melodies and harmonies, so we kind of focus on writing good and catchy melodies that still has to have some power and brutality in them. I believe that we do a great job with every album in that respect.
Have you guys begun working on any new material yet?
Johan: Not really, no. Maybe some ideas have already come up, but it's not like we've actually sat down and stated planning things at all. We are going to finish touring first and when we get back home in January we will probably start working on new material.
I am happy that I'm doing this interview with you, because I've been meaning to ask you this question ever since I heard a comment that you made on the DVD about the fact that you don't expect Amon Amarth to evolve much higher than the already existing levels of popularity that you are currently experiencing. Isn't that quite a pessimistic attitude on your part?
Johan: (laughs) Well, you have to consider that we are actually quite a brutal Death Metal band, that being from our foundation, and we have our own style...I think that we can go far, but we're not going to become Iron Maiden or Metallica at some point...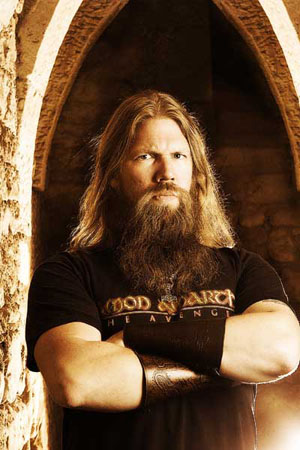 Do you really want to become the equivalent of a band like Iron Maiden or Metallica?
Johan: ...no, but you know what I'm saying here. There's going to be a limit as to what we will be able to achieve as a band, because we don't really have that...
...massive appeal that more commercial orientated bands are capable of?
Johan: Yes, exactly! On the other hand it funny to see, especially in Europe but also in the US, how people who are normally into other styles of music like Black or Power Metal also like our music, even though we're not really part of their culture.
Would you attribute that to the band's Viking image then? Is that what people feel that they can really relate to?
Johan: No...I don't know what it is...I'm just happy that they actually like us (laughs). It seems that we have a lot of crossover fans, also within the hardcore community, which is indeed quite strange and interesting. It is very funny but of course also quite flattering!
To me it feels as if you have a label that really believes in you and they do many things to support you in terms of promotion, with many interesting things happening all the time. Have you already decided with them what would be the strategy to follow in the years to come as far as the future of the band is concerned?
Johan: As I said, right now we haven't really talked too much about these sorts of things - what we are currently focusing on is the upcoming US tour and to at some point begin working on our new album. Hopefully our new album will be out sometime next year, but that depends on whether we will manage to come up with any really good ideas. We are not going to stress an album simply to have it out on time - it really needs to be a good album, still the plan is to begin working on our next album sometime next year.
Johan, thank you very much for doing this interview - I really hope that you enjoy tonight's gig with Dimmu Borgir. The last words are yours!
Johan: Well, I don't really know what to say...cheers, and buy our DVD (laughs).
---
Interview © September 2007 John Stefanis
---
| | |
| --- | --- |
| | Print this page in printer-friendly format |
| | Tell a friend about this page |