Fancy learning about a band that has recently unleashed its latest release on the hardcore metal scene? Well, if that catches your eye and appeals to your ear, let me tell you that Born From Pain hail from the land where tulips grow in abundance. Yes, they also have a red light district!.. I interviewed Ché, their frontman, whose enthusiastic answers should put this band's positive attitude in context for you.
Hi There. Can I ask you to introduce the band and its members to the subscribers of Get Ready to Rock? How many albums have you guys released so far, and were should we look in order to get hold of them?
Ché: Well I'm Ché and I'm the singer for Born From Pain, there's Rob our bassist, we have Karl and Stefan both guitar and there is Roel on drums. So far we've released two albums 'Reclaiming the Crown' and it's follow up 'Sands of Time', before we released 'Reclaiming the Crown' we put out a MCD called 'Immortality'. All of those releases are available through our old label GSR music from Holland. Right now we're on the verge of releasing 'In Love With The End' which will see the light of day on April 18th and is released by Metal Blade worldwide.
Born From Pain is a very powerful and appropriate name for a band like yours. Whose idea was it to choose that specific name?
Ché: Born From Pain is a band which is founded by Rob and me, ever since we started talking about doing a band together we had the name ready to use. We thought the name reflected the state we were in personally, that was our mindset. The name had a really big effect on the lyrics.
Not knowing many things about your band prior to this interview, I tried to search on the Internet for more information. It seems though that there are not many things that you can find about the band there either. Are you one of those bands that prefer not to attract the attention of the media?
Ché: Euhm, no we really love the attention, and we want to get as much attention from the media as possible. The more attention you get, the more people you reach. I guess we weren't really that well promoted in the past, or maybe through different channels or maybe even in different scenes. Plus we weren't that lucky in the past as far as being picked up by the press. But Hell yeah we love to get attention.
The stuff we did so far is mainly done by ourselves, which gives the band a good and firm basis to achieve things a different way. By that we're a self made band, and not a created product for a label.
Some of the band's members were artistically active before the conception of the band, so it would be quite natural for them to bring their knowledge and influences to the music of Born From Pain. Are there any specific bands/artists that you feel that ought to be considered as your 'mentors'?
Ché: Those experiences from the band members prior to Born From Pain especially worked for the band in the beginning when we started this thing. However those bands never worked how we work with Born From Pain. Born From Pain was an entirely new ball game to the band members. I don't believe in copying work ethics from other bands. So we don't really have an example of how things work or have to work. I think somewhere we found our style of working, and this works for us. That's what makes this band strong, and that's why we survived the hard and struggling years. The best lesson is just to do and what you think is right, you'll find out soon enough whether it works for you or not.
There are comparisons of how thing go with other bands, but we always had the idea that we could make it on our own, by our own strength. I guess that would make us a self made band.
In the few reviews that I read on the net, I saw people comparing your style and music either with Agnostic Front or with Hatebreed. How much truth is there in such comments in your opinion?
Ché: The Hatebreed thing I kinda understand, not musically anymore, but in the vocal department there's comparisons. But it doesn't happen on purpose. The deeper vocals fit this music the best. It makes the music sound even stronger. Music wise we sound more groovy than Hatebreed. Nevertheless, I love Hatebreed, they set the new standard of hardcore and metalcore. The AF comparison is a bit weird, again nothing but respect for AF and what they did for music in general, but we don't sound like them at all.
I have nothing but good things to say about those bands!
I was really impressed when I found out that you're not a US based outfit, but your origin is from the south east of the Netherlands. The Death Metal scene of your country is indeed quite famous, but I would never expect to come across a hardcore outfit from the country of tulips. How come you decided to 'serve' this specific branch of music?
Ché: Hahaha, tulips! You forgot to mention the wooden shoes and our famous windmills, or our red light districts or even the right to smoke weed in a private environment.
It just so happened to be that we were hardcore kids. Hardcore kids that were in love with metal. So we just wanted to do something musically that made us go crazy in the pit, and that's the way we made our music. Eventually you start to use more and more elements from other types of music, simply because you don't want to stand still and want to evolve... Or put out the same CD over and over again. However we still make music which makes me dance so that's all good.
In a previous interview that you guys did, I saw that you were referring to the scene of your country as the MOC. What is the actual meaning behind these initials?
Ché: You did some good research for this interview, I've got to hand it to you. Basically that was the area where we're from translated it means 'East mining area crew'. Everything that had something to do with hard and heavy music was MOC.
You have been an active band since 1997, and quite recently you have signed a contract with Metal Blade records. As far as the pre-Metal Blade years are concerned, which would you say were the most important moments in the band's history?
Ché: Our first recordings, those taught me a lot. Going on tour with Hatebreed, Biohazard and Agnostic Front, Madball. Playing with all my favourite hardcore bands as well. Going on tour in the States and Japan is a great memory as well.
You are not the first band of this type of music that has signed with this German Label. What made you choose them, and how much did the fact that other hardcore/metalcore acts have trusted them with their future helped you reach this decision?
Ché: Well at the first place Metal Blade is an old label, that survived the test of time in history with that they've earned a lot of credibility in the underground scene. A lot of my favourite metal bands are or were on Metal Blade.
We're really good friends with the dudes from Cataract, and they had nothing but good stuff to say about Metal Blade. So when Metal Blade showed interest in us we were psyched about it and Rob and me went down to the office in Germany to have a chat with them on how they see things, how we see things etc. From all the labels that offered us a deal, Metal Blade was that label that stood out the most, they gave us a great and comfortable feeling, they know how to market us. So that based our decision.
OK, let's come to the release of your latest studio album 'In Love With The End'. How different is it from the band's previous releases?
Ché: With this record we concentrated ourselves more on the groove element of the music, it's still brutal, it's still hard and it's still aggressive. However we allowed ourselves to use different elements within the Born From Pain sound. This is by far the most mature Born From Pain album to date. Which makes it sound perfect, everything fits, it has it all, melody, aggression, mosh, sing a longs, everything.
Even though there are ten new tracks featured in this release, its total duration is thirty-five minutes - typical of hardcore bands. Do you think you have managed to present all the ideas that you originally had in mind with such a short album? Are there any compositions that you wrote during that period, that you finally chose not to include in the album?
Ché: I think this album is long enough for people not to get bored with it the first time they listen to it, which makes it easier for them put the record on a second time in a row. But we had way more songs, we just chose the songs we thought were best for this record, and some songs just weren't good enough in our eyes.
A song is finished when it's finished, a song that's too long is boring, a song that's too short misses something.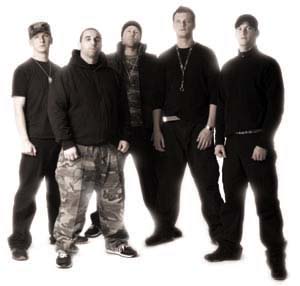 I read somewhere that the first edition of the album will also include a bonus DVD with some extra stuff in it. Can you tell us what we should expect to find there?
Ché: True, the first edition will have an extra DVD, which features a live clip form the With Full Force festival in Germany, a 3 song live registration of that same festival. The video for Day of the Scorpio which we recorded for our previous record. And a little extra, which is a full concert we played somewhere in Germany last year.
What is the general idea behind this album? Is there a specific feeling that you wanted to express with that new release of yours? What are the lyrics of the album about and how important are these for the band?
Ché: Well as with every Born From Pain album we write it with a certain idea. This CD is basically about the effect humanity had on the world and the environment. The title of the CD says it all, we're in love with the end since we don't do anything to change our ways of living. It's not very positive lyrics, the downsides of life and the world are the main elements of the lyrics.
Throughout the whole album there is a constant battle between the hardcore and the Metal elements in your songs. Which of the two are the ones that you feel are expressing you the most as an artist and a person?
Ché: Both, I'm a converted metal kid, which means I grew up on metal and later when I turned 16 or something I started listening to hardcore. I always wanted to do a hardcore band with metal influences, not too metal and not too hardcore. Up until now I'm really happy with everything we did musically. It's definitely the fine line between hardcore and metal we're walking.
I couldn't avoid noticing the great admiration that the band's guitarists have for the music of both Slayer and Black Sabbath - two of the most characteristic songs being 'Fear this World' and 'Hour of the Wolf'. What is it about their music that has influenced you that much?
Ché: I think all of us are really big Slayer fans, for the most part of the band Black Sabbath is favourite as well. Those bands definitely had an effect on our songwriting. Black Sabbath was really important in the early 70's for the music scene in general, they're the founders of what became metal. All those CD's they did in the 70's with Ozzy on vocals have this totally dark and melancholic feeling to it, you can't not love that. Slayer was and is really important for the trash metal scene especially in the 80's. The raw aggression they put on their albums is just simply amazing.
How long did it take you guys to prepare the songs for the album? Would you like to describe to us the process that the members of Born From Pain use in order to bring a song to life?
Ché: We took 6 months off to write the record, but there were songs that were written even before the Sands of Time period, but for some strange reason we didn't use a couple. But actively the CD was written in about 6 months time.
Is there a specific location that you guys use in order to record your albums? Which studios and producer did you use this time, and how has the whole experience been? Did you have a good time recording 'In Love With the End'?
Ché: We used this whizzkid Tue Madsen again, and his studio in Denmark which is called Antfarm studios. He did an amazing job again. Tue is the perfect man for us to be working with he's even more of a perfectionist than we are. He motivates and he gets the best out of you. This is the second time we've worked with him, and I have nothing but good things to say about him and his studio. He knows exactly how a band like us has to sound like.
As for recording itself I personally hate it, I love to hear the result, but I hate the whole process. It's not good for my heart, I get stressed out and really nervous. But because Tue was working with us, it gave me a relaxed feeling.
How important is it for you guys to be able to go on stage and play your songs for a live audience? How would you describe a typical Born From Pain concert?
Ché: Really important. It's so important to give more than 100% every show you play, that's why people pay money to see the band. You have to give them their money's worth. That's why we put as much energy, as much power as much aggression and as much sound into the live show as possible. It's raw, hard and energetic.
You have toured with many important bands of your genre throughout your eight year career. Which was the band that you enjoyed playing with the most, and why?
Ché: I enjoy playing with any band and I get along with everyone but I have to say Madball and Terror both from the States are both my favourites . Love their music and love the dudes in the band. From Europe I always enjoy playing with Knuckldust, No Turning Back, Hatesphere, Zero Mentality, The Setup, Liar, Backfire!, Settle the Score, Cataract, XmaroonX because they're all cool dudes.
What sort of people should we expect to find in a Born From Pain concert? Do you agree with the mentality of many hardcore bands of trying to reach only the 'chosen few' with their music?
Ché: Everyone is welcome at our shows, whether you're a metal kid, hardcore kid, punk kids whatever. Everyone is allowed to have a good time at our show, everyone is invited. We're not a narrow minded band at all. Treat people how you want to be treated, that's my motto.
What are the band's plans for the future, and when shall we expect to see you guys in the United Kingdom?
Ché: The release show and follow up tour starts on April 23rd and lasts up until the end of May. After that we're going to the UK the end of June in support of our new CD 'In Love With The End'. There are more plans, but those aren't definite yet.
Name a few bands of your genre, whose recent releases have been important for your scene and that you feel should be embraced by this specific audience?
Ché: Cro Mags - Age of quarrel + Alpha Omega
Agnostic Front - Cause for Alarm Integrity - those who fear tomorrow Killing Time - Brightside Earth Crisis - All out War Merauder - Master Killer Stigmata - Hymns for an unknown God Hatebreed - Satisfaction is the death of desire + Perseverance Madball - Set it off Sick of it All - Blood, sweat and no tears All out War - Those who were crucified
Bolt Thrower - 4th crusade + for Victory Slayer - Show no Mercy + Reign in Blood + South of Heaven + Hell awaits Metallica - Ride the Lightning + Master of Puppets + !And Justice for all + Black album Machine Head - Burn my eyes + The more things change Pantera - Vulgar display of power + Far beyond driven Biohazard - Urban discipline + State of the world address Danzig - Lucifuge Sepultura - Arise + Chaos AD Anthrax - Among the Living Black Sabbath - All 8 albums with Ozzy on vocals Testament - the Legacy
Thank you for doing this interview. Your message to the subscribers of Get Ready to Rock?
Ché: Thank you for investing your time in reading this interview it's much appreciated. Check us out when we're playing a venue near your house in June!!! Pick up the CD 'In Love With The End' out on April 18th through Metal Blade worldwide.
---
Album review
Interview © 2005 John Stefanis