BORN FROM PAIN 'In Love With The End'
Metal Blade(2005)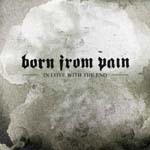 You really cannot say that Born From Pain is one of those bands that are simply trying to take advantage of the popularity that metalcore music has gained over the last couple of years. Formed almost nine years ago, this NY-style metalcore band has already proven that they have gained the right to be considered equally important as Madball and Pro-Pain in the struggle to spread the word of this specific genre throughout the music world.
Having already released three studio albums, the latest being 'Sands of Time', the members of Born From Pain have toured all over the world next to bands like Madball, and Hatebreed, performing for a variety of different Metal audiences and creating a mass hysteria with their thrashy guitar riffs and their obnoxious politically and socially driven lyrics. With the current situation in the Metal market and the already high interest of record labels in signing bands of a similar musical direction, I can really see why a label such as Metal Blade decided to invest in a band like Born From Pain. Well, the contract was offered by the German label, and the five musicians received it without a second thought. The very first product of that collaboration will be the band's fourth studio album "In Love With the End", which is going to be released during the third week of April.
I have read quite a few reviews where Born From Pain are compared with bands like the Agnostic Front. I really don't think that I will agree with such a comparison, even though I can see the reasons which generated such ideas. If you take out all those screaming vocals and the rough-edged guitar sound, you will realise that the majority of the songs which are featured on this ten-track release are based on Pure Metal riffs. One very interesting thing about the structure of "In Love With the End", is that you will either come across Thrash orientated songs of immense energy, such as "Judgement" and "Fear this World" or with mid-tempo compositions such as "Rise or Die" and "Hour of the Wolf" which are based on groovy riffs that are more suitable for a Doom Metal band.
The truth is that the opportunities that a hardcore band has to deliver a ground-breaking release nowadays are very limited and I don't think that this has anything to do with how pessimistic or optimistic I am as a person. The only thing that we can really wish for is to have bands that are willing to experiment within the very limits of this genre and present us with interesting, but above all powerful compositions like Born From Pain did with "In Love With the End". The devoted fans of this music should definitely invest in this album – a release which is also recommended to all those who are looking for an album that will help them release a lot of energy. Enjoy.
***½
Review by John Stefanis