After having heard Mothertrucker's excellent mini-album, "Electric Blacksmith", I wanted to find out a bit more about the band, so I managed to track down James from Mothertrucker to answer my interrogation.
You're from Birmingham. What is the underground scene like up there?
Very mixed like most scenes across the country right now. You can have an awesome show of just local bands where loads of people turn up, for instance we played with The Arm and Sunset Cinema Club this summer, we're all local yet the Flapper & Firkin was very busy, as was the Birmingham Barfly when we headlined on our August UK tour with 3 other locals bands (SLAB, Random Conflict and Redjack) supporting us.
On the flip side you can do as much promotion as you want and not a lot of bodies will show up. We're lucky in a sense that our local fans are quite loyal and turn up on a regular basis. So we can pretty much guarantee if we play locally they'll at least be some friendly faces rocking out with us.
Some really good talent is coming up however like Una Corda, Montana, The Hubble Constant, The Great Eskimo Hoax, Einstellung to name but a few and with Capsule who put on the Supersonic Festival at the Custard Factory every year we're doing quite well as England's second city.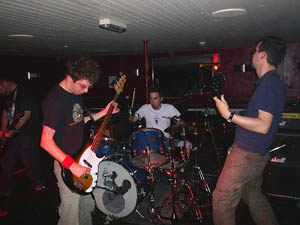 You've played quite a few dates over the UK, have you found the underground scene in the UK in general supportive?
Again much like any other band would experience it's been a barrage of ups and downs, fortunately more ups in our case. Especially on our own first UK tour in August we were delighted by the reception to our music in places we'd never played or on bills with bands outside our own genres. If you read the reviews (of which there are many) of our CDs everyone has been VERY positive, almost overwhelmingly so.
Is there any place you've particularly enjoyed playing?
Nottingham has been good to us all three times we've played. Firstly supporting Truckfighters from Sweden was a lot of fun as not only did we play with them, but also our friends who we had just done a split CD with in The Legion Of Doom. A big crowd came down to the Horn In Hand and it was just a friendly great gig. Then we got a late addition to our tour at Junktion 7 (Previously our day off) in August and although we played with more metalcore bands we were really embraced and it was awesome to know we could flourish in that environment. Lastly at the end of September we went to The Old Angel with touring pals eye and bossk and the sound was great, a big responsive crowd and we all had a great time. Of course we love playing Birmingham, especially at Artsfest recently where we played on an outside stage in Chamberlain Square to hundreds of people.
As well as your own website, you're also on Myspace. How important is it for underground musicians to have access to such sites? What do you think plays the biggest role in getting your music heard?
Definitely. Without it we wouldn't be where we are today at all. Whatever anyone says about it it's a marvellous tool for bands such as ourselves to get in touch with promoters, labels, other bands etc. We embrace MySpace!
You've released a CD (Electric Blacksmith) through Gallipoli. How big a role do such labels play for bands such as Mothertrucker?
They help in terms of support really. Knowing someone else except the band has your back. Obviously helping out with money is an issue too. And as you progress as a band you want to sound better/spend longer in the studio etc. If a label has good distribution as well, or general contacts in the industry to help with media etc that helps.
What was the actual experience of recording Electric Blacksmith like? Are you pleased with the end result?
We recently wrote a studio report for RoadBurn.com on Electric Blacksmith and although we're all pleased with the songs etc on that mini-album the actual sound we got wasn't quite what we wanted. Live we're more powerful as anyone will testify. We're all proud of the CD, but if we got the chance we'd re-record it again at a later date, maybe just some of the songs for our debut album.
How do you come up with your material?
Either Charlie or Chris brings ideas, or a song to us at band practise and we basically listen to the parts and all sit and make our own sections up. One of them doesn't just come in and say you play this like that and that's the way it is. We're very much a collaborating band. If something's shit we won't just keep it cause we wrote it, we'll either adapt it or simply forget it and move on. It can take us months to write a song till we're happy to play it live, then we play it at various gigs before we record it. We want to be proud of everything we play.
What's next for Mothertrucker? Are you considering recording again sometime soon or are you too busy playing live and promoting your current material?
We recorded one of our new songs 'Shango' at Dubrek Studios in Derby (Lords, Fixit Kid, The Little Explorer) with Jay Dean (You Judas, Fixit Kid) and Olly Toogood (The Swarm, You Judas) in late July for a split 7' due out on BH/BB Records in February with the mighty Una Corda. So that's our next output from the band. Then after that we'll probably demo a few songs next year just for us and build on those till we have enough solid material we're happy enough to approach a label who could help us put out our debut album in 2007.
Are you working on anything new at the moment?
We're constantly working on new material. If we were to just turn up to band practise for 3 hours and play our old songs we'd all lose our marbles, so every practise we're either starting a new song from scratch or tightening up. At the moment we've got 2 songs 'Sweet Mahal' and 'Liddell Couture III' pretty much finished that we haven't played live yet.
And live dates, I see you've a few dates in November too?
All four of us work full time in 'proper' jobs so we only have a certain amount of holiday time per year and what with our tour in August for 9 days and a 5 day mini-tour in September with eye and bossk plus our on holidays and gigs here and there we've all run out till 2007! So all major gigging plans are off till we can get time off again. Work and band are tricky to manage but we've got some great shows lined up with Una Corda, upcdownc, The Hearing and Black Cobra for November so plenty to look forward to.
What's been your best band experience so far? Has there been anything funny or anything that's made you feel it's all worth it perhaps?
Going on tour in August made it all seem worth it. Playing for people who would have never heard of us otherwise and then they buy t-shirts/CDs off us and say nice things. It was an awesome experience and gelled us more as a band in terms of performance and people too. Our experience recording 'Shango' at Dubrek recently was amazing as Jay and Olly really pushed us and didn't let us just slack off so the end result is the most pleased we've been with any of our recording efforts thus far.
How would you describe your music to the uninitiated?
This is very tricky. I've had to try to do this to many people before. Instrumental metal essentially. But if you delve further we take bits from lots of genres like post-rock, sludge, stoner rock, doom metal, rock, art-metal and more. A few people have said in reviews we've got our own slant on things, and I hope that's true as I'd hate to just be playing other people's songs!!
And what makes it different from the rest? Why should our readers check Mothertrucker out?
We're just in this to have fun, nothing contrived or anything. It's hard to get heard over so many other bands who want your attention but if you're interested in a band trying to do something new mixing genres and generally trying to experiment then we could be right up your ally!
Your material is instrumental. Is there a particular reason why you've chosen not to use vocals?
Not particularly. When we started we just didn't have one and we never felt like we needed to get one. Not having a vocalist doesn't limit us musically, in fact we feel it allows us to explore more as we're not limited to a verse/chorus/verse format. Getting some people to understand we have no vocalist is quite tricky at times however.
As for the future, what's in store for Mothertrucker? What are your ambitions as a band?
We have the same ambitions as any band. Sure they may be pipe dreams, but if one day it became financially possible for us to do this full time we'd all love to. But for now we'll settle with finding a label to call home in 2007 who'll support us and hopefully take us to the next level and just continue to make friends and tour with bands we've come to love such as bossk, eye, Una Corda, The Pirate Ship Quintet and many more.
Is there anything you'd like to say to your fans?
Thanks for supporting us over the past 3 years and hopefully you'll continue to do so as we carry on peddaling our wares. Thanks to Mandy at Pure Metal for this chance for an interview too. Cheers. Jamestrucker.
---
Interview © October 2006 Amanda Hyne