German metallers Centvrion have recently released their 4th album; 'Invulnerable'.
A modern fresh slab of Teutonic melodic power metal, which should see the band step up to the next level. We recently got a chance to find out some more about the band and what's happening inside their world. I had the pleasure of chatting with guitarist, Luciano Monti, who offered some insights into recent Centvrion happenings.
What is the band up to at the moment?
Luciano: We are now working to some ideas for our next album, we're promoting Invulnerable and we are preparing ourselves for an imminent tour date to present the album in Italy and also to an Italian promotional tour which we are working on to organize.
Would you agree that "Invulnerable" is your best release so far?
Luciano: Well, I agree of course, but this is the evident sing of a grown experience and evolution and maturation of the band and of its members. We worked on to obtain exactly what you hear, also the label helped us by non putting any time limit to our work.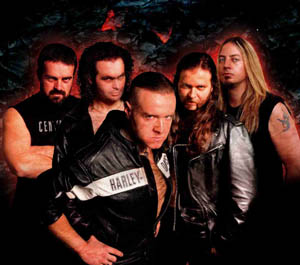 How long did it take to record and write "Invulnerable"?
Luciano: We recorded invulnerable from October 2004 until March 2005 about. Consider that the song writing of the album started at the end of Non Plus Ultra promotion. We have been stopped for about three years, but not all this time has been spent in song writing. I guess it took about one year to complete the promos of out last release Invulnerable.
There's a distinct sound of Judas Priest throughout the record – are Priest one of your influences?
Luciano: Yes, Judas Priest is the band which all the band members have in common as for influences. Anyway we try always to filter and fuse our influences to obtain something different and original though we know that in our style Judas influence is evident.
What other influences do you have?
Luciano: We like to listen to every kind of music, from classical to the hardest heavy metal...
I know that you've shared a stage with some of the greats in metal – what has been your favourite moment?
Luciano: God's of Metal! Great experience, indescribable, share stage and back stage with your favourite big band and being consider one of them. Fantastic!
Is there a plan to tour soon?
Luciano: We are organising a promotional tour in Italy, and trying to work in organizing something abroad even if we know that it is very difficult to be done as headliners. Maybe we will tour together with another band, but now it is too early to talk about.
Who would you most like to tour with?
Luciano: We love playing on stage; we feel that it is our dimension. Never mind the bands to share the stage with. The most important thing is to enjoy together sharing the biggest passion for all: the music.
What can fans expect from a Centvrion live show?
Luciano: Well, I think that the best way to know this is to came to a concert of us... heavy metal, fun, music and...
What bands currently interest you?
Luciano: I'm listening to Gotthard and Lordi in this period. I think that their last albums are very good and listenable. Great products, great music!
Besides from the band, what do you like doing? What keeps you busy?
Luciano: Each one of us has its own job, for example I work as a receptionist in hotel. Anyway besides from the music I like computer, internet, and surfing the web.
What plans do Centvrion have for the future?
Luciano: Now we are promoting the new album Invulnerable, we are going to start a little tour in Italy to promote it on the principle Italian stages... and then... let's see what will be happen. We like to go ahead step by step always sure that the first is stable...
Do you have anything to say to your fans?
Luciano: Thanks a lot to all the guys who will appreciate our music and to who that already does and keep trusting in us. For any information please visit our website at the address www.centvrion.com. New, restyled and soon updated with all the news regarding the band.
---
Interview © 2005 Graham Boyle