It sounds quite extraordinary, but it looks like even a successful band such as the German outfit Edguy feel the need to experiment with their music. Their latest release "Rocket Ride" is soon to be released, and the band's friendly and quite amusing frontman Tobias Sammet is here to explain the band's latest approach to music, his plans for the future, as well as how a rejection from the opposite sex can become an artistic inspiration.
Welcome to London, Tobias, you are here to promote your new album 'Rocket Ride' so I think that the first thing I should do is to let you tell us what your first impressions of the album are now that you are out of the recording process.
Tobias: Well, what can I say? Of course, it's great! I love it! It was a very relaxed recording process and there was no pressure at any point or stress. And now I can enjoy listening to it, from start to finish. I really love it: of course, every musician will say that about their latest album, but I think we have always been honest about what we did. Looking at our back catalogue, I like "Hellfire Club", which was the predecessor, most and "Mandrake" second most. I think we are definitely improving from album to album and the latest one is the most diversified album: it has classic Edguy elements in there but at the same time it has a new sound, thanks to our producer who was adding his own points of view and ideas. We've included things we probably wouldn't have dared to on our older albums.
Which were these 'daring' elements? Were they daring for the fans or the music?
Tobias: Well, we didn't want to produce something 'safe', we wanted to do something that we liked. And we had the self-confidence that if there was a bad joke in the studio, we put it on the record without thinking twice about it. Even the cover artwork is controversial: some people say it's the worst piece of crap they have ever seen and that's good: at least it's a reaction! There are so many albums out there where people don't care about the covers. I have so many in my collection where I don't even remember what's on the cover! We have a very flashy cover- The same thing goes for "Matrix", it has very modern elements. 'Save Me' is a classic ballad but it's got a very modern sound. The cover, the bad joke, where we 'sang' the guitar solo, we knew all of these things would raise eyebrows, but we just felt comfortable doing them! I think these things add that element of 'daring' to the album.
But, of course, the fans who have seen Edguy know what to expect from you: you don't really take yourselves too seriously!
Tobias: I think that there is a difference between modern bands and bands from 30 years ago - those bands did not take themselves too seriously. They took the music seriously, but did not set themselves limits. When they wanted to make a bad joke, they did it. Bands like Queen or Van Halen or Twisted Sister, who made a career out of a bad joke! Nowadays everyone wants to be the stereotypical Heavy metal band, so as not to get 'bashed', but that is what Heavy Metal bands are there for!
We go on stage to entertain people and not to teach what is 'True' Heavy Metal or what is 'False' Heavy Metal. And you can only entertain people if you can entertain yourself!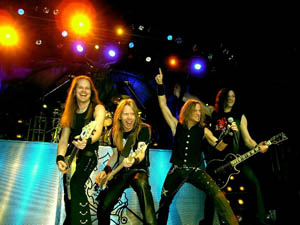 You are together since the very beginning as the same collective, is that true?
Tobias: Partly: we had one member leaving in 97, the drummer. We got another drummer who has stayed and we also added a bass player. I couldn't focus one singing and playing bass - I was good at neither, but still I had to choose one over the other, so as I was worse at playing bass I quit that and just sang! Three of us have been together since '92-
When I first heard 'Rocket Ride', I expected to hear a Euro Power Metal band, which is how you are often presented, but what I got was a band with total respect for bands from the 80s and I really enjoyed listening to the album more than I expected in the very beginning . How do you feel about the 'categorisation'?
Tobias: It's OK, at the end of the day, no matter how you label music, the music itself will not change. So, there are Helloween and Accept elements in our music and Euro power metal is therefore not inaccurate as a description. There are bombastic elements, but also classic 80s hard rock sounds, such as on 'Catch of the Century'. I don't believe in labelling too much- It's all a matter of perception. There are so many elements in the music - you are influenced subconsciously by so many things- I don't want to deny that I have been influenced by Van Halen, Scorpions, Dio and Kiss- there's Queen in there- I don't think it's any more hard rock than it was in the past. Maybe just a bit more of a contrast to 'Hellfire Club', which was the heaviest of our albums. But we never said: "Hellfire Club was to heavy, let's do something softer", we just wrote the songs and the result was that we ended up with more up-tempo songs, two of which have already ended up on the EP.
So far, what has been the reaction of the music press and also from the fans of Edguy.
Tobias: They don't know the album yet, of course, but some may have listened to the promo - some like it, some are confused, some are shocked, it's like always. Of course, you always get reactions like:"they've changed, they have betrayed the Heavy metal scene!", just because the music has changed slightly, but that always happens- I don't really care too much about that. But the press is really optimistic and enthusiastic about it. They say that it is good to have a traditional Euro Power metal band actually delivering something that is not the stereotype of the traditional Power metal album. What does irritates me a little bit- and maybe we did something wrong there- is that this time, even the British press seems to like it!
Do you find that the English press is usually quite negative towards you?
Tobias: Yeah, yeah- it's quite funny- at least we get some British press now. I remember once reading: "Another gay metal band from Scandinavia". (laughs) Which was entirely wrong, because we are a gay metal band from Germany! (laughing)
How do you explain, though, the fact that at festival, such as Bloodstock, where you have played a couple of times, the reaction was amazing! I was shocked as I didn't expect English people to warm so much to this kind of music.
Tobias: I think that metal fans are not fans that you can cheat. They are used to 'digging out' their favourite bands and searching for them, whether it is on the Internet, or wherever. Metal fans are not dependent on major media and Metal bands don't really need major media coverage either. We played Australia - I couldn't even remember whether we had ever done an interview with a printed magazine over there - but people know about us there, because people are checking out what is going on. They spend a lot of energy themselves to find out about bands and I think that is the same everywhere in the world. The same applies to England. It would be quite unlucky to have no power metal fans over here, considering the size of the population! And you can't stop this- even Kerrang can't do that, no matter how hard they try!! (laughs).
So, despite the fact that we have not had a lot of coverage here, they can see good from bad for themselves and they can make their own decisions. We try to give out best on stage and the fans appreciate that. We have recorded eight albums now- the seven are quite good and the new one is really good, I think, and we put on a good stage show, we try to entertain people. We actually work and fight for the audience.
We saw you in Wacken this year, so I know what you are talking about!
Tobias: Yeah - we even climb up onto the lights! (laughs) So, as long as you deliver the goods, the fans will find you- That was the case with AC/DC and Kiss - the press didn't like them but the fans did. Here, in England, things are a little bit different- I don't want to say that you are always two years late, but everything comes in cycles. Every 20 years the music comes back - so perhaps you are not 2 years late, but 18 years early!
The album has a very interesting song selection. Could you specify which of the songs you find most appealing? Obviously it is difficult to choose, but which are the ones you think will work best live?
Tobias: It changes from day to day. I think that live, 'Fu*king with fire' would work really well. It was meant to be a joke originally- it still is- but I think it would be funny to imagine 2,000 people shouting "Fu*king with fire", especially in America! "Catch of the Century" is also one I am really proud of, because the lyrics are really closely tied to the music, it's got an attitude - it's ambitious, but still it's got that tongue-in-cheek humour to it. "Catch of the Century" lyrically speaks about being turned down by a woman by which you obviously don't want o be turned down and you say: "Ok, I'm going to tell you what you are going to miss out on!" I think it's really intelligent...It came out of my heart. I wrote it when somebody was not so interested in me, which happens three or four times a day even (laughs). When I was writing the lyrics, I was very happy about them and I was no longer taking it that seriously any more-
So what else inspired you when writing the songs for 'Rocket Ride'?
Tobias: I was not thinking so much, to be honest! 'Trinidad' makes fun of myself, because, obviously, I am not the tallest guy, but that's not a problem: Ronnie James Dio, Bruce Dickinson, we're all dwarves -I think I'm probably the biggest of them! Well, no, I'm actually 1m72cm, but It's funny because you look much taller on stage- I remember a girl coming up to me once and saying: "Well, I knew you weren't a giant, but you're that short! You can't tell that when you are on stage" (laughs) I said: "Thank you very much! By the way, I'm Toby, good evening!" It was actually meant to be a bonus track as well and I was just writing a bout a man who is quite short and his wife/girlfriend always makes fun of him because of that. One night he goes out to get some food and he disappears because he goes to Trinidad, where the sun is shining and there are beautiful girls on the beach. The topic is really stupid, I know, but it doesn't have to be intelligent or have a meaning- stockbrokers have to make 'reasonable decisions' and freedom fighters have to send out messages, but we just want to have fun.
Have you already planned your upcoming tour? Any ideas where you'll go?
Tobias: Well we're playing in England as special guest to Dragonforce, but when we do a tour of Europe they will be our support. What started off as a 20-show tour ended up as 45, after we had added the UK, Belgium and Eastern Europe. And then we're also going to go to Asia for the first time: Taiwan, Korea and Shanghai.
So this tour is really going to be an expedition round the world!
What is your vision for the future of the band?
Tobias: I just want to stay working with the band. Of course, we want to be successful- all my dreams have really come true. There's no real dream left. We want to continue writing albums and going on tour!
Thank you very much for the interview, Toby, and I hope you get the attention you deserve from the UK press!
Tobias: Thank you very much!
---
Interview © 2006 John Stefanis