---
Festival news...
---

CAMBRIDGE ROCKS WITH THUNDER & WISHBONE ASH IN AUGUST
GRTR! SPONSORS SECOND STAGE
Cambridge Rock Festival 2007, incorporating Rockinbeerfest is a great friendly music festival, with a classic line up - Over 40 bands including, Australian Pink Floyd , Thunder, Wishbone Ash, Deborah Bonham, Man, Stray, Juicy Lucy, Hazel O'Connor, Nine Below Zero, Dr Feelgood, John Otway, Eddie & the Hotrods, Karnataka, Limehouse Lizzy, Helium Soul, The Reasoning, to mention just a few.
GRTR! is sponsoring this year's second stage which features upcoming and unsigned acts.
The site has approved camping, caravanning and campervan spaces, hook up, permanent toilet & shower blocks, restaurant, coffee shop, clothes and craft stalls and a collectors vinyl & CD fair.
All the favourite festival food varieties will be available, from Thai curry to a full roast on Sunday, plus vegetarian options. This year has an even bigger selection of 70+ real ales, lagers, ciders, wines & spirits!
Day and weekend tickets available, with free parking for ticket holders.
See website or call the box office on 0845 299 0845 for tickets and more information.
At Wood Green Animal Shelters, Godmanchester, Cambs, PE29 2NH on 16th-19th August 2007
Price: £79.00-£69.00 in advance (full festival) / Day tickets - Thus £5, Fri £25, Sat £33, Sun £33
Concessions for under 10s and under 16s listed on the festival website.
Special feature
The Cambridge Rock Festival promotes "Led Zep Too" at the Commemoration Hall, Huntingdon, Cambs. PE29 3AQ on Saturday 14 July.
---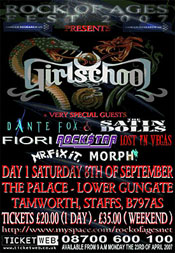 GIRLSCHOOL AND BLAZE BAYLEY HEADLINE ROCK OF AGES FEST IN SEPTEMBER
Rock of Ages Fest is a brand new initiative aimed at giving rock fans great bands at the lowest possible cost, Saturday 8th & Sunday 9th September 2007.
Says organiser Steve Nagle: "The average rock fan ends up getting ripped off and marginalised far too often for our liking, and we're going the extra mile to make sure everything we do oozes quality, and also benefits a good cause."
The event aims to raise funds for one of our elected charities 'Cancer Research UK'.
The tickets will cost £20.00 for a one-day pass, and £35.00 for an all-weekend pass. We are going to be selling them through all the major ticketing agencies.
Further details will appear here as the event progresses! Artists confirmed for the event (being held on Saturday 8th & Sunday 9th September 2007) are as follows...
Artists already confirmed for the event include Girlschool and Dante Fox (Day One), former Iron Maiden/Wolfsbane vocalist Blaze Bayley and Sacred Heart.
Two slots (one each day) are reserved for two lucky bands who will be winners of our competition being launched in conjunction with our event title-sponsor 'Sonicbids'.
Organiser Steve continued: 'Please - turn up, and help us raise money for Cancer Research UK, and for victims of the more than 200 forms of Cancer. This event itself will not cure cancer, but we sure as hell hope that over the next decade, it will make a serious dent in Cancer's ability to take our loved ones before their time.
This is where the meat hits the blade, and where you, me, and everyone else can make a real difference, by sharing in and embracing our hopes and ambitions for these events, which will eventually extend from the UK to Norway, Sweden, Finland, Germany, Canada, the USA, Brazil, Australia and New Zealand.
Our hope is to grow the event to a capacity of 2,000 people next year in the UK, and open an event of a similar size in Florida - both during July, and which we hope will accommodate some big name artists for your entertainment!'
Festival website
---

FIREFEST RETURNS IN OCTOBER
Firefest IV is confirmed for 27th October at Nottingham Rock City with a line up featuring FM, Tyketto, Harem Scarem, Jorn, Valentine, Crunch and Jaded Heart.
The UK's premier Melodic Rock festival is back on Saturday 27th October at Nottingham Rock City for it's fourth show with what promises to be its most exciting line-up of talent so far.
For the first time in 12 years, UK AOR legends FM will be playing together for one night only.
Ticket information etc is available on the official website
---
ACCESS ALL AREAS MUSIC AWARDS SEPT 5

The Access All Areas Music Awards take place at Brixton Jamm on Sept 5.
The awards are to reward the best new music around the UK and to highlight the musical depth and diversity of the current underground and breaking UK music scene.
From Jazz to Indie, from Pop to Folk, all categories will be made up of the very best underground talent in the UK and the organisers fully expect some of the award winners to go on to achieve long and successful careers in the music industry.
Fans will be able to vote for nominated bands online, before a final group artists per category will go forward for the awards night to be voted for by the public.
Other award winners will be chosen by a group of music industry professionals.
Co-hosted by Tony Wright (Terrorvision) and Tabby Callaghan ( X Factor), amongst the list of invitee's will be producers and presenters from Radio 1, Radio 2, XFM, BBC 6, Total Rock.
The night will also see an exclusive appearance from members of The Buzzcocks and exclusive live performances on the night from The Levellers, Stillman, Original Cast, Parka, Exile Parade, Logan, Archive of Everything, The Lazarus Plot, Karim Fanous and many more.
More information
---
BRUCE COCKBURN AT THE UNION CHAPEL JULY 25

Internationally acclaimed singer-songwriter Bruce Cockburn will perform at the Union Chapel, Islington on 25th July 2007.
Canadian folk/rock guitarist and singer-songwriter Bruce Cockburn has a career which spans nearly forty years and 29 albums. He has received worldwide recognition and his accolades include his induction into the Canadian Hall of Fame and the Tenco award for lifetime achievement in Italy.
Cockburn's songs are overtly political and he is heavily involved in progressive causes. This is greatly reflected in his music and his performance at Canada's Live 8 in 2005 was poignant and powerful, perfectly complementing the very reasons behind the conception of the concert(s) themselves.
Renowned for his phenomenal guitar work and songwriting skills, the countless people who have covered Cockburn's songs include Jerry Garcia and The Barenaked Ladies. His music is also to be featured in the film Ecstacy, which is currently being filmed, an adaptation of one of Irvine Welsh's novellas, starring Richard E Grant.
Tickets cost £15 in advance.
For tickets go to website
---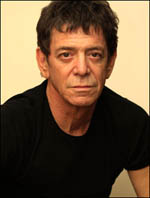 LOU REED MAKES TRIUMPHANT RETURN TO UK
Lou Reed's 'Berlin' is currently taking Europe by storm with some of the best concert reviews of his career.
The UK leg of the tour started on Friday 29th June at the Manchester International Festival, and London Hammersmith Apollo on Saturday June 30th and Sunday July 1st. The former Velvet Underground front man is touring his classic 1973 album "Berlin" complete with a 25-piece ensemble including original "Berlin" guitarist Steve Hunter, his core rock band, a string section, horn section and the London Children's Youth Choir.
The 'Berlin' concerts have received standing ovations in Paris, Amsterdam, and Berlin. This was the first and only time Reed will perform "Berlin" in its entirety in the UK.
The concerts are being hailed as a rare insight into one of music's greatest minds, a labour of love and an integral part of rock history. "I only do this every 30 years," says Reed. "One time, one time only. You can tell you kids you saw Lou Reed's Berlin."
Album review

Gig review

---
DEEP PURPLE LIVE IN LONDON FOR SEPTEMBER RELEASE

Live In London was recorded in 1974 on what turned out to be Deep Purple Mk 3's only British tour. It was a pivotal year for the band, coming as it did after difficult line-up changes. They were anxious to both continue and build on their previous popularity and, while Mk 3 had been going down well in Europe and America, there was still a lot of importance attached to the reception the new line-up would get back home in Britain: Ritchie Blackmore, Ian Paice, Jon Lord, and new bassist Glenn Hughes and singer David Coverdale.
Having recorded new album, Burn, and after road-testing their new line up around Europe, the band discovered to their relief that most of the fans accepted the new incarnation wholeheartedly. For their part, Deep Purple emphasised the changes live by playing most of the new album and not relying on the old hits overmuch. Back in Britain, anticipation over shows grew with reports from America of record-busting audiences, broken TV cameras and exploding amplifiers after one particularly spectacular set at an outdoor festival in California.
London was still the epicentre of the music world at this time, and getting it right there was critical. Even so, in an age when most top flight bands play a series of shows at one venue, it seems remarkable that a group of Deep Purple's stature should play no fewer than three different London gigs inside two weeks (indeed it was the last time they would ever do this). They headlined at the Hammersmith Odeon first, in the west of the city (the only one of the three venues which still handles rock gigs). Three days later they arrived at Lewisham Odeon, a big venue in the south east of the city, and then they were back to play Kilburn, in the north of London, less than a fortnight later. It was this show, at the enormous Gaumont State, Kilburn, on May 22nd 1974, which was recorded.
Until now 'Live In London' has never been issued on CD in Europe. The band's studio albums took precedence in the early transfer to CD and by the time it came to 'Live In London', it was felt that it would be better to wait and restore the full show. The result is a 2CD set, with extensive sleevenotes and slipcase, and is a Deep Purple collector's dream.
Tracklisting: CD 1: 1/ Burn (7.45) 2/ Might Just Take Your Life (5.17) 3/ Lay Down (5.29)4/ Mistreated (15.28) 5/ Lazy/Smoke On The Water (9.13)
CD 2: 1/ You Fool No One (20.30)2/ Space Truckin' (31.03)
---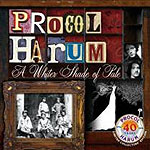 40TH ANNIVERSARY CELEBRATION FOR PROCOL HARUM

Procol Harum's enduring masterpiece, A Whiter Shade Of Pale, which this year celebrates its 40th anniversary, is to be reissued as a limited edition single on August 13th. The re-mastered edition of the UK's most played record (as determined by PPL) also includes some of Procol's most accomplished recordings, including the hard-hitting blues-rock of Whisky Train and the distinguished ballad Magdalene (My Regal Zonophone).
For anyone of a certain age (and plenty of people who weren't even born at the time) Procol Harum's first single - which sold six million copies - seems to encapsulate all the wonders of 1967's 'Summer of Love'.
A Whiter Shade of Pale was the first release credited to Gary Brooker and Keith Reid, the songwriting duo who have remained the band's heart through the decades. Inspired by a Bach bassline, the song went on to win a profusion of awards, and has been covered by almost a thousand artists.
Union Square Music's award-winning label, Salvo, are delighted to inaugurate their comprehensive Procol Harum reissue programme with the release of A Whiter Shade Of Pale as a limited edition single on both 7" vinyl and CD.
The singles will be released on August 13th, 2007, proceeded by the definitive 'Best Of' album, 'Secrets Of The Hive', due August 27th, 2007.
A timeless masterpiece, the most played record in the UK in the last 50 years (as determined by PPL) and a song which recently achieved the distinction of being voted the most popular UK number one of all time by listeners of BBC Radio 2, AWSOP's enigmatic lyrics have fascinated fans and critics alike for 40 years and, newly remastered, it has never sounded so good.
The B-sides, too, have been hand-picked and include some of Procol Harum's most accomplished recordings, including the hard-hitting blues-rock of Whisky Train and the distinguished ballad Magdalene (My Regal Zonophone).
In support of this release and to help launch Salvo's Procol Harum campaign, the band have scheduled two very special live dates in London at St Johns Church, Smith Square, London SW1 on July 20th/21st, 2007.
---
40th ANNIVERSARY MOVEMENTS 1967-2007 CELEBRATES UNDERRATED UK POP ROCKERS

The last of the great British pop combos of the '60s, The Move remain a peculiarly underrated act. Formed by Brummies Carl Wayne (vocals), Roy Wood (guitar, vocals), Trevor Burton (guitar, vocals), Ace Kefford (bass, vocals) and Bev Bevan (drums, vocals), under Svengali-cum-Manager Tony Secunda, they steered a blazing, controversy-ridden path to extraordinary chart success.
Now, to coincide with the 40th Anniversary of 'Flowers In The Rain', the first song played on BBC Radio 1, Salvo and Fly Records commence a series of definitive, remastered Move reissues.
The single, freshly mixed in stereo, is reissued as a limited edition 7-inch vinyl/4-track CD/DD on 20 August 2007.
First two studio albums Move and Shazam are released 27 August 2007.
---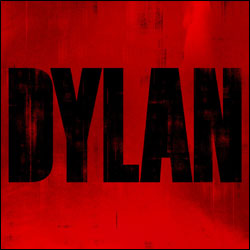 DEFINITIVE BOB DYLAN RETROSPECTIVE SET FOR WORLDWIDE RELEASE 1 OCTOBER 2007
3-CD DYLAN To Feature 51 Tracks Spanning Five Decades
A career-spanning, three-CD retrospective of Bob Dylan's music - DYLAN - will be released worldwide on 1 October 2007 by Columbia Records.
This definitive Bob Dylan collection chronicles the artist's four decades of groundbreaking studio recordings, as well as his unparalleled influence on popular music and culture.
Extensive Liner Notes And Never-Before-Seen Photos Highlight Deluxe Edition 18-Song 'Best Of' Collection To Be Released Concurrently
WORLD PREMIER OF BOB DYLAN REMIX ANNOUNCED FOR AUGUST 1ST 2007

Celebrated producer and recording artist Mark Ronson has remixed Bob Dylan's 'Most Likely You Go Your Way (And I'll Go Mine)', the 1966 recording that was originally released on Dylan's classic Blonde On Blonde LP. The remix will have its global radio premiere on 1st August 2007 in advance of the October 1st worldwide release of the "DYLAN" retrospective.
This is the first time a hip hop or dance music record producer has been allowed to remix one of Dylan's songs. Says Ronson, "I'm a huge Dylan fan, so it's a great honour."
---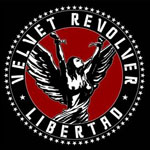 VELVET REVOLVER TO RELEASE LIBERTAD ON JULY 3
Velvet Revolver, featuring Scott Weiland, Slash, Dave Kushner, Duff McKagan, and Matt Sorum, will release their their new album Libertad on July 3rd!
Produced by Brendan O'Brien, the album is the follow-up to their successful debut Contraband which included the Grammy-winning single "Slither."
"Libertad has soul," says Weiland: "What we're trying to say on a musical and lyrical level is clearer this time. The songs may have started out being very personal but they took on a more universal truth as they were nurtured by the five-headed beast that is Velvet Revolver."
The first single off Libertad is "She Builds Quick Machines." Velvet Revolver has a string of US dates lined up in August.
US tour dates
---
TOBY JEPSON JOINS FASTWAY FOR SUMMER DATES
Toby Jepson, ex-lead singer of the chart topping British rock band Little Angels and current solo artist has been invited to join the ranks as lead vocalist of the 2007 version of Fastway.
Fastway was the brainchild of ex-Motorhead Guitar legend 'Fast' Eddie Clarke who achieved huge success in the mid eighties releasing 3 albums to popular acclaim both in Europe and the US.
Having had a rest from the business, Eddie has re-surfaced with fresh intent, a new line up featuring bass player John McManus (ex Mamas Boys) and drummer Steve Strange, and a series of open air festival dates (listed below).
Says Toby: "I'm very excited to be asked to do this, I owned a copy of the first Fastway record and have a lot of respect for Eddie, it is a great opportunity and one I simply couldn't turn down - it will see me as part of a great band treading the stages of Europe's biggest festival this year and who know what else in the future!"
When pushed about how it will affect Tobes solo career he said: "not at all is the answer! I have had detailed discussions with the management of the Fastway camp and have let them know that I have a solo career in development that I have commitment to and will continue to pursue - I see this project with Fastway as a great second string, it allows me to work with other musicians on material that isn't mine and so stretches me as a vocalist and allows me to simply concentrate on the singing - it looks like it will be a lot of fun and I intend to enjoy it - we have already had a couple of rehearsals and it sounded great.
Eddie is on top form so I think the shows will be very cool, however, the Chepstow show and the September tour is still of the highest priority for me and I cant wait to get back in the studio in July to record the next EP so all is as it should be!"
Fastway play the following dates:
Wakken Open Air Germany 3rd August
---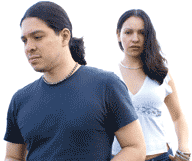 RODRIGO Y GABRIELA SUMMER FESTIVAL DATES
Rodrigo y Gabriela have confirmed performances at the following UK festivals:
Friday July 13th Guilfest - main stage
Saturday July 14th Latitude - Uncut stage, headline
Saturday August 18/Sunday 19 - V Festival - main stage
Rodrigo y Gabriela's blend of rock, Latin influences and metal is an astonishing live spectacle and the Wembley audience is in for a treat.
The duo has reinvented the rules for acoustic guitar reshaping its landscape using lightning speed, dynamic range and irresistible rhythmic invention.
Gig review
---
TIME LIFE WILL RELEASE TEN-CD FLOWER POWER SET ON JUNE 29 : BOX SET WILL CELEBRATE THE MUSIC THAT DEFINED A GENERATION
On June 29, Time Life will release a comprehensive musical retrospective of the Flower Power era, featuring 175 songs from such legendary artists as Bob Dylan, The Mamas and the Papas, The Lovin Spoonful, The Byrds, Richie Havens, The Electric Prunes, Janis Joplin, The Kinks, The Band, and Jefferson Airplane, to name only a few.
The era captured on Flower Power cannot be defined by the beginning or end of any particular decade, but by the spirit of political and social change that resonated from the streets of San Francisco and the canyons of LA, from London's mod Carnaby Street, and from the rolling pastures of Woodstock.
From the youthful optimism of Scott Mackenzie's 'San Francisco (Be Sure to Wear Some Flowers in Your Hair') and the psychedelic perspective of The Byrds's 'Eight Miles High,' to the politically conscious sentiments of Barry McGuire's 'Eve of Destruction' and Janis Ian's 'Society's Child,' Flower Power captures every nuance of a time unlike any other in American history.
The box set will be introduced on an hour-long television commercial hosted by counter-culture icon Peter Fonda, who shares his memories of the time and its music surrounded by a motorcycle right out of Easy Rider and painted Chevy van.
Flower Power, which will not be available at brick and mortar retail outlets, will sell for $149.99 through Time Life's website, www.timelife.com