This is the feature where we revisit bands or albums that are worthy of attention but may well have been overlooked over the years…we also signpost the definitive CD versions and related albums worth investigating.
If you have your own neglected band/album send us a review!
There was a lot happening at the turn of the eighties and a glut of excellent CDs (and bands) that were destined for obscurity.
We've featured many of them in this series, but these were good times for melodic hard rock that produced albums like Tyketto's 'Don't Come Easy' (1991) and House of Lords' 'Sahara' (1991). Of course grunge came along to queer their pitch.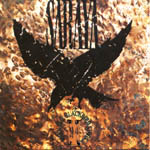 Saraya harks back to the split ends of hair metal, and a time when 'Fluff' Freeman had a rock show on Radio 1.
The band - from New Jersey - formed around vocalist Sandi Saraya and keyboard player Greg Munier in 1987 and they debuted on Polydor in 1989 when they were called 'the new Bon Jovi'. The band's second album 'When The Blackbird Sings' consolidated their sound which blended elements of the best female-fronted rock with out-and-out rock swagger.
What's more, this album sounds better now than it ever did. The guitars (Tony Bruno) are fantastic, the songs immediate yet durable, and of course Sandi's vocals are a standout. She was influenced by Chrissie Hynde and Annie Wilson of Heart.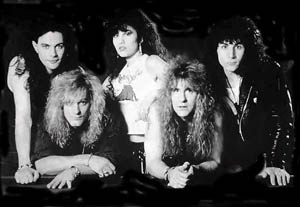 In a Kerrang interview in 1989, she also cited Glenn Hughes as a major influence and in particular the album 'Hughes Thrall' (also featured in this series).
The second album, released in May 1991 and produced by Peter Collins (Queensryche and Rush), was more polished than the debut but Munier had left the band during recording, disagreeing with the the more guitar-oriented direction. Barry Dunaway who had played with Yngwie Malmsteen and Joe Lynn Turner replaced Gary Taylor on bass.
Tracks like 'Queen of Sheba' grab your attention from the first guitar chords, and Saraya's vocals juxtaposed with Bruno's chorused figures evoke Chrissie Hynde in a heavy metal band.
'Bring Back The Light' has a Whitesnake-esque 'Still Of The Night' feel to it, 'Hitchin' A Ride' starts with a bluesy motif before Bruno's chunky chords cut in. And there are echoes of Joan Jett and The Runaways in 'When You See Me Again'. 'Lion's Den' has all the swagger of prime-time Aerosmith.
'The Seducer' was released as a single and drew attention, via MTV, to Sandi Saraya's photogenic qualities although this was surprisingly played down for the band's debut release.
Of the band members, Bruno - who co-wrote the album with Sandi Saraya - has played with glam metal band Danger Danger and Joan Jett. Sandi herself appears to have slipped away from the music scene.
GRTR! US correspondent Steve Janowicz endeavoured to track her down but discovered she is raising five kids and home schooling them, and has devoted her life to God. One other reason for distancing herself from the music is that - sadly - band co-founder Munier died of pneumonia-related illness in 2006.
Any female-fronted hard rock band should look to Saraya as the blueprint.
---
With thanks to Pete Whalley for jogging the grey cells.
Text © 2007 David Randall
Don't miss:
When The Blackbird Sings (Polydor 849087-2, 1991)
Don't skip:
Bring Back The Light, Hitchin' A Ride, Tear Down The Wall, In The Shade Of The Sun
Worth investigating:
Saraya (Polydor 837 764-1,1989)
Chrissy Steele - Magnet To Steele (Chrysalis F2 21843) - Don't worry about the corny title, this is another excellent female-fronted rocker from 1991.
Further info:
Fan website
The Seducer
© 1991 Polydor Inc. All rights reserved.

---
| | |
| --- | --- |
| | Print this page in printer-friendly format |
| | Tell a friend about this page |