Just witnessed your best live gig?..send us a review!
TRIVIUM/Sanctity/Gojira/Annihilator
Liverpool University, 15 April 2007
There's a classic line in the recent hit UK TV series 'Life On Mars' when the irascible D.C.I. Gene Hunt attends a murder scene.
His colleague comments there's a yellow discharge in the body's ear. Hunt corrects her, 'That's the drip from my fried egg butty'.
Well if Gene Hunt had attended this gig at Liverpool University he may have seen yellow discharge for different reasons: ear canker blown away by excessive volume.
This gig was nothing if not loud and when allied to a lack of identifiable musicality (Gojira) the effect was quite painful.
Sanctity, a new signing to Roadrunner, opened the show and demonstrated the strength of their new album. With the standouts 'Zeppo' and 'Beneath The Machine', the poor sound mix veiled a promising band who could follow in Trivium's footsteps. Drummer Jeremy London told me that in recent years they have become more melodic, taking a cue from Scandinavian bands as much as the usual American suspects.
Annihilator are back demanding attention with a new album, 'Metal'. Here they demonstrated an energy that belied the fact that they've been around since the late-eighties. Sometimes reminiscent of Pantera they featured tracks off the new CD, plus classics such as Never, Neverland.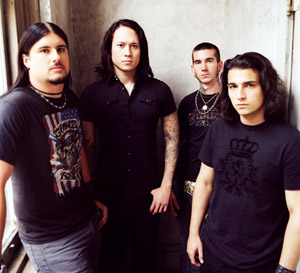 This was Trivium's second visit to Liverpool University. The last time I saw the band, Matt Heafy exclaimed 'your band has no more tunes' but since then they've bolstered their repertoire with 'The Crusade'.
Perhaps unsurprisingly it was the classic tracks off 'Ascendancy' that came over the strongest, although they featured several Crusade tracks including the excellent 'Anthem'.
With one track from their first album ('Requiem') this was an economical, tight, and visually satisfying effort.
I think the Trivium set revealed a couple of things. Firstly, the 'four band bill' means that the crowd are flagging by the time the main band comes on (and in the case of a support band like Gojira it would be easy to lose the will to live). Towards the end of the Trivium set even the mosh pit was less animated.
Secondly, and perhaps surprisingly, the sound mix for the main band wasn't good. I am sure, for many, this is not an issue but if you wanted to savour the detail of two fine guitarists - Heafy and Corey Beaulieu - it just wasn't happening.
These niggles aside, Trivium go from strength to strength and whilst many will be disappointed and surprised they're not at Download, others will simply be waiting keenly for their next album. As for D.C.I. Hunt? Well, the University should have been surrounded by his 'armed bastards' and they should have arrested the sound guy.
Review by David Randall
---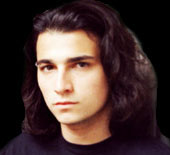 Audio : Interview with Paolo Gregoletto (Trivium) 15.04.07 (7:38)
(Broadband/cable connection recommended,
Real Audio software required)
Interview © 2007 David Randall/GRTR! All rights reserved.
Related>> Album review (Annihilator)
Related>> Album review and audio interview (Sanctity)
---
| | |
| --- | --- |
| | Print this page in printer-friendly format |
| | Tell a friend about this page |