SANCTITY Road To Bloodshed Roadrunner RR8050 2 (2007)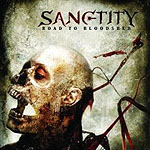 Basking in the unusually warm April sun outside Liverpool University prior to the Trivium gig, I was surprised to learn from Sanctity's amiable drummer Jeremy London that the band formed in 1999.
Technically, 'Road To Bloodshed' is not the band's debut album, they self-released some demos several years ago although Jeremy prefers to let them slip quietly into the rock and roll ether.
'Road To Bloodshed' marks a new chapter for a band who, recommended by Trivium's Matthew Heafy, signed to Roadrunner after label boss Monte Conner suggested some more tweaking of their demos. The deal was sealed after they re-recorded with Trivium producer Jason Suecof.
And it's Suecof who lends the production sheen to their official 'debut'.
"We received some advice early on in our career that we should always try and outperform the headline band. That's been our motto. We go on stage every night and whether we're playing to 20 or 2000 we go out there and give it everything we've got. We believe in our music. We're not in this half-assed. We're going to take it as far as we can." Jeremy London, Sanctity
Trivium fans will love this CD, it's oozing with great melodic thrash metal. London notes that - unusual for an American band - Sanctity were early adopters of the more melodic Scandinavian influences (citing In Flames as major inspiration) which is refreshing. Although the traditional thrash/metal references - Metallica, Pantera and Testament - are not very far away.
All too often thrash bands jerk verse/chorus accessibility for brain-numbing dumbness and whilst Sanctity are thrash they show genuine melodic sensibility. When grafted to the occasional heads-down killer riff (Zeppo), the overall effect is compulsive.
The track 'Zeppo' is not new and was among their early demos but it is one of the strongest songs here. Great vocals from Jared MacEachern who it appears has been taken under Dave Mustaine's wing (whether he recognises something of himself in the lad's ging-ness - more probably it has to do with Jared's vocal abilities and attitude).
'Beneath The Machine' is also a crowd pleaser (especially for fans of latter-day Trivium), whilst "Billy Seals" uses unexpected string synth orchestration to provide some welcome colour and texture. 'The Shape Of Things' and 'Flatline' show those In Flames tendencies while 'The Rift Between' has a great riff and further demonstrates Jared's vocal gymnastics, switching easily from melody to metalcore. Great soloing from Zeff Childress too.
Sadly, the support slot on the Trivium gig neither gave the band the longer exposure they merit, nor the sound quality they deserve. They are a band to look out for and there's a chance they'll play Download which could widen their fan-base and lead to a headlining tour in their own right. One can only hope.
One of the best metal debuts in ages.
****
Review by David Randall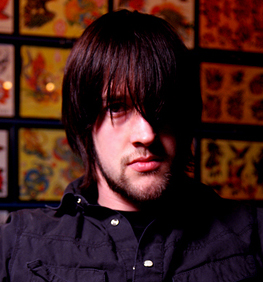 Interview with Jeremy London, Sanctity (7:57)
© 2007 David Randall/GRTR!. All rights reserved.
Band website
---
| | |
| --- | --- |
| | Print this page in printer-friendly format |
| | Tell a friend about this page |