So much has been written about Texan albino guitarist Johnny Winter's roller coaster career that you could be forgiven for thinking it's all been said before. But even by the historical standards of rock's murky underbelly, what has happened to Johnny Winter in the past decade or so defies belief. Johnny tells us about being back in the saddle, while his guitar playing overseer/manager Paul Nelson lifts the lid off some incredible goings on that rendered Johnny close to death's door, and will soon be the subject of a book.
All that said, the upshot is that Johnny Winter is back touring the world, and boasting a Grammy nominated album 'I'm A Bluesman' But unlike most of the usual hype, this is a real cause for celebration as with Paul's help and his loyal band, Johnny is back playing reams of fluid notes as he reaches back to his blues roots.
Born Beaumont Texas in 1944 Johnny Winter long ago entered the pantheon of top Texas guitar players. The list may stretch as far back as Blind Lemon Jefferson, T Bone Walker, Freddy King, and Albert Collins, and has since included the likes of Stevie Ray Vaughan, (who Johnny taught to play guitar at his house) and ZZ Top's Billy Gibbons, but arguably Johnny Winter was the guitarist who first crossed over a whole generation of people in the 70's to Rock-Blues.
He made his mark as early as 1969 with the 'The Progressive Blues Experiment' and the unique triple sided release 'Second Winter'. Thereafter, he cut 40 or more albums included the best selling 1973 'Still Alive & Well, and the supreme 1976 'Captured Live' album before he enjoyed another renaissance with 1984's 'Guitar Slinger', the first of a celebrated trio of albums on Alligator records.
For over 35 years Johnny Winter has carried guitar and rock blues fans along with him. In between times he resurrected Muddy Waters career in 1977 with three more excellent albums including the Grammy Award winning 'Hard Again' and occasionally cut albums with his brother Edgar Winter. But in truth since 1991's 'Let Me In' and 1992's self explanatory 'Hey Where's Your Brother' there's hasn't been much.
This all changed in 2004 with 'I'm A Bluesman', an album that has re-launched his career. As Paul Nelson in our second interview spells out, Johnny has overcome scurrilous management practices that gravely affected his health, bank account and well being. I caught Johnny in his comfortable tour bus - a smaller version than his legendary Silver Train of old - at the Brook in Southampton as part of a sell out UK tour.
Essentially booked to re-establish both his profile and reputation, this is his first UK tour since the ill fated Bishopstock festival.
The king of one liners reflects on his career as a seminal rock bluesman's that has come full circle from being a 15 year old kid in a club, persistently asking BB King to let him on the stand, to being an active, elder statesman of the blues himself..
'When I went into the black blues clubs, nothing ever happened to me. I went to black clubs all the time, and nobody ever bothered me... I always felt welcome, and eventually I got the chance to play, and they must have figured I was good.'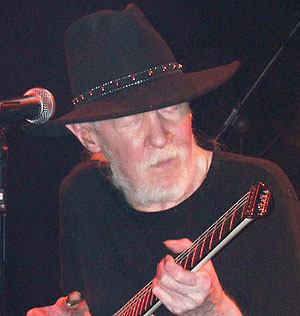 Many years ago you stated that when you played Texas clubs people wanted variety, and when you became famous, everyone wanted familiarity. Was playing the blues a happy medium in that respect?
Oh absolutely. It sure was. Blues crosses over a lot of boundaries, people recognise it, and I can still play a little rock too. And that's what we play blues and rock (laughs).
You are back on the road again, how has the touring been going and is it something that you still enjoy?
It's been excellent, and the crowds have been good, and I like the band I've got. I like playing to people, though the travelling can be tough.
The Grammy nominated and aptly titled 'I'm A Bluesman' seems to be a return to your roots, is that the case?
Yeah, I never really liked to stray too far away from the blues. We did well with the rock stuff a few years ago but it was what people wanted at the time. I'm happy with the album, and with the band. We've been together a while…. I met Paul (Nelson) about 10 years ago, and I've been with the band about 6 years. Paul's written some songs which is good, because I don't really like writing too much. It's a straight forward blues album.
And are you featuring material from that album on this tour?
We're playing bit of everything. Maybe a couple of songs from the album yes, like 'Lone Wolf' - Tom Hambridge wrote that one - and we're including 'Sugar Coated Love'.
Will you be playing any of your career favourites such as 'Highway 61 Revisited'
Oh yeah, we sure will.
And what had your impression been of the tour so far?
It's been excellent so far, it feels really good, the crowds have been good, and I think the shows have been good.
Going back to your early career, your early band included Tommy Shannon on bass (later part of Steve Ray's Double Trouble), and Uncle John Turner on drums. They seemed to be as much part of you as the blues, and yet in 1970 you parted company with them. Why was that?
Well my then manager Steve Paul introduced me to Rick Derringer (and the McCoy's) and he really talked me into to changing the band. It wasn't really something I wanted to do. It was one of those management things. I've played with both of them since. In general I pretty much did what I wanted to do but at the time they convinced me that what I should be doing was to play more rock. We became 'Johnny Winter And', and in some ways it paid dividends.
You once said 'Rock and roll ain't nothin' but a close cousin to the blues'
That was back when Rock was what everyone was listening to. But blues is where it came from.
You also said all the blues guys disappeared in the early 70's; looking back now do you think the popularity of blues is a cyclical thing?
It never really went away but the crowds did.
Was your decision to stick with rock in the mid 70's influenced at all by your brother Edgar enjoying commercial success at the time?
Not really it was just playing what people wanted to hear at the time
'Johnny Winter And' raised the bar for Rock Blues and you brought your crossover rock blues style to a whole new generation of rock fans. Would you say the 1976 album 'Captured Live' was really your last rock record?
It pretty much was. We did well commercially with rock but I wanted to get back to playing the blues. Blues influences a lot of music so it's always a good place to start out from
And of course you did that in 1977 by hooking up with Muddy Waters to record the Grammy Award winning 'Hard Again', I'm Ready' and 'Mississippi Muddy Waters Live'?
It was a good time for me. It was the perfect thing to do. It came about through a management thing, but it was a good move. Muddy's people called up my management and asked me if I was willing to work with Muddy. And I said of course, it was a great thing to do. And the sessions worked out real good. I loved producing Muddy. We wanted to go back to the style of his early recordings.
Like his Chess stuff?
Yeah exactly. I'd produced my own stuff before, and he wanted a live feel so that was fine by me. I really loved him, both as a musician and as a man.
Then early 1984 you cut another trio of albums, this time for Alligator records, starting with 'Guitar Slinger'
Yeah I was real happy with those albums we cut, and I'm still working with Dick Shurman who did some of the production on those.
And yet your next album 'Winter 88' didn't enjoy anywhere near the same profile?
I guess the move to MCA was because of the bigger label deal, but 'Winter 88' wasn't distributed as well as the previous three.
Chronologically speaking, we didn't hear from Johnny Winter for a few years until 1991's 'Let Me In' and the 1992 collaboration with Edgar on the follow year's 'Hey Where's Your Brother'?
Yeah I took some time off (laughs)
In fact you've not played with Edgar much of late. Any particular reason for that?
Well he lives on the West Coast and we were doing different things musically. But I enjoy playing with him and we're gonna do some shows this year in Germany with Rick. We might even make a record fairly soon, you never know!
Your next release was 'Live in NYC 97' on which the fans voted for the blues standards they wanted to hear?
Yeah they must have known what I liked to play (laughs)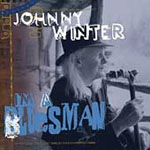 I'm A Bluesman seems to sum up that musically speaking you've come home?
I never went anywhere (laughs) But I met Paul in the studio and liked what he was doing on 'Shakedown' so I asked him too play and maybe work on some more (with Scott Spray). They did the title track which is about me (laughs)
Any other longer term plans?
We're going to make an album called 'Roots'. Its gonna feature a lot of old blues stuff that influenced me and might have special guests on it.
Any idea who they may be?
At this point Paul Nelson helpfully added,
'Maybe Billy Gibbons, Edgar, Rick and several others that we're hoping to track down'.
Going back to your rock days and exploring the links between rock and blues, you always seemed to like the Stones, and you have recorded several Stones songs and they played some of you stuff live. Did you always like them?
I sure did. I always liked the Stones cos they made a connection both the rock and blues styles.
Going back to the 70's did John Lennon specifically write 'Rock & Roll People' for your 'John Dawson Winter 111 album?
No I think he already had worked on a demo for himself, but then decided that he couldn't use it and thought it might be good for me.
Anyone on the contemporary blues scene or otherwise that you enjoy?
I like Derek Trucks, he's a good player. And I still like Magic Slim though I've never seen him in person.
There's no one playing anything much original, although kids today play at a better level than when I started out, but they don't always know where to apply their skills.
---
Interview © April 2007 Pete Feenstra