When guitarist Paul Nelson graduated from the Berklee College of Music where he once was a pupil of Steve Vai, he could scarcely have imagined his career would have taken him in the direction of both rescuing and rebuilding the career of guitar slinger Johnny Winter. And more that that, having rescued Johnny from some appalling management problems, and helping him overcome substance abuse and health problems, Paul is now playing second guitar with Johnny, writing some of his material and actively rebuilding Johnny's future.
The rebuilding of Johnny's career has taken the best part of six years, though he's known Johnny for 10 years. The task was made all the more difficult because of the gross misconduct by Johnny former manager Teddy Slatus, and the resulting string of poor shows and in some cases no shows in both Europe and The States.
In the words of Paul, 'Johnny's career became like the Mutiny of the Bounty, the crew took over and we all moved up in the ranks'.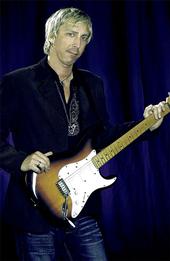 To begin at the beginning. When did you start working with Johnny Winter?
I started working with Johnny right when he couldn't do the Bishopstock Festival in the UK. It was a disaster, but at least he was there. He was down in the pits, drinking and doing pills, and his management was a mess.
I was a session guy working at a studio called The Carriage House, in Connecticut New England where bands like the Pixies recorded. It's pretty close to where we both live both live. I was doing some music for the WWF World Wrestling Federation (!), and Johnny liked my playing. and was looking for some songs for his new record.
So I met with his producer Dick Shurman, and we all hit it off. So Johnny's then manager Teddy Slatus asked if I would like to work with Johnny. He said, come to a show and check it out. So I said OK, when and where? And two days later I was asked if I had a passport as we were heading to the UK for Bishopstock Festival. And I'm thinking wow, this is all very quick.
Anyway we got there two days before the festival and he was using Tom Hambridge on drums and a bass player, and this was the first time they played with him!
So I was looking at Johnny and I realised something was wrong. I'd also heard some demo's and realised his voice was weak, and I thought to myself, isn't anyone going to say anything? The management's attitude was, 'nooo don't say anything'. So I knew something was up. So we got to the hotel and I happened to have Johnny's guitar in my room, and I thought I'd just have a look at it before he was ready to go on.
Anyway the phone rang, and Teddy says, 'We're going home, Johnny fell asleep on his arm and pinched a nerve'. Now Johnny was the headliner for big money on this festival, and the manager asked me, 'what shall we do?' This was my very first day, and I said, you're the manager! He said, 'we gotta get out of here'. So I said, well Johnny's here, so he needs to say something to the crowd. I said I'd walk him out there and wave to the crowd, which he did. It was for the press too, to show that he made the effort. It was till a disaster of course, but that's what happened. So I saw first hand that he'd messed up here and other places.
But slowly things started to develop. I got to write more for him and then he wanted me to play guitar. But I noticed Teddy Slatus was getting worse, drinking more and being involved in underhand things with money and drugs.
In fact Teddy was managing most of the Blue Sky label - Edgar Winter, David Johansen, Rick Derringer, and before that Roy Buchanan. Roy actually wrote an instrumental about Slatus called 'Filthy Teddy'. So anyway as regards the management, things were getting worse.
When did you finally take over?
Well I got together with Johnny after the release of the 'Times Square' DVD. It should never have been released. Johnny had said no, but Teddy did it anyway, even though Johnny had officially cancelled the release. It slipped out in Japan and other places, so at that point Johnny asked me to manage him.
At that point I wasn't at all sure, but then I thought I had already been booking the hotels, the flights, and even carrying Slatus to the alcohol clinic, so really I was already doing the stuff a manager does.
How did you go about handling his affairs?
Well I thought I've got to help Johnny and I told him, if we do this we have to stick to a plan, no matter what. So one of the things in my mind was how he'd messed up in the UK, and how we could best effect some damage control. And I repeated that in the US and other territories, and we are still doing that now.
When did Johnny's career originally start to slide?
His downfall happened through most of the 90's. Teddy had started him on anti depressants and mixed them with alcohol, so Johnny was like Ozzie Osborne on steroids, but was getting weaker, not eating and barely working.
So my plan was to get to the promoters who would give him another go, who would take that risk. The idea was to show people that he was getting better. We undertook something like a presidential campaign in most of the States including Alaska. The criteria was, if he'd messed up somewhere we would go back there. If he's not played anywhere for 20 or even 30 years, we'd go there too. Then we aimed for over here (the UK), and Germany where he was being sued for not showing up for a tour. Teddy Slatus had been in such a bad shape that he sent his wife out there, and she knew nothing. She was clueless; she'd cancel a gig if a screen door didn't work! (laughs) On some occasions we were leaving hotels at 5am in the morning cos she couldn't get hot water or something. 12 German shows were cancelled, so I took on a big mess, but we had a plan and we've stuck to it.
Can fans expect a reinvigorated Johnny Winter?
He's making up for a lot. People might think, well he's sitting down which might take a little getting used to, but then they start to enjoy the music, especially the older fans.
In fact the amazing thing is that Johnny's at the exact same age now as Muddy was when they asked Johnny to work with him. So we've tried different ways to make things happen, like Johnny guesting with people, and vice versa, and he's got used to doing that and also got used to the upswing in the amount of work. We also changed the set a bit and tried to keep it interesting.
Does Johnny enjoys touring again?
I think it's a life saver for him. He was at home depressed, broke, doing nothing, and occasionally playing. Since we started working he's eating properly again, gaining weight, his voice has started to come back, he's stopped drinking and stopped taking the pills, and I think you can see his playing has improved again, and is improving all the time.
So in effect you are still promoting the 'I'm a Bluesman' CD on this tour?
When the record came out we only played about 14 dates and absolutely nothing during the real problems with the management. So yes we're still promoting it as if it were a new CD. We're criss-crossing Europe, we've been to Nortodden in Norway and we're playing with Gary Moore, and playing Germany with Edgar and Rick (Derringer).
Is Johnny happy to be playing with Edgar again?
He always was, but his manager Teddy Slatus kept them apart. He told Johnny not to ever tour with Edgar as people only want to see him and he told Johnny it wouldn't sell, and that it would hurt his career. Within days of this forthcoming tour going on sale in Germany it sold out. That's how bad it was with Teddy.
You reorganised Johnny to play with Edgar and Rick again?
I'd got to the point where I said to Johnny, you got to get rid of this guy. And when Teddy passed away I was straight on the phone to Edgar and said 'now', and bring Rick too. The shows sold out in two days. We might try and do it in the UK too.
And what will they play given Johnny's gone back to playing the blues?
Well I guess it will be a little broader with that line-up, with a bit of blues, a bit of rock, a bit of Woodstock, and a bit of Hendrix. Johnny has played all of that. But what he can do now is rock out a bit with Edgar and then do his blues thing with say James Cotton, which is another possible future project for him. He's also going to be working on an instructional DVD, play his Gibson Firebird again, and generally get back to playing better. On top of all this I get to play with him too (laughs)
What about the 'Roots' album that Johnny mentioned?
It should be a set of traditional blues songs that inspired Johnny, and he will play them with his buddies. We're hoping to have people like Billy Gibbons, Dr. John, Rick Derringer, Edgar obviously, and I was thinking it would be great to have someone like Jeff Beck if it were possible and maybe John Mayer, who actually got guitar lessons from Edgar's guitarist.
Generally we are going to be working hard. 2 years ago, Johnny played 30 shows in a two year period. Now he's been doing 120 to 140 shows a year which is like a 20 year old's tour schedule. I think he's better playing than sitting at home not playing and getting weak and depressed. This way he's doing what he loves in front of people that love him.
---
Interview © April 2007 Pete Feenstra