JEFF BUCKLEY So Real The Songs Of Jeff Buckley
SonyBMG (2007)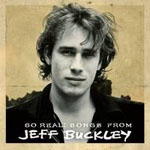 Like Nick Drake before him and Eva Cassidy after him, Jeff Buckley has been revered in death and sadly he only ever made one studio album, 1994's 'Grace'.
This release smacks a little of cash-in as it's the 10th anniversary of Buckley's passing (in a swimming accident) at the age of 30. It features all but two tracks from 'Grace', some from the extended 'Legacy' edition that came out in 2004.
Also there are a few tracks from some of the demos and live collections that came out after 1998, 'Sketches For My Sweetheart The Drunk' and 'Live At Sine'.
The real interest lies in two previously unavailable pieces. 'So Real' is taken from a promo-only radio single (an acoustic version recorded in Japan) and 'I Know It's Over' is The Smiths song from a radio session in 1995 but never part of the broadcast.
Buckley was acclaimed as one of the most promising performers of his generation not least by his fellow musos, and his influence is still being felt. 'Forget Her' combines a dark rhythm, bluesy organ and soulful vocal to fantastic effect and this vibe is continued on 'Everybody Here Wants You'.
'Vancouver' is from the album Buckley was working on just before his death ('Sketches') and is another standout with jumpy time signatures adding to the interest.
Buckley's bag was an intriguing mixture of soulful, bluesy, jazz and folksy influences whilst also tackling grungey rock under the watchful eye of Nirvana producer Andy Wallace.
A cash-in maybe, but 'So Real..' reminds us of music's loss, and for anyone who remains unfamiliar it serves as an admirable introduction to a rock life tragically cut short.
****
Review by David Randall
---
| | |
| --- | --- |
| | Print this page in printer-friendly format |
| | Tell a friend about this page |