PUCK
With influences ranging from Pink Floyd to Pantera, PUCK are a four-piece melodic hard rock band from London, fronted by AmyJay on vocals.
Their debut EP 'Beyond Reason' has been well received and GRTR! commented 'Fresh, versatile and well worth checking out'.
1.How and when did the band come together?
Aidan (drummer): I wasn't officially looking for a new band - I was already in one - but I randomly picked up Loot and found an advertisement looking for a drummer to join a pop band with a female singer. No idea why, I don't even LIKE pop, but I met up with the singer anyway and it just so happens me and Amy clicked and our influences were almost identical. She sent me a demo and I was blown away by her vocals.
Her band split up and she stopped pretending to be a pop star, thank God, and we decided to put together a rock band based on our influences. Amy's bro is a bassist and so before we had even started trying, we had the basics of a cool line up. We started writing songs immediately and soon had 3 or 4 to audition guitarists with.
We must have auditioned 30 before we found Fred. I'm a guitarist myself and have been playing for 14 years so my standards were high. Fred has so much musical knowledge and is incredibly talented and as soon as we heard him play we knew he was perfect. As well as that, Fred is also a great pianist and that has ended up being vital to our melodies. Didn't take us long to realise our songs were bigger than our sound so the only option we had was to get another guitarist. Lee came a long with great riffs, a big sound and everything we needed.
So in October 2006, we were ready to show the world what PUCK is all about!
2. Who/what are your musical influences?
Lee (guitarist): As a band we have quite a few different influences. Aidan is into his 80's rock - Van Halen, BonJovi etc. Si likes Incubus, Jamiroquai and the Chilli Peppers. Fred loves Tom Waits, Tom Petty and Jerry Lee Lewis. Amy is BIG into Pink Floyd and my favorite band is Pantera - so I think 'eclectic' is the best way of describing it. Amazingly enough it works really well.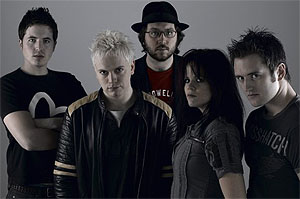 3. What sort of reaction have you received for the current EP?
AmyJay (singer): The response has been amazing; people really love it. Every single day we have people emailing us or leaving comments on our MySpace telling us how much they love the songs. We try to respond to everyone and encourage them to come to gigs and be part of the team.
We know we need our fans more than we need the music industry right now. We have just set up a street team profile at myspace.com/puckscout and we're looking for people who want to be in our music video. It's just brilliant that these guys love what we are doing and want to be part of it.
4. What sort of promotion are you doing for the new EP?
AmyJay: Beyond Reason is introducing the world to PUCK. This is who we are and what we're about. We wanted to get it in the hands of as many potential fans as possible so the first thing we did was give 100's of free copies away. At this stage in the game, putting a price on our CD only acts as a barrier between our fans and the music.
At all our gigs we have a special offer where people can exchange a flyer for a free CD. As well as that, Lee and myself have been judging at a young battle of the bands and we give out loads of CD's to the kids who come each week and as GRTR! know, we have sent loads to magazines and e-zines demanding to be reviewed!
We're also going to be doing a music video of the first track on the EP All That You Are, with a film crew from Rave On Air. We may well get that burnt to a DVD and give it out as well.
We're building up a dedicated street team of people designing promo flyers, collecting email addresses, selling the CD's etc. Basically - . we're getting it OUT THERE.
5. Do you think the present (musical) climate is difficult for new bands or does digital open up new possibilities? (eg download, myspace etc)
Fred (guitarist): I think the Internet band revolution is a blessing and a curse. Yes, it has become incredibly easy to put your music out there and have it heard by people all over the world, which is fantastic. Unfortunately, it is easy for everyone else as well. There is no quality control on the Internet.
90% of the unsigned stuff on myspace is rubbish, in my jaded opinion (but I am pretty hard to please.) This makes it harder for really decent bands, like PUCK, to get noticed amidst the quagmire of wannabes, whose music is often deeply, deeply awful. In the old days such bands would have been filtered out by the ranks of promoters, managers, agents and A&R men you had to go through to get your music to a mass audience.
Nowadays you can get massive exposure without having to go through the hard graft of building up a following in your home-town by playing hundreds of gigs in dreadful provincial venues. Promoting your band on the Internet also becomes a full time job, because today's punters demand a constant stream of new videos, recordings, confessional blogs, amusing photographs etc. to keep them entertained.
However, PUCK has jumped on the Internet bandwagon in a big way and used it to accumulate a sizeable online fan base, and it always helps to have a demonstrable public following when approaching record companies. Despite the misgivings I have outlined I still believe that quality will shine through in the end and I honestly believe that there is so much talent in this band that it has what it takes to make it whatever the musical climate.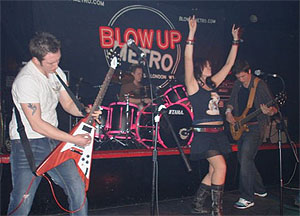 6. What do you hope to achieve in the 12 months and what your immediate plans?
Aidan: In the next 12 months we hope to have at least 12 new songs written and recorded. I really enjoy recording and live to make the best out of music. I also hope our music and fan base grows and grows to the point that we can start to play some top venues. Our music is so powerful that we need the big venues!
I guess our ultimate aim is to get a record contract with a label that has our best musical interests at heart. Then we can truly dedicate all my time to the success of PUCK.
The immediate plan is to build up our material so that every song on our albums is equal in its own sonic quality. I am not a fan of skipping through tracks on albums just to hear 3 good songs out of 12.
7. Name some of your own favourite albums/artists this year?
Si (bassist): Well, there's a lot to desire this year. I must say, firstly, I'm quite impressed with the quality I hear on the radio these days - It's picked up a lot over the past year! I've bought a lot of new material this year, but most is 1 or 2 years old now.
Last year, Incubus released a blinding album called 'Light Grenades.' They're one of my favourite bands right now. Coheed & Cambria always produce top quality music so I'm always on the look out for their material. Alter Bridge has featured quite high up in my 'most played list' this year, as well as Muse – awesome drum and bass musicianship!
8. Any highlights (or low points) for the band so far?
Fred: The highlight of being in any band is playing the gigs and meeting the fans. Getting positive feedback from people at the shows makes it all worthwhile.
The low points are the endless travelling around to and from rehearsals/gigs/photo shoots etc., the waiting around at said events and the carrying around of heavy amplifiers! Life will be truly glorious when we have roadies.
Rehearsing this band is not a chore as it can be with some bands because everyone picks stuff really quickly and plays great straight off. Recording the CD was a laborious process at times because Aidan is such a perfectionist, but it was worth it in the end.
9. Tell us about any recent or forthcoming gigs. How have you gone down?
Si: We've been a pretty busy band this year so far. Mainly recording music, promoting, and shooting videos. We've got a busy gigging scheduled lined up for the summer, and we hope they all go as well as the earlier gigs this year.
We've played sold out gigs at The Metro (London), and the Hertford Marquee - amazing times! In June we're recording our first proper music video and we'll probably do a couple of promotional gigs on the back of that courtesy of the film crew.
Summer looks to be good since we're scheduled to play in some of London's best unsigned venues including our regular slot at The Metro, and the Bull & Gate in Kentish Town. It's cool because we're starting to recognise more and more of our fans who keep coming to see us, and the scary thing is they all now know our lyrics!
People really dig our music. They've not heard stuff like this before, which is all positive news, and probably explains why so many people want to see us live.
10. Message to your fans...
Lee: Well, just a massive thank you! It's really strange sometimes when we get such amazing support from our fans. I for one am not really used to it, haha. It's only been a short amount of time and already people have been unbelievable. We really appreciate it and try to take the time to reply to messages and talk to fans at the shows. So thanks. We love you loads.
---
Interview © May 2007 David Randall.
All rights reserved.



Album review

---
| | |
| --- | --- |
| | Print this page in printer-friendly format |
| | Tell a friend about this page |