'I get annoyed that when people talk about the 70's they mention Queen, Bowie, Roxy Music Punk etc and 10cc never get a look in'.
Former 10cc drummer, song writer, producer, Gizmo pioneer and influential video director Kevin Godley is justifiably exasperated in pointing out how often it is forgotten just how exciting and creative and unique pop rockers 10cc were.
After 11 top ten hits including the single 'I'm Not In Love' which has been played in the US three million times, and 30 million album sales worldwide, you would be forgiven for thinking 10cc would be firmly implanted in people's memories.
Best known for their killer hooks, sumptuous harmonies and intuitive production work, 10cc were unlike most of their contemporaries, coming from a song writing and session background, in which Graham Gouldman alone had already chalked up a string of hits with the Yardbirds, The Hollies, Herman's Hermits and The Mindbenders.
By the time he teamed up with guitarist/vocalist Eric Stewart (to start the famed Strawberry studios in Stockport, Manchester) and then added drummer Kevin Godley and bass player/vocalist Lol Crème to the mix, the talented quartet all but kick started the Bubblegum music craze scoring hits for Kasenetz - Katz. Two acclaimed albums with Neil Sedaka, again recorded at Strawberry, brought the fledgling talents to the attention of then pop supreme Jonathan King, and 10cc were born.
'10cc; Greatest Hits and More' on UMTV is the first meaningful compilation for ten years and includes bonus tracks from Godley and Crème, as well as Graham Gouldman's re-recorded 60's chart hits and Kevin's most recent collaboration with Graham. Kevin Godley reflects on the one of the soft rock's most eclectic but potent back catalogues.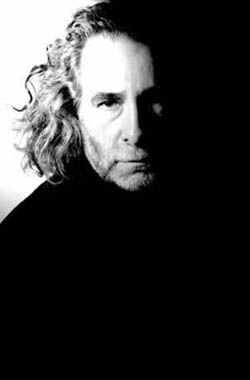 Photo www.gg06.co.uk
What was the thinking behind releasing this greatest hits package now?
Actually to be honest this has nothing to do with us (laughs), it was a record company initiative. But I think it's a great project and I suppose it reflects the fact that 10cc are back in vogue again as being an influence on contemporary bands.
Stylistically your early career seemed as far removed as possible from 10cc. I'm thinking for example of your work on 'Space Hymns by Ramases
Well like a lot of stuff we were involved with at the time, it was really the four of us bringing our chemistry to bear on studio sessions. Things clicked for us and we were effectively a house band, who also covered production. From our own point of view we were still discovering what was possible by playing around and trying things. And in the case of 'Space Hymns' we were driven by their talent, not ours but it was an example of a project on which we were drawn on by them. It brought things out of us, and over a period of time we came to recognise that we had something to contribute in our own right.
'Donna' the first single was a curious slice of doowop that bordered on parody. Did you feel some real affection for that genre?
Personally I really loved the music of that era, particularly Ritchie Valance, but we were almost always eclectic in what we did. The single itself was originally a B side for a song called 'Waterfall' which Eric and Graham wrote. So when we recorded 'Donna' it was done very quickly but we soon realised that it sounded quite interesting - something had come alive - and we thought this song had more character so we just flipped it. It was another example of our musical self discovery. Jonathan King loved it and so it became the first single'.
One of the most discussed aspects of your career by your fans is the 'Bubblegum' era. Was the whole Kasenetz-Katz project seen as a job to provide funds for other projects or did you really like that style of music?
Basically we were 20 to 22 years old and kind of enamoured by it all. I've written a new song about all that called 'Son of Man' which is on the new 'Greatest Hits and More' album. It's a kind of autobiographical tract of those years. We joked that it was 'pieces of shit for expenses and the hell of it'. Yes it was done as work, but it also provided us with valuable experience in the art of thinking like a session musician.
On the one hand we would press the session music button and then later on we could press the experienced button. Again it was learning process, and in retrospect a lot of good did come from that era. We recorded everything from Kasenetz - Katz to football songs, all the while discovering what we were capable of.
There never was game plan or bigger picture; it all felt more like a lucky accident. These particular sessions came on the back of the 'Neanderthal Man' hit with Hot Legs. Three of us toured with the Moody Blues but nothing much seemed top happen. Certainly there was no follow up hit so we headed back to the studio. At that point there was no real sense of what was going on. It was just something we did. In fact we tended to record bands that didn't have hits'. (laughs).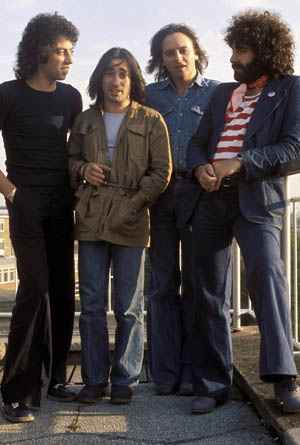 So did you see yourselves as song writers first and as a band second?
Neither really as nothing like that was consciously thought about. I do remember feeling that working with Neil Sedaka was an early career highlight, because we hit a really good groove with him, and it became obvious at that point that we should explore the possibility of doing our own stuff. And things actually snowballed from that point.
In retrospect I suppose we were basically a recording unit in the way were worked, and certainly not a band, well not until 'Donna' anyway. Of course after that became a hit we had to think about taking our ideas on to the road. And that was really Eric's department. He was always concerned that we could somehow transfer the studio quality to the concert setting.
At that point the main thing was simply to get the band to play. But over time I think we became more of a band and certainly a few years down the line we became a very creative and innovative band with ideas for musical inserts and samples and the use of tapes, especially later on in the 10cc mark one's career.
All those aspects were very new at the time and we were always up for experimenting – the opposite in fact to the formal structures of music.
What about the musical influences of 10cc? Am I the only person on the planet to hear McCartney in 'I'm Not In Love', and 'Mandy Fly Me'?
No I don't think there were any conscious influences, apart from maybe Eric and the Beatles, and maybe 'Sand in My Face' which I think had a Bryan Ferry vibe. In truth I think we were musical magpies rather than thieves. We just did what we did at the time, which included experimenting with sound, and at different levels sampling people's attitudes to music and putting that through our own filters.
At the outset Eric was the only experienced one. I personally didn't have a clue. The way I worked was I would have an idea in my head, say for example something that would sound like the sky, and we'd set out to try and capture that. Ditto something to represent the sea, and we'd try anything that was possible.
Did you consciously set out to write hit singles at the time? This was after all an album era?
At the very beginning of 10cc we did everything on our own terms. It was a case of let's get our heads down and see what we could do. I suppose somewhere along the line there was a decision as to which song was the most commercial, and then they were chosen as potential singles. I mean when you look at 'I'm Not in Love' that was six minutes long. We felt it was something very special but we were not conscious of it being a possible single.
It wasn't until much later when we recorded the 'How Dare You 'album that we lost that innocence. By then you would definitely be thinking about the need for say a funny song, a long song and even a hit single, and really that was the beginning of the end of the band.
In spite of the fact that we had worked as session musicians we never wrote to order for ourselves, but only when we were hired by someone else. At the time the creative side of things was a little like the way I approach video directing which is to say we just did it with no real agenda. There wasn't anything at stake other than discovering what we could do, and what we were capable of.
That shift in emphasis is a very subtle thing. You try and work exactly the same as before but you know more. You become aware of what you can do. For me, 10cc's creative peak was probably 'The Original Soundtrack' although my personal favourite is 'Sheet Music'.
But you already had a far superior grasp of studio techniques?
Yes but the creative process remains outside of that to start with. It's only later on that things became more calculating.
We were self contained and the chemistry was right and we got things done. When you look back now you realise there's no fat on 10cc, there's very little in the vaults.
Our first album like the single was done very quickly. It was recorded in about 3 to 4 weeks on the back of the success of 'Donna'. Suddenly we thought we'd better make an album.
Whereas over time you come think about different influences and what you can bring to the album, back then we had no time at all. We just did what we could and something interesting with character came out of the process and we hung on to that innocence for two more albums.
From my own perspective as with the band then, the best stuff I've done is when I don't know the rules. And I suppose as soon as you do know the rules, then that moment has gone. In the early days you don't worry about that knowledge, you just get on with it.
I've been working with Graham on some new songs, and we can't pretend we are young anymore but we think about things in a different way. I'd like to think the impetus is now simply that we are making music together because there is something significant to come out,. Our music now is certainly not based on angst anymore. 'Beautiful loser.com' is on the 'Greatest Hits' album and we are dotting the I's and crossing the t's on the song I mentioned before 'Son of Man'. The lyrics actually date back to 1996 and are about how we came together'.
One of the most unique aspects of 10cc was the different combinations of song writers. How did that work?
Yes we had songwriters in different combinations and still do. What we have now is a truer refection of the original spirit of the band. There were two song writing teams. There was the arty and quirky side of things which was me and Lol Crème and then there was the more commercial side of Graham and Eric.
I'd worked with Lol for a long time and we'd done a lot since 10cc in our own right but there comes a time when you have had enough of each other (laughs). So when we decided to take a break I didn't really want to circle someone else to see if it worked. So with Graham it was strange thing like opening my lap top and Graham coming alive after 30 years (laughs)
With Graham it was almost like being in a coma and then coming alive again. I can do things like subject matter and words. I'm a drummer and need the chords. He gives me a free range, and happily there are once again no rules anymore. It's the closest thing to starting all over again with L plates expect of course we do have a back catalogue of stuff.
Godley & Crème was a radical departure and also marked the beginning of your video career. How did that come about?
Well I'd always been involved on the arty side of things and I did like the idea of creating visuals. As regards video I call myself intrepid (laughs), there's a real feeling of being innovative. Our involvement in that medium started with 'An Englishmen in New York', the same title as Sting's hit but a different song.
We had this idea of some pictures that might go with the song. The record company thought we were barmy but they must have seen something, so they hooked us up with a director and it developed from there.
Some of our stuff came about in the same way as early 10cc in terms of spontaneity. 'Cry' for example was really producer Trevor Horn's baby. I'd met him in New York when I was working on a video shoot of the Police's 'Synchronicity' concept. We shot that and he suggested recording something. I had this riff from some 15 years back. At the time we were actually going to do something called 'Hit the Box' but Trevor took the riff, and suggested singing over it, and it worked.
Working with video isn't that different from my approach to producing music. I write a theme, maybe a page or so as a kind of a storyboard, and work on some sketches and take them in the studio and what comes out is very much due to circumstances. I just did the video 'Is It Any Wonder' for Keane.
At present I'm working on some screen plays and making a totally new record which will tie in with a new web site www.gg06.co.uk . The web site is dedicated to our new material. We've just been working on a video for 'Son of Man' and I'm thinking about a kind of collage documentary about the music which will probably be on our web site.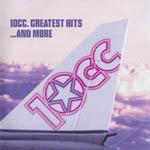 And finally with the release of the 'Greatest Hits and More' album how do you look back on 10cc?
I look on 10cc with a great deal of affection. I think the band brought with it a great body of work. Some of it was insane and some of it wasn't (laughs). But what is annoying is that when people remember the 70's they talk about Queen, Roxy Music, Bowie and Punk etc., but rarely mention us. Maybe we were just a little too eclectic for some people.
You look at a song like 'Rubber Bullets' for example and maybe there was too much going on for all but our most passionate core audience. But it's how we were and I think the 'Greatest Hits and More' album nicely reflects that.'
'10cc. Greatest Hits...and More' DVD is released on 6 November 2006.
---
Interview © October 2006 Pete Feenstra