While 10cc were originally always the sum of their creative parts, it is hit songwriter Graham Gouldman who continues to tour the world under the band's moniker. The former teen song writing phenomenon who scored hits for The Yardbirds, the Hollies and Herman's Hermits amongst many others, continues his love affair with music in general and 10cc in particular.
Outside of the band Graham immersed himself in a number of disparate projects ranging from producing the Ramones and Gilbert O'Sullivan to teaming up with American singer sing writer Andrew Gold and successfully working on film music.
As a side project to his current activities with 10cc Graham has also been writing with Kevin Godley, a collaboration that has thrown up 'Beautiful Loser.Com' one of the very best non-10cc songs of recent times
So while Graham Gouldman's 10cc is far removed from the original four members prototype, the band's greatest hits and the Graham's own rich song back catalogue continue to pull in the crowds worldwide. A recent ground breaking tour of New Zealand was a huge success and now comes the new 'Greatest Hits - And More' album on Universal, a compilation album that Graham is happy to endorse: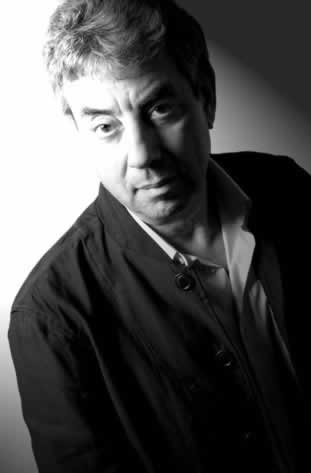 Photo www.gg06.co.uk
I was approached by Brian Berg from Universal about the project, more as a matter of courtesy I think. And I thought about it, and realised they were going to include some of my older stuff on it and a couple more of my recent efforts with Kevin. And I also thought perhaps this was a good time for a re-evaluation of 10cc's' music. So yes, overall I was happy to help promote and market it as a worthwhile project.
Are you surprised that it is you from the original band that continues to tour as 10cc?
In a way I am as I thought for example, that Eric might still want to play, but I guess people have moved on. Personally I've never lost the bug for music.
It's always been the joy of playing for me that is important, and actually being on the road with a great band and great musicians. And above all by doing that it keeps the band's music alive. We've also got the new album to promote, and I really believe the record company are responding to the public's desire to reappraise 10cc. I think time can give things a different perspective, with a view of where the songs came from and where they are going.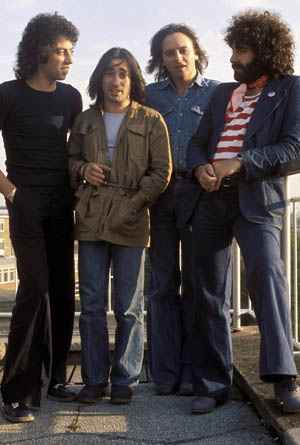 Do you agree with Kevin that the band are often overlooked when it come to evaluating the 70's?
Absolutely. While I agree that 10cc may not be the first band that springs to people's minds when you think about the 70's, we had some big hits and albums. Then again we never sat easily in with the Glam or Glitter bands of the time, And of course people might think of Queen especially, who in many respect were the exact opposite of 10cc with a great front man and were immediately more identifiable.
We were a little more idiosyncratic and had four different songwriters and singers. We had different writing combinations and in some instances it was like writing a song for a different band. But we had a strength in unity I think, although that might have gone against us and we were not as high in the public's consciousness other than for some of the singles like 'I'm Not In Love'.
But the songs if not the band have remained in public consciousness. And you were all about songs to start with. How did you organise yourselves being as there seemed to be different song writing camps?
At the beginning in 10cc it was just a case of writing away and seeing what came out. I was writing with Eric but often things would cross over quite a bit. It was all a case of just doing things and getting them done. Of course there had to be and was a certain amount of chemistry there between the co-writers, But basically our approach seemed to be that if someone had an idea then the whole thing might develop from there.
At that point it wasn't a conscious effort on our part except for the fact that because of financial and time constraints we were in a hurry to get the first album done. In fact it was quite funny as what ended up on the album was in part due to who finished a song first. We would all be writing and someone would shout out 'finished`! So there was no plan at the time, certainly no modus operandi, and it was all due to the sheer joy of making music. We certainly never thought about the need for a hit single for example.
After a while you develop a flow in your song writing. You come up with an idea and someone might contribute something else, and it flows. On 'I'm Not in Love' for example, Eric and I talked about the concept of a love song, but we were trying to make it a bit different. And Eric came up with the perfect title, and everything flowed from that. I had an opening suspended chord at the beginning and there was also a weird inversion on the guitar, which you can't necessarily hear, but it is there.
So Eric had the opening lyric, 'I'm Not In Love' and then I put in the next 'da, da, da da' section and added 'been along time for me', I wrote that bit, and it all flowed together. It was a real example of the tremendous chemistry I mentioned.
On 'Dreadlock Holiday' we got the idea when we were both on holiday in the Caribbean. I'd been to Jamaica and Eric had been to Barbados I think. We wrote the song about a experience I'd had. There was a Jamaican guy at the hotel and we ended up talking about sport, football, and Manchester Utd. in particular and cricket. So when I asked him if he liked cricket he said, 'I don't like cricket'. There was a pause and I was startled, then he said. 'I don't like cricket, I love it'. So there was the title and of course we put it to a Reggae beat.
A lot of the songs came specifically from the times or the environment that the song were written in. 'Rubber Bullets' for example, was a chronicle of the times, and we wrote was seemed appropriate at the time.
Wall Street Shuffle was presumably also a prime example of that?
Yes
Ironically you ended up playing a show at Lloyd's years later?
Yes we did, it was horrible.
So how did you and Eric approach 10cc mark two after Kevin and Lol left, and did you feel vindicated by having more hits and belatedly breaking America?
At the time our main concern was to question whether we morally had the right to carry on as 10cc, as we certainly had the legal right to do so. But it was a case of how and whether the fans would still be with us, and I think we got their seal of approval. Of course there was a business decision to use the name too.
And yes I think we did feel vindicated in a way with the success of 'Dreadlock Holiday' and 'The Thing We Do For Love' etc, although I have to say the albums didn't do anywhere near as well as the singles in the States. But then again not many British acts really did that well at the time either.
Let's go back to your early career as a writer. You enjoyed a string of hits for the Yardbirds and the Hollies, Were they written specifically with the particular band in mind?
No. I'd always developed each song in its own right. The only song I did write from that perspective was The Hollies 'Bus Stop' with the three part harmonies in mind. Though when it came to the Yardbirds and 'For Your Love', I think the band wanted a hit, and Clapton didn't. Basically he was a blues purist and that was the last straw for him.
But it was thanks to a publisher Ronnie Beck from B.Feldman and company that I teamed up with the Yardbirds (laughs).
Let's deal with your extra 10cc curricular activities, most notably with Andrew Gold and Wax, which the new compilation touches on with the inclusion of 'Bridge To Your Heart'.
I first met Andrew in the early 80's when our label Warner Brothers contacted us with a view to working with an American writer and producer to get an American feel. In 1981 we wrote three songs which were singles, 'The Power of Love', 'We've Heard It All Before' and 'Runaway' They didn't really do much but I think they were good. Andrew co produced and co wrote the songs with Eric and me.
By about 1983 I'd split with Eric, and I'd always been a fan of Andrew's and I had a home studio so suggested he come over to stay and write some songs. He stayed 6 months, and we write a lot of stuff for a project that didn't actually find a home at the time, but it became 'Common Knowledge', which was essentially our Beatles album (laughs). No one released it so we wrote some fresh songs based on personal relationships. That became 'Right Between the Eyes', which became a hit in Spain (and hit number 43 on the Billboard chart). Then we did 'Bridge To Your Heart' (which is included on the new compilation album) which had some success. But Andrew never liked flying much so it didn't develop much further. Though we still collaborate and have just done some backing vocals and songs for Tony Christie.
What can fans expect from the current incarnation of 10cc?
Well with the new album we play just about all the hits and some of the stuff from the last 10cc record, which was an album done in two halves. It was really me and Andrew Gold. So we have a section for that in the set and then some of my 60's songs in an acoustic setting with a view to try and play them the way they were written. I sat down originally with an acoustic guitar on the bed, but I don't plan to bring the bed on stage (laughs) I'm thinking of re including 'Bridge To Your Heart' as well. It didn't feel right first time but I think it has a place now, especially as Universal has marketed it as part of the new 'Greatest Hits' package.
Finally having spoken to Kevin about the early days of 10cc, I wondered what your recollections are?
We were basically the house band at Strawberry Studios and started off playing sessions for other people, doing backing vocals, co writing, in fact doing anything and everything. We wanted to work with our mates in the studio. The other three band members came from Hotlegs who had enjoyed a hit single. Eventually by the time of working with Neil Sedaka on two of his albums 'Solitaire', and 'Tralala Days Are Over', we started to realise what we were capable of. In fact I distinctly remember it came to us over some prawn crackers in a Chinese restaurant (laughs). We'd recorded 'Waterfall' as a single, although 'Donna' the original B-side was eventually released.
So who were your influences at the time? I can hear all sorts of people from the Beatles to the satirical aspects of Zappa in your early work?
Those elements are in there as ware a lot of different influences at the time. You have to remember how old we were and you always took things from the environment of the time. The satire side of things on 'Donna' for example was due to our tongue in cheek approach, which was really all about taking the piss out of each other and ourselves, but in a sense we always wanted to be the Beatles. I didn't hear those influences as much at the time as we were working with lots of different people, but from a song writing perspective I did reach that point of thinking now what would McCartney have done in this situation?
And what of your recent project with Kevin Godley? Recorded under the moniker of GG06 (the download is also available on a dedicated web site www.gg06.co.uk) 'Beautiful loser.com is an epic song that seems to combine the song writing qualities of say Jim Steinman and vocal grit of Tom Waits.
I have to say with that song all credit goes to Kevin, it's his song really. Kevin doesn't play anything and so my role was really as an enabler for him. He will sing something accapella and then it is my job to fit in the chords to what he is singing. He is a wonderful lyricist. The song is a stylistic departure for us and I guess you have to be in the mood for it. It's not that difficult to access but I guess it is aimed at a particular audience. My younger kids wouldn't like it but my older one might. It's basically a grown ups song because of the subject matter. It's different from what we've done before, and it's a separate project but if fits into the album as being the latest thing we have done.
'10cc. Greatest Hits...and More' DVD is released on 6 November 2006.
---
Interview © October 2006 Pete Feenstra
Kevin Godley interview
---
| | |
| --- | --- |
| | Print this page in printer-friendly format |
| | Tell a friend about this page |