Angel Air is 10 James McCarraher (Sarum, 2007)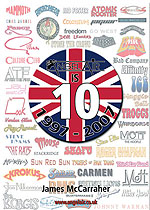 For the past ten years Peter Purnell has donned the Marigolds and presided like a master-physician over a sort of National Health Service for aged rockers. He has lovingly revived, renewed, and extended the life of all whom he has adopted. It is not surprising that he regards his label roster as a club for which "only the over 40s" are invited. Perhaps he is, more accurately, the Phyllosan of the Digital Age.
'Angel Air is 10' is a welcome celebration of the label's first ten years and for any rocker of a certain age, and with an eye for trivia, makes essential reading. Where else could we read about Affinity, an early jazz rock stomping ground for the great Mo Foster, Warhorse (debut album on the Vertigo 'swirl' label) and what happened to Bobby Harrison of seventies funk rockers Snafu? Author James McCarraher has brought together the 200-plus label catalogue, prefacing each release with an essay culled mainly from the original liner notes.
Anyone who has ever savoured an Angel Air offering will know that the sleeve notes are as complete as John McCoy's baldness. And the story starts with the label's first release in February 1997 (McCoy's 'Think Hard Again') and runs through until the more recent McCoy (Unreal: The Anthology).
And we also get selected reviews for each release including many from GRTR!
There are various veins running through Angel Air's deep mining of obscure catalogue: as the label developed, Purnell established a rapport with 'families' of artists so we get - for example - excellent coverage of Mott The Hoople and Gillan-related and more recently the great Stackridge - alongside the more obscure one-offs which otherwise would have been confined to dark corners of vinyl emporium.
McCarraher devotes only one fairly succinct chapter to Purnell's business model and the trials and tribulations of establishing a major independent label. This makes compulsive reading especially against the current industry climate where most labels struggle and I am sure there are further anecdotes to be told, not least about the artists themselves.
But, this perhaps misses the point in what is essentially a celebration rather than a dissection of Angel Air's art. After reading this from cover to cover, we should raise a glass of red wine to Mr Purnell and his fellow health workers. And here's to the next decade of helping rock's over-40s.
****½
Review by David Randall
Label website
---
| | |
| --- | --- |
| | Print this page in printer-friendly format |
| | Tell a friend about this page |