Since Welsh glam metal legends Tigertailz reformed in 2005 they have not only regained their loyal fan-base but also acquired a whole new one who weren't even old enough to remember them first time around.
Bezerk 2, in August 2006, made a firm statement that the 'tailz were back and although in February this year bassist Pepsi Tate was diagnosed with cancer this hasn't stopped them taking another leap forward.
Although some 80s glam metal acts are happy playing to nostalgia the tailz are truly part of the wave of reinvention while still remaining close to their roots.
We caught up with lead singer Kim Hooker and guitarist Jay Pepper in Cardiff's Stir Studio while they were in the finishing stages of making their forthcoming album Thrill Pistol to be released on Sanctuary.
The title of the album is pretty eye catching. Who came up with it?
Kim: Pepsi came up with the title as he'd had it for a while. One day Jay said 'oh I've got this other kind of song I want to do but haven't got a title for it yet' and Pepsi said 'well use Thrill Pistol and we'll use it as an album title'.
What method did you use to work on the album what with Pepsi being ill?
Kim: We knew Pepsi was not going to be as well as he should be so the original plan was if he couldn't make it that I was going to play base but as it turned out he came down for a day or two and did it all so I didn't have to do it. It's strange because sometimes he just walks in with a drip in his arm, listens for half an hour then disappears back into hospital. We miss Pepsi not being around so much though he's only a ¼ but it feel like 80% of it's gone. He's my drinking buddy. We have a great time but at the same times we wonder is this really going on? Playing live always comes naturally to us but playing the St David's gig in Cardiff without him was so difficult. We didn't want to cancel though coz we knew we'd be letting people down.
Jay: We weren't looking to make a new record but as soon as Pepsi was diagnosed we thought we'd get on with it. It's been amazing because in just under a month we've pulled it all together. Pepsi has been ill since last summer but it's only been the last couple of months the gravity of what happened has come to light. We're all just trying to make it the best record we can for him.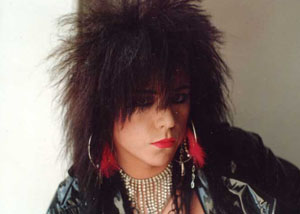 You've obviously built a rapport with producer Tim Lewis over the years. What's the best thing about working with him?
Kim: Tim he knows me better than I know myself. If he says, 'you can do better' I know I can. It's the same with Jay if he says 'that's great' then that's great but if he says, 'that's as good as it can get' we know that's true too. We trust his judgment better than we trust our own.
How long did the last album take to make in comparison to this one?
Kim: The last album took a few months but we only went into the studio as and when but we've thrown ourselves into this one and we're planning to do it in three weeks. Tim did our first single which was out in 1987 and he's been with us ever since so the truth of the matter is if we're in the studio 15 hours a day we'll just be messing around so we could have done things a lot quicker but there's a lot of catching up to do.
Jay: It's unheard of for us to be this quick. It normally takes us about a year to write the songs. We don't do anything quickly ever but this has been a mammoth effort from so many people. We've had loads of friends that have done bits, within 24 hours notice Jon Blood from Wild Pussy has come in, Dean Procter, and all these people have just come to try and do their bit and we'll be eternally grateful for them for doing that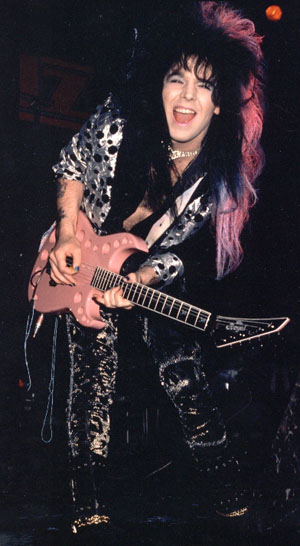 Did you write most of the material before you came in or was anything improvised once you were in the studio?
Kim: Everything was written before we came in as we all have our own studios. The only thing we really improvised was the solos but all the lyrics were written and we knew what we were doing to a point. This time we wrote the songs with a view to performing them live which we'd never done before really. We got too involved in the studio before and never thought 'well how are we going to do this?'
This time everything is a rock n roll song. It's the most rock n roll album we've made and it will sound different. To me a great rock n roll band is Areosmith, Guns N Roses or Velvet Revolver, which we never really sounded like. In the past we'd spend months getting everything perfect but this time we said 'let's make a conscious effort not to do that'. Some songs I put in less effort than I did before and it sounded better for it. Maybe we should have made this album years ago.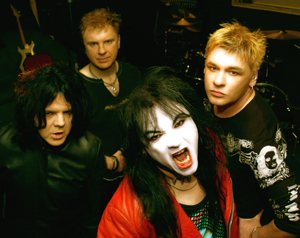 Have you thought about how the album will do commercially?
Kim: We never did shows like we've done now ever contrary to what people think. Music For Nations our record label kept us away from that and we had no idea what kind of units we were selling abroad and it was only by chance we found out. We did an interview with a journalist from Poland and she said 'how does it feel that Whitesnake are number one you're number two and Bon Jovi are number three?' and we had no idea so we went to the label and they just dismissed it.
Back in the old days we never went to America or Japan and now ten years later we're playing to 80,000 people so we wonder what would have happened if we'd done this years ago so we decided to get the album out before the festivals. Plus the record company wanted one anyway. Initially it was 'get the alum out then let's do the festival' but now it's like 'this is a great album' and we know it's capable of selling as many copies as anybody.
Jay: It could do very well but it all depends as always on the record company [Sanctuary] and what they're prepared to do. Demolition [past record label] last year were appalling. They did absolutely nothing for Bezerk 2. I didn't even see one add. They could have done any less quite honestly.
Are there any songs on the album you think would make a hit single?
Kim: 'Tomorrow I'll be Miles Away', 'Thrill Pistol' 'Only You', She's So Wild' could be hit singles. There are only two songs really that aren't as good as the rest but the standard of the album overall is good. I can't see why any metal fan wouldn't want this in their album in their collection. It's like 'Peace Sells' or 'Master Of Puppets'. Something you'll always want to listen to from time to time.
The 'tailz hope for a September release but check back for more news. They also play the Gods Of Metal festival in Italy this year.
---
Interview © May 2007 Lucy Gooderidge
'Thrill Pistol' is scheduled for release later this summer via Sanctuary.