Roger Powell was a long-standing member of Todd Rundgren's progressive/new wave outfit Utopia. He's also issued several solo albums and played on various sessions including the Rundgren-produced 'Bat Out Of Hell' and - as part of Bowie's touring band - on 'Stage' in 1978.
After Utopia united briefly for a Japanese tour in 1992, Powell all but retired from the music business and became involved in software development.
Billy James catches up with his story...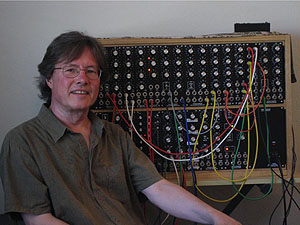 Photo: www.fossilpoets.com
It has been many years since your last solo album: Were the songs on Fossil Poets all written/composed recently or were some in the can for a while?
Fossil Poets was a collaboration of myself, Gary Tanin, and Greg Koch. I developed the original song ideas over the period of the last five years. Then, Gary spent a good amount of time creating new arrangments of the core material.
As time went by, we added Greg Koch's guitar to the songs and he composed a lot of the guitar parts.
Why so long between solo albums?
I've been working in the computer software industry since 1985, the last year that Utopia worked as an ongoing-band.
First, I authored Texture, a MIDI sequencing application, that was introduced in 1984.
In 1987, I went to work for Waveframe Corp. in Boulder, CO, the makers of the AudioFrame digital synthesizer and recording system.
In 1991, I moved to the S.F. Bay Area and wrote audio software tools for Silicon Graphics. Then, in 1997 I joined the team at MacroMedia working on Final Cut Pro, an audio/videoediting program.
In May of 1998, Apple took over the program development and moved the entire team to Apple headquarters in Cupertino, CA.
So, I've been pretty busy with my Apple day job as Senior Engineer and Technical Lead for the last 9 years.
Around 2001, I thought it was probably time to start up some new music and began developing the early threads that become the basis for Fossil Poets.
How did you link up with Discipline Global Mobile - does Robert Fripp have anything to do with who gets signed to the label?
Gary and I were shopping the newly-finished recording to a number of independent record labels, and the one that seemed to be the best fit was Inner Knot.
Inner Knot is affiliated with Discipline Global Mobile, but is actually a separate company. Robert Fripp is not involved in the artist signings for Inner Knot.
What's the inspiration behind the CD-concept?
Initially, there was no core inspiration for the CD. We just started working with the base material, developing it and then judging what kind of music seemed to be coming out.
As the process evolved, we began to think of the music as "retro-futuristic" - it has some "retro" prog rock, jazz and electronics, but also has the "future" element with the fusion of all those and some new grooves.
What about the cover art?
The intricate and evocative cover art was done after the recording was finished by Herman Serrano, a graphic illustrator from the U.K. He was inspired by the music and album title, came up with a lot of early ideas, and eventually created the 6-panel CD package that you see now.
You play a lot of guitar on the CD, when did you become so proficient on the instrument.
Well, I'm not really so proficient. All of the fancy guitar parts were performed by Greg Koch, who's an amazing guitarist that can play just about any style.
I am only responsible for a few background rhythm parts that were part of the original noodlings.
Can you discuss the the contributions, compositionally and musically, by Gary Tanin and Greg Koch?
I connected with Gary Tanin initially to handle the production of the CD, as I was having a rough time finishing everything by myself.
As the relationship grew, Gary took on more roles: arranger, engineer and mixer. As arranger, he would also do some additional composing on songs to make them fuller.
Greg Koch was employed to add the guitar voice to the recordings. We thought it would be cool to have Greg's guitar as a balance for all the synthesizers. Greg came up with a lot of his own parts, and therefore gets a composition credit.
Any unusual instruments - keyboards you play on the album?
I played a custom modular analog synthesizer that I built from kits. It's called an MOTM and the kits were supplied by Synthesis Technology in Texas.
Also, I played a Moog Voyager synth (new version of the old MiniMoog) that was hand-signed by my old friend Bob Moog before his recent passing.
There are also brief cameo appearances of acoustic instruments that I play: mandolin, flugelhorn, Native American flute and tin whistle, accordion, and upright acoustic piano.
Any plans to play the CD live?
Nope. The recording was put together in serial fashion between myself in the S.F. Bay Area, and Gary and Greg in Milwaukee. Gotta love Pro Tools!
Any possible chance of a Utopia reunion ever?
Doesn't seem likely at this point. A couple of years ago there was some talk of a reunion, but that didn't materialize. Now, everyone seems pretty busy with other activities and, for me, a day job!
What do you think of Todd Rundgren and Kasim joining The Cars?
That sounds like a lot of fun and a good match up. Not something I would have expected, but the tours have gone very well from what I've heard.
Will your unreleased album Architexture ever be released?
Not likely. Most of the material was actually in demo form -- never finished to a polished state that I would be happy releasing, and the record company that was to eventually put it out in finished form went out of business (Passport/Audion)
---
Interview © February 2007 Billy James