Glenn Hughes has been called the 'Voice of Rock'. He is a musician's musician who has appeared on many rock albums, contributing his songwriting and vocal talents as well as his bass-playing.
In a wide-ranging and frank interview on the eve of his UK/European tour, Glenn told us about his new solo album released in June 2006, his new band, and looked back to his time with the MKIII and IV versions of Deep Purple.
From his home in LA, he also told us about his current projects including an acoustic DVD with bonus extras including a 'Making Of' the new album, the reissue of the classic Hughes and Thrall album (and volume 2 due next year).


Audio : 'Mr Music' (13:52)
(Broadband/cable connection recommended)
Click here to open the Real Player (lo-fi)
Recent stuff (0:00)
The new band (4:00)
Deep Purple (6:00)
The forthcoming tour (11:00)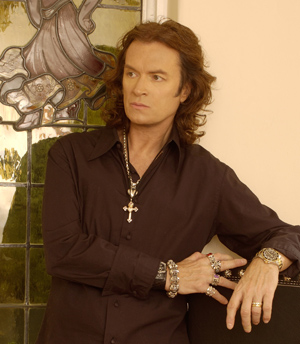 What about your musical relationship with Red Hot Chili Peppers drummer Chad Smith. Is this a regular thing now?
The first album we did was 'Songs In the Key of Rock' in 2002. I'm godfather to Chad's child and best man at his wedding, so obviously we're best mates.
Chad and I will tell you that our friendship comes first, and the music second: it's the same with my family, it comes before the music. Music as you know is the centre of Chad's life, he's a very enthusiastic drummer. We started working in 2002 and he's been on five albums with me, two with Joe Lynn Turner and three solo records.
But on 'Music For The Divine' , Chad plays and co-produces and he really pushed me, he really wanted the best, and he wanted me to record songs like 'Frail' and 'This House' and 'This Is How I Feel'. He said that 'your fans need to know that you can write these sort of songs'.
I mean 'This House' and 'This Is How I Feel' could have been recorded by the guys from Oasis, they're kind of very British, you know.
We've already recorded a couple of songs for the next record. We live close by...the Peppers tour for three weeks and then have a week off, but Chad and John (Frusciante - the Pepper's guitarist) are very much 24 hour musicians.
I think playing with other musicians, people will get turned on to Glenn Hughes' music from a different generation. It's not like I do this to jump on, you know, Chad and John's bandwagon. They will tell you that they grew up listening to my music and they're obviously in awe of my Deep Purple period ...We have been known to go out as a trio and play the whole 'Burn' album. It's amazing to have friends like that.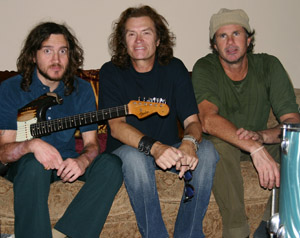 John Frusciante(left), Glenn, and Chad Smith (right)
This is almost like payback, because you've supported a lot of other artists through the years, in terms of writing or singing
In the eighties I wasn't really doing much, I mean I did about seven shows in the eighties and I really wasn't well. When I got clean and sober I was probably a little bit like a wild horse, I probably did one too many records with one too many artists. But I was so hungry to sing and to be out there, I just wanted to work my craft.
What's happening with the Deep Purple reissue series, we're up to 'Burn'...
After the Shepherd's Bush gig I'm remixing 'Holy Man' from 'Stormbringer'. I want to be involved in the next three, including 'Live In London' and 'Come Taste The Band'. I might want to re-record 'This Time Around' with Jon Lord, just the two of us, something special. I consider 'Stormbringer' and 'Come Taste The Band' to be Glenn Hughes records although of course it was a bad period for me.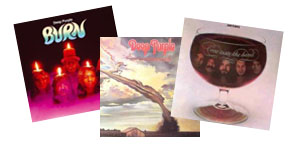 The three Glenn Hughes/Deep Purple albums: Burn, Stormbringer and Come Taste The Band
What's your favourite album from your Deep Purple period?
Well you've always got to say 'Burn' because it's the first one with the five of us and it was a number one record across the world. Who would have thought when Ian Gillan and Roger Glover left that getting two new guys in would top that: it was a great feeling.
Stormbringer is obviously the funkier album, there's more Glenn on that, and 'Come Taste The Band' is a more well-rounded mature album from a band that was splintering.
If we had been a bit wiser and if the sex drugs and rock 'n' roll factor had not been present in '76 we would have probably done another four records together.
Do you see that you would ever get together again with Deep Purple?
Only in Mk III and only if there's a real purpose, there's been a lot of rumours but we haven't sat down in a room together.
We have a feature on GRTR! called 'Ones That Got Away'. The album you made in the early eighties with Pat Travers' guitarist Pat Thrall certainly qualifies for that...
It's coming out again soon with two bonus tracks that were recorded in New York about five years ago. They were written around the time of the original album in 1982, but never made it to the album. It's a musicians' record, every musician I know seems to have it in their collection
How did you hook up with Pat Thrall in the first place?
Well, I really stole him from Pat Travers. I saw him play when Pat Travers was opening for Def Leppard at Santa Monica in 1981 and was blown away. I asked him if he'd come to my home and start writing when he finished the tour.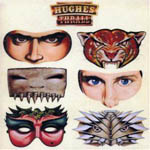 Were you disappointed that the album was not more successful than it was?
It didn't do well for two reasons: first, sex, drugs and rock n roll again - I wasn't well enough in the eighties to tour - and secondly, Pat and I were also going in very different musical directions. He wanted to go more fusion on the next Hughes/Thrall record and I wanted it to be more straight down the middle rock and funk.
But the great thing is, as we speak, we are just completing Hughes Thrall II, we've a couple more songs to record in January and then the album should be out in April 2007.
It's going to be twelve songs. Each song for me is different in its format. You'll find it's going to be extreme funk, very heavy metal, pop music, you're going to find New York late night jazz music, acoustic music and a little bit of hip-hop in there.
The vocabulary of both artists has changed so much in the last 25 years. People shouldn't expect a complete remake of the first one. The albums is very crafted, it's not really an exercise in straight-ahead rock music.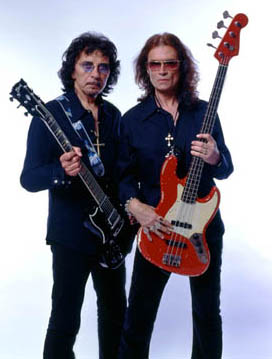 It seems that your career is one of highs and lows and what might have been. From a recording point of view Hughes & Thrall fits into that category and the album you released last year with Tony Iommi is another (Fused - one of GRTR!'s albums of the year) - some might say a missed opportunity. Why didn't you tour on the back of that album?
Well Sanctuary dropped the ball. We got great reviews all over the world but zero tour promotion. I met Sharon Osbourne on a plane a year ago when the album came out and she said that even Kelly (with Sharon behind her) couldn't get tour support.
Tony is probably more upset than I am because he desperately wanted to go out and tour that album. In two years time, Tony will own that record and I'm sure it will come out again and still sound good.
Dare I ask, Glenn, that when you're compiling your set-lists that you'd include something off 'Fused'?
I came very close to it, Dave, but I'm going to save that for Tony. I'm only going to concentrate on my own solo material and not anything with Gary Moore or HTP. The majority of my fans want to hear the new songs from the last couple of albums and it's a nightmare for me: I've recorded 12 albums in the last 14 years and about 130 songs published and you've got all these songs to choose from. I was thinking about playing 'Dopamine' but decided not to at the last second.
It would go down well, I can assure you...
And finally, Glenn, recommend an album of yours for a new fan...
Well the last two albums 'Soul Mover' and 'Divine' cover every aspect of my career. You're going to find all the passion and pain in these albums: the terror, the love, everything I've been through in my life in between life and death is on these records. They're the soundtrack of my life for sure.
Glenn Hughes European tour starts on 28 October 2006.
---
Interview © October 2006 David Randall
Gig review
Album review
Album review (Hughes-Thrall)
Artist website
Music samples © 2006 Frontiers Records. All rights reserved.
---
| | |
| --- | --- |
| | Print this page in printer-friendly format |
| | Tell a friend about this page |