Just witnessed your best live gig?..send us a review!
GLENN HUGHES
JB's, Dudley, West Midlands 28 October 2006
The start of his European tour is also the start of a new chapter in the Glenn saga: with a new album that he says is where he wants to be musically, and with a new band.
With Anders Olinder on keyboards (ex-Peter Gabriel), Mark Mondesir on drums(ex-Jeff Beck) and previous collaborator Jeff Kollman on guitar, Glenn has assembled a band that was superb on this first night and will be monstrous when they hit full tilt halfway through the tour.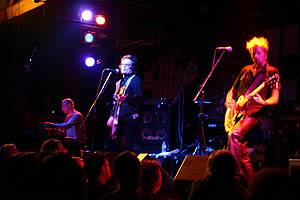 Photo: Keith Thompson
With JJ Marsh absent from this line-up, I have to say that Jeff Kollman made the position his own. This was particularly evident on the cover of 'Nights In White Satin' which was arguably better than the version on the new album and, overall, gives the Moodys a run for their money too.
Naturally, Hughes showcased the recent CD, and the opener 'The Valiant Denial' set the very high standard for the rest of tonight's performance, quickly followed by 'Monkey Man' and a tremendous 'Black Light', with all band members really hitting their stride. Later on 'You Got Soul' and 'Steppin' On' highlighted Glenn's claim that this was going to be one of his funkiest bands.
There is evidently no animosity in the Deep Purple camp and Glenn turned in magnificent performances of 'Mistreated', 'Keep On Moving' and an electrically-charged 'Burn' for the encore.
Having seen Whitesnake on their last tour, there were rumours circulating the forums that Coverdale was using backing tapes. In truth, he was not on his usual top form and it was disappointing that one of our best-loved vocalists gave in to a viral infection and a poor sound mix.
No such problem for Glenn, every last emotion was wrung from 'Mistreated' and the sound balance was generally excellent all night.
Emotion is a word that crops up in any appraisal of Glenn Hughes. There is a high quotient in his songs and as he says he writes about the human condition, often about his own condition specifically, and the new album charts the rise and rise of one of our greatest vocalists.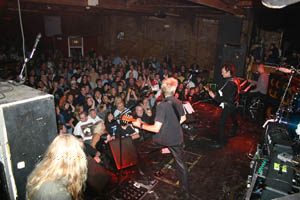 Photo: Keith Thompson
With a spirited 'In My Blood' from 'Songs In The Key Of Rock' and a handful of tracks from the excellent 'Soul Mover' album, including a superb 'Don't Let Me Bleed' and the title track played as an encore, this was Glenn Hughes on top form.
An acoustic DVD is currently in the making and a low-key acoustic tour would certainly allow us to savour his songwriting talent in an intimate and more pared-down format. For the moment, though, a lucky Europe beckons. With Northampton the only other leg of this trip, we'll have to wait until the spring for additional UK dates.
If you can get a cheap flight, this is worth travelling to the Kremlin for.
Review by David Randall
Set-list (with thanks to Keith Thompson, Effective Media)
1) Valiant Denial - (M4TD)
2) Monkey Man - (M4TD)
3) Orion - (Soul Mover)
4) Land of the Livin' - (Soul Mover)
5) Nights in White Satin
6) Black Light - (M4TD)
7) Mistreated - (Deep Purple - Burn)
8) In My Blood - (Songs in the Key of Rock)
9) Don't Let Me Bleed - (Soul Mover)
10) You Got Soul - (M4TD)
11) Steppin Out - (M4TD)
12) You Keep on Moving - (Deep Purple - Come Taste the Band)
Encores
Whiter Shade of Pale
Soul Mover
Burn
Glenn Hughes interview
Jeff Kollman interview
Album review
---
| | |
| --- | --- |
| | Print this page in printer-friendly format |
| | Tell a friend about this page |