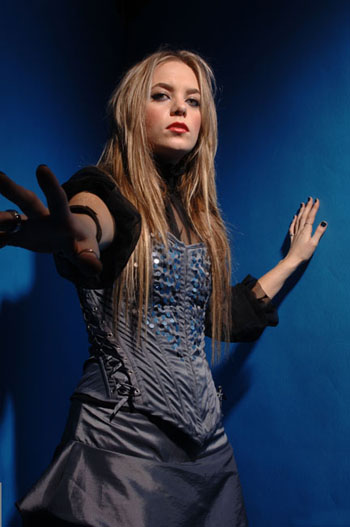 Photo: Mike Prior
Top 5 favourite albums of 2008?
Hmmm, well I am LOVING The Script's self titled album, such great songs and melodies and all good emotional relationship stuff! Can't stop playing it!
The new Gavin DeGraw album is also really good, is a bit of a grower, but has some great songs and the guy's got such an amazing voice - I love the first single In Love with A Girl!
Elbow - The Seldom Seen Kid, is such a great album... I didn't know I was such a fan of this band but they are super musical and gorgeous songs, really really like it!
I really liked Sarah Bareilles 'Little Voice' too, she's great with lyrics and melodies and she delivers them really well and has a really lovely voice. I can't think of another album I love love LOVED this year.... hmm, is that bad? Haha!!


Any good discoveries this year that you'd like to share?
Yes!! I know I'm probably a bit slow on the uptake but I recently discoverd the show 'Flight of the Conchords ' which basically is all about the lives of these 2 guys in a band (called Flight of the Conchords!) who have moved to New York from New Zealand to follow their musical dreams with the help of their one fan and useless manager! It's genius, funniest thing I've seen in a long time, and their songs are awesome!!
Oh and a restaurant in London called Rock & Rose, loved it, sooo Natascha! It's all pink and black and girly rockstar-themed decor with black chandeliers and candles and awesome chairs everywhere! They do really good food and cocktails too!!

What sort of year have you had?
Highlights - I've actually had a reasonably quiet year this year on the surface of things but have been working hard behind the scenes, so to speak! I've been working on artwork and all the things to do with getting my album totally ready to be released....
Have also just started working with a new management team over here and have secured an investment deal which means we have been planing the strategy for said forthcoming release of Dirty Little Word in early 2009!
One of the highlights of the year was one of the songs from Dirty Little Word being played on quite heavy rotation on a big US satellite radio station called Sirius! One of their breakfast show DJs, Larry Flick, seems to have taken a shine to me and asked me to do a 20-minute album review/interview live on his show, which was awesome!!
So there has been lots bubbling on... watch this space!!

Immediate plans for the future/2009?
The OFFICIAL release of DIRTY LITTLE WORD, and lots of gigs to go with it!! :)
---
Related>>
Album review (Dirty Little Word)
Interview (August 2007)
More information:
Natascha Sohl website
---
| | |
| --- | --- |
| | Print this page in printer-friendly format |
| | Tell a friend about this page |