MOSTLY AUTUMN Heart Full Of Sky Mostly Autumn Records (2007)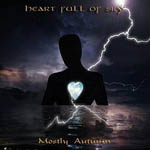 Mostly Autumn are back and now on their own record label. There are also some guest musicians on here including Steeleye Span's Peter Knight on violin, session musician David 'Munch' Moore (Gary Moore/Bo Diddley/Colosseum) and ex-Karnataka vocalist Anne-Marie Helder.
This album is classic Mostly Autumn - glorious musical passages, everything from folk through to rock tunes and the wonderful vocals of Heather Findlay.
Opener 'Fading Colours' is simply stunning from the opening keyboards right through to the closing notes. You can't quite pinpoint what makes Mostly Autumn so good but this track is a good as intro as to why they are so special (they revisit part of this song in 'Further From Home' later on in the album).
'Pocket Watch' is another gem, with Bryan Josh taking the vocal spotlight (his guitar work is as ever stunning). 'Dreaming' sees the band rock out at the start before drifting into a very progressive piece of music.
'Walk With A Storm' has a neat Hammond organ run courtesy of David Moore plus the violin of Peter Knight. Personally I love it when they do their folk ballads and this album doesn't disappoint as 'Find The Sun' amply satisfies.
Basically if you have any albums by Fairport Convention, Pink Floyd, Marillion, Blackmore's Night, Camel or Clannad in your collection then add this album pronto as you won't be disappointed. They do their own thing and do it so well.
*****
Review by Jason Ritchie

Blue Light
© 2007 Mostly Autumn. All rights reserved.
---
| | |
| --- | --- |
| | Print this page in printer-friendly format |
| | Tell a friend about this page |