Since forming the band Van Zant in 1998, Donnie Van Zant of 38 Special and his younger brother Johnny Van Zant of Lynyrd Skynyrd have been making music and living the dream.
Get Ready To Rock's US correspondent Steve Janowicz met up with the two native sons during a recording session in Nashville to talk about Jacksonville, family and what its like to make meaningful music.
Few names have influenced music in the United States as much as the name Van Zant. For the past 40 years, this family of musicians who grew up in the Lakeshore section of Jacksonville broadened the definition of rock while emerging as one of American music's most popular acts of all time. A recent six'week exploration into the Van Zant family has uncovered the personalities behind the music.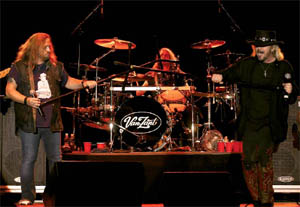 Photo: Steve Janowicz
On a drive through North Florida one gorgeous Friday morning recently, I spoke with Tammy Michelle Van Zant, eldest daughter of Lynyrd Skynyrd founder Ronnie Van Zant. Tammy, a talented vocalist herself lives in Tennessee and is working on an album, but she was back home for the birth of her daughter's first child, another grandchild to Ronnie.
As we drove, we listened to a mix tape that included some of her father's unreleased music and a hodgepodge of old interviews.
We started on Mull Street on the Westside of Jacksonville at the Van Zant's childhood home. It's a rundown place, overgrown with shrubs and plants. Choking back the tears, Tammy reflected on the happy times she had growing up in the house. She was raised almost entirely by her grandmother, now deceased, and her uncle Johnny, Lynyrd Skynyrd front man who is only five years older than her. 'Johnny also bore much of the responsibility for raising me,' she said. 'My uncle Johnny was more like a big brother to me than an uncle.'
'Friends and family complement Johnny's kind heart. 'Johnny would go out of his way for someone and then spent equal if not more time to make sure he received no credit,' said Tammy.
'Donnie has a reputation as the reserved one'. 'When the music is off, Donnie is very serious,' noted his sister Darlene Grant. 'Don't get me wrong, he is outgoing, but in a low-key type of way.' Darlene said that Donnie was the brainiest of all the Van Zant children. 'I think he wanted to be a history teacher at one time,' she said. 'But there was another time when he wanted to work for the railroad.' Both brothers have developed a reputation as some of the most genuine guys in music. Bobby Ingram, lead guitarist for the Southern Rock band, Molly Hatchet remembered being in the front row of the very first 38 Special show at the now defunct Nickel's Alley in Jacksonville Beach.
'We all grew up playing music with each other,' said Ingram, who performs several, shows a year with Lynyrd Skynyrd and 38 Special. 'Johnny and Donnie are like brothers to me and I am so happy for the success they have found in the past and today.' 'I've been on the road with Shania, Tommy Shaw and many other names that you would recognize and all of those tours were great, we always had a great time,' said Mark Mullen, an accomplished musician who has played with a variety of headliners, Shania Twain most recently. 'But with the Van Zants, it was different. Johnny and Donnie treat us like brothers, and that doesn't often happen in this business. We are treated like family.'
In the studio recording a new album slated to come out next summer, Donnie and Johnny Van Zant are working hard to keep balance in their very busy lives. Success provides opportunities to see new places, make new friends and build new lives, but their friends now are the same as the ones they had in grade school. But their music defines where they are going. I traveled to Nashville and sat down with Donnie and Johnny in the studio.
SJJ: First off, I'd like to say congratulations on your nomination for a CMA award.
JVZ:: That makes two nominations. Of course we haven't won yet. But like I always say, 'It's better to be in the ball game than to be sitting on the bench.' But no, this is a great honor. It was for the fist country record we've ever done together, so it's a great honor.
SJJ: Johnny, when I first met you last year, you told me you were still trying to figure out what you wanted to do when you grew up. Is Van Zant it?
JVZ:: Yes, definitely. We would like to keep playing music, as Lynyrd Skynyrd, and as 38 Special, and personally, I would like to make a good blues album, and a good gospel album. We can't let down the fans that support our individual bands, but we want to try new things as well. Fortunately, all the bands are under the same management now, so they coordinate our schedules so we can do more. It keeps us very busy, but we can go fishing later.
SJJ: Johnny, I've seen you live four or five times and you pretty much stay up front and fairly still, but Donnie is all over the place on stage. Does he make you want to move or is it more of a defensive stage presence?
DVZ:Oh it's a defensive stage presence all right. And Johnny is scared to death. And sometimes there are injuries.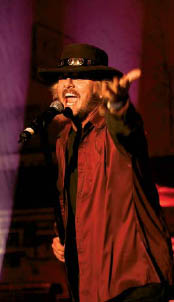 Photo: Steve Janowicz
SJJ: When you guys played 'Get right with the Man' recently, you all turned around and huddled together in front of the drum kit, what was that about?
JVZ:: I don't know exactly. It was probably just a good time in the song to get together. If it does have meaning, then it probably just was us trying to take advantage of brotherhood and all that.
SJJ: Tell me about your parents and the impact they had on your writing.
DVZ:Our parents have had an impact on everything we've ever done. They just wanted us to be happy, no matter what we did, whether it was paint houses, or drive a truck or make music. They were even cool with the long hair thing. Our dad was a truck driver and he said, 'If you want to look that way, go ahead.' He was cool with it. And so was mom, actually. We had very supportive parents. Now as far as their influence on our writing. I think the fact that we were raised on the Westside of Jacksonville, and learned to respect people and not to steal, and to believe in Jesus and family, had an impact on our songs. You can't fake who we are. We're real, and all that comes down to our parents.
SJJ: Donnie, I heard you talk on stage about how dreams come true and how playing with your brother is one of those for you. After a career with 38 Special and realizing this dream with Johnny, how do you top this?
DVZ:We don't ever really try to top things. We just have a good time. It's all about having a good time. Neither one of us needs to do it, we do it for the love of the music. We love hanging together as brothers. I mean earlier in our careers, we were too busy with our different bands to really see each other that much. So now that we have the chance, it's really great. So you just go out and do the best you can. We didn't know the country music world would even accept us, but we succeeded.
SJJ: Perhaps the way to top it is to keep doing it?
JVZ:: I think you're right Steve, the way we top this is just by being able to keep doing it. Doing what we love for the fans.
SJJ: Don't you find that country is more of a marketing label and that there's so much crossover today?
JVZ:: Well this new album we're working on is probably about as country as we're going to get. But we love country music. Growing up, our parents loved country music. Then we saw Ed Sullivan on TV, and we experienced the Rolling Stones and the Beatles and so we went that way too.
SJJ: Jacksonville has been growing by leaps and bounds. Fleming Island, near where you live, has boomed in the last five years. Why do you choose to continue to live in Jacksonville?
JVZ:/DVZ:We love Jacksonville. It's where we were raised. All the kids are there, and grandkids now. People have been trying to get us to move to Nashville for years, but I can't think of a place I'd rather be than Jacksonville. There's the beach, lakes, swamps, and no hills. It's good to have a place where you have roots.
SJJ: Are there any special places you like to visit when you're home? Perhaps there are some prime fishing spots on the St. Johns River?
DVZ:The St. Johns is full of great fishing spots. Near Whitey's [Fish Camp] on Doctor's Inlet is one. We have a house on Doctor's Lake and that's where we grew up fishing. I also love St. Augustine. Our grandfather was a bridge attendant on the Bridge of Lions, and he was responsible for letting the boats through. We also grew up fishing off that bridge.
SJJ: When you are home, do you get to see some of the local bands play or is music put on hold?
JVZ:: Mostly, music is put on hold when we're home. We've got the wives, kids, the yard, school, and so many things that we have to catch up on after weeks on the road. Most people have the weekends, but we don't. We're gone 6'7 weeks at a time. We did 150 shows last year. And that was our first country tour last year so it was a great learning experience, but it was a lot of work. SJJ: Did you have many country artists patting you on the back?
JVZ:: People came up. People like Clint Black and Kenny Chesney, to tell us how much we influenced their music. It was shocking in a way. We're big fans of theirs, and they are of us as well.
SJJ: I've been talking to numerous people who you both grew up with or worked with, and they had the same thing to say about you both: big heart, small ego. How do you stay grounded when things are busting at the seams around you?
JVZ:: You go home and cut the grass and take out the garbage.
DVZ:But it's got to go back to our parents. Our mother could care less about all this music stuff, and that kept us grounded. Our dad loved it, and we joke that if he had been 30 years younger and played music, we would all be working for him.
SJJ: Jacksonville is a big military town with NAS and I know you are big supporters of the troops, what would you say to them if they could read this?
JVZ:: Thanks for all that you do. God Bless You. We're big time supporters of our military. Regardless of whether you are for or against the war, these people are fighting for us. And they don't get to decide where they go, so we have to support them. Besides, we grew up playing at the bases, and they've always supported us.
SJJ: I know you are working in the studio between shows on the next album, can we expect more of the same Van Zant or are you going to mix it up a bit?
DVZ:We always try to mix everything up. Otherwise, this would get boring. We're always striving to do something different, push the envelope, get edgier, and see what we can get away with.
SJJ: You employed other artists like Kenny Wayne Sheppard in the past and each of you has done that with your individual bands. Will there be any notable cameos on the next album?
JVZ:/DVZ:We don't know yet, too early. We've seen a lot of rock guys get together with country singers and that's how they get the hybrid. For the most part, we decided to do it on our own.
SJJ: Is it ever difficult to agree on every song that should go on an album?
DVZ:We're two different people so sometimes we disagree. But we never close any doors and we always listen to each other. That's what collaboration is all about.
SJJ: What are your thoughts on Nashville?
DVZ:It's definitely the music capital, and we've been coming here for 16'17 years. You have to be here if song writing is what you do, but you can write here and perform here as well. There are a lot of great areas around Nashville, for driving around. This is our second home and we probably know it physically better than Jacksonville, because when we're home, we stay at home. It's a great city, with great people, and we have a lot of friends here.
SJJ: Do you have any plans to play in Jacksonville soon, maybe at Veterans Memorial Arena?
DVZ/JVZ:: (Laughing) We wouldn't make any money, because everyone would want free tickets. But we played in Jacksonville last year and had a great time. That city has always been very good to us, especially when it comes to radio. We love it here.
Music Review
THE VAN ZANTS will tell you that they've always considered their music to be country, but I'm not so sure. Having experienced their road show in Alabama and in Cypress Gardens, outside of Orlando, it is difficult to label it as pure country. Their music has many of the same attributes as country, like the fiddles.
And there's nothing quite like listening to Johnny perform with the very country sounding steel pedal guitar behind him. Needless to say, their recent nomination for a Country Music Award places them into Country music's mainstream. But Van Zant'style music has something for everyone, a quality that oldest brother Ronnie implemented in the earliest days, and something that has led to the family's overwhelming success.
'The record companies labeled it Southern Rock,' recalled Curt Towne, co'owner of The Guitar Station in Green Cove Springs and a confidant of the Van Zant family. 'I guess that's what it is.' Essentially, Southern Rock is a good story with good music that relates to personal experiences. It's music that has teeth. It grabs you and does not let go.
'Ronnie's music told stories the way they should be told,' said Rick Dingle (owner of 'The PIG' barbeque on Blanding blvd), a childhood friend of Ronnie's. 'He wrote true stories and had an eye for life. If you listen to the lyrics in those songs, you can tell, he lived that stuff.' For the past 30 years, the two younger Van Zants have done the same. Every time I had the privilege to hang out with Johnny and Donnie, the laughter was non stop. On stage is no different and when you're having that much fun it's bound to come through in the music and performance. If you have not seen these guys live, buy a ticket. The fun is contagious and you'll have a great time.
Brief History
Initially formed as 'My Backyard,' in 1965, then 'One Percent' in Jacksonville, the band Lynyrd Skynyrd was the creation of Ronnie Van Zant and a handful of friends, and named for his Robert E. Lee High School gym teacher, Leonard Skinner, who had a reputation for cracking down on students with long hair. The band recorded their first album, 'Pronounced Leh-Nerd Skin-Nerd- in 1973, which immediately went gold. Soon after, Skynyrd opened for The Who. The following year, they released the song 'Sweet Home Alabama' as a southerner-s response to Neil Young-s 1971 ballad 'Southern Man' and established themselves as pioneers of a new style of music that that came to be called Southern Rock.
Donnie Van Zant formed his band, 38 Special, in 1975. A wild-eyed Southern boy, Donnie-s stage presence and consistent driving vocals placed him among the best of Southern rock-s royalty. Since his brother Ronnie had turned the music business on its head with Skynyrd, it was important for Donnie to create a name for himself and 38 Special was a testament to his guts as a musician forging his own path. With hits on the charts like, 'Hold On Loosely,' 'Rockin- into the Night,' 'Fantasy Girl,' and 'Back Where You Belong' through - 80s and - 90s, Donnie built a reputation as a talented musician with a flamboyant style, and tremendous endurance on stage.
Johnny Van Zant began performing at age 15. He was originally a drummer, but it did not take him long to make the jump to vocals. His first band, The Austin Nickels Band, began in Jacksonville bars and clubs. He changed the name to The Johnny Van Zant Band in 1980, and began to take his place among his brothers in the big leagues, eventually producing four solo albums.
On October 20th, 1977, Skynyrd changed forever when Ronnie Van Zant, along with guitarist Steve Gaines, and vocalist Cassie Gaines, died in a plane crash in 1977. It was a shattering blow not only to the victims and their families but a generation of people who listened and identified with Van Zant-s lyrical art. Surviving band members recorded music under various permutations until 1987 when a new Lynyrd Skynyrd formed under the youngest Van Zant, Johnny.
The new Skynyrd released a double live album, 'Southern by Grace of God' the following year. In 1998, Donnie finally joined with Johnny on stage and the two eventually made an album under the name Van Zant called 'Brother to Brother.'
In 2003, Skynyrd celebrated its 30th anniversary by releasing 'Vicious Cycle,' its first studio album in three years. In 2006, founding members Gary Rossington, Allen Collins, Leon Wilkeson, Bob Burns, Billy Powell and Ronnie Van Zant, Artimus Pyle, Steve Gaines and Ed King were inducted into the Rock & Roll Hall of Fame.
---
Interview © 2007 Steve Janowicz
---
| | |
| --- | --- |
| | Print this page in printer-friendly format |
| | Tell a friend about this page |