The Rising Stars CD - 16 great artists - 8 appeared at Cambridge Rock Festival.
Festival review 2 (Rising Stars stage)
Subscribe to our RSS feed and obtain the Cambridge Rock Festival 2007 audio review link!
Well, that's it for another year! And what a Festival! Building on the past three years, Dave Roberts and his tireless team staged a bigger and broader event, including two additional stages and featuring over 100 bands.
With most musical tastes catered for, under a wide classic rock banner, there were some outstanding performances not least the immaculate Australian Pink Floyd and Thunder, but also live/festival favourites like John Otway, Stray and Wishbone Ash.
On the GRTR! Stage 2 we showcased some fantastic bands and introduced festival-goers to new music in a variety of genres with sparkling shows from headliners Natascha Sohl and Sacred Heart.
And over on Stage 3 there was a chance to see more upcoming bands, headlined by the highly-rated prog metal outfit Awake, and coordinated by UKCity Radio.
It rained, the campers got wet, but the main stages were all under cover so there was temporary respite from the Great British Summer.
GRTR! grabbed interviews with most of the main artists and well over 1000 photographs - a special report will appear soon on the website, and there will be special features in our UKCity Radio show (Saturday 19.00-20.00 and Sundays 15.00-17.00 from 2 September).
Thanks again to all the bands who appeared on the GRTR! Rising Stars Stage and to the hardy GRTR! Crew. Take a bow: Christine Adamson (sales), Pete Feenstra (MC), Dave Hunter, Bill Leslie (Reviews), Ian and Clare Pollard (photography), Gary Field and Prakash (audio/visual).
And thanks to Dave Roberts for the opportunity to share in a fantastic four days.
David Randall
---
With over sixty bands spread across three stages and four days it's probably safe to assume that my route around the 2007 Cambridge Rock Festival differed from just about every other visitor to the well equipped festival site at Wood Green Animal Shelter, Godmanchester (writes Bill Leslie).
Getting across the country from South Wales and settling into the site meant that the earlier bands had finished by the time I made it up to the main stage, the only stage in use on the opening day of the event.
Nevertheless I did capture the closing few songs of the impressive UNITING THE ELEMENTS who's lead single 'Dawn' is full of self-belief and certainly proved herself well equipped fronting the punky, powerful three piece line-up. Headlining Thursday's list of bands however was a tribute act who have proven themselves one of the most popular on the circuit.

LIMEHOUSE LIZZY - Thursday 16th August - Cambridge Rock Festival 2007

The police sirens herald the arrival of the four piece THIN LIZZY tribute as "Jailbreak" kicks off the set in front of a decent crowd grateful for the opportunity to sing and move to some well loved songs.
Sticking to the best known LIZZY tracks and overcoming some clear onstage sound difficulties the likes of "Rosalie", "Waiting For An Alibi", a superb blast through "Suicide" as well as staples such at "The Boys Are Back In Town" and "Whiskey In The Jar" earned great applause.
Bassplayer/frontman WAYNE ELLIS bears both visual and vocals similarities to the great Irishman and displayed a clear respect for the man he pays tribute to, whilst the inclusion of GARY MOORE and PHIL LYNOTT duet "Out In The Fields" and LIZZY ballad "Sarah" ensured the set wasn't too predictable, a criticism I've read levelled at the so-called real THIN LIZZY currently doing the rounds. An enjoyable introduction to the festival indeed.

Friday nights top billed entertainment centred around two of the original high energy London pub rock bands who both boast histories dating right back to the pre-punk days of the 1970s.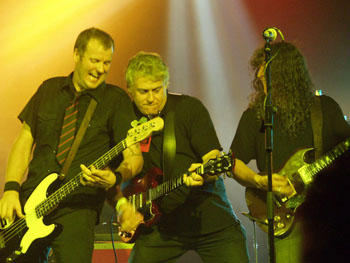 Eddie & The Hot Rods, photo Ian Pollard
EDDIE AND THE HOT RODS - Friday 17th August - Cambridge Rock Festival 2007
Quite honestly a simply superb set from the band fronted by the only remaining original member BARRIE MASTERS. Intense, rocking and enthusiastically received by the Friday night Cambridge crowd the band delivered a high energy set that included a superb cover of THE WHO's "The Kids Are Alright" and a blast through "BORN TO BE WILD" alongside own numbers "QUIT THIS TOWN", "POWER AND THE GLORY" and "TELEPHONE MAN" to name but three, whilst the biggest cheer was reserved of course for the classic "DO ANYTHING YOU WANNA DO".
Plenty of movement with the two guitarists and especially bass wielding madman DIPSTER covering every inch of the stage (and causing MASTERS to note DIPSTER's apparent overcoming of shyness at one point) ensured EDDIE AND THE HOT RODS staked an early claim for the best performance of the whole festival.

DR. FEELGOOD - Friday 17th August - Cambridge Rock Festival 2007

Following a stirring set from EDDIE AND THE HOT RODS the pressure was on DR. FEELGOOD to justify their headline billing and despite a somewhat more subdued reaction than that afforded the earlier band, they delivered a fine set that perhaps occasionally veered a little more towards full-on blues than more conventional rockin' rhythm and blues, but one which ultimately received a warm response and prompted many aftershow positive comments from departing punters.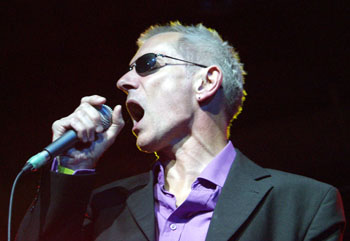 Dr Feelgood, photo Ian Pollard
Opening with "Riot In Cell Block No. 9" they then plundered the back catalogue of this historic band for gems like "I'm A Hog For You", "Roxette", "She Does It Right" and "She's A Wind Up". Wheeling out crowd pleaser "Milk And Alcohol" mid-set and closing with cracking versions of the old standard "See You Later Alligator" and "Down At The Doctors" ensure the more than decent sized crowd were well entertained.
Of course with now over 1000 shows now under this particular line-ups collective belts a certain high standard is expected and once again they didn't disappoint doing the famous band name and legacy they continue to represent immensely proud.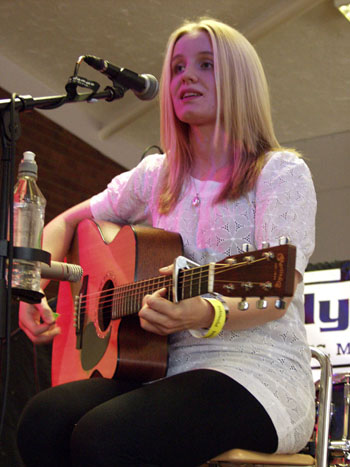 Charlie Barker, photo Ian Pollard
Following an excellent evenings entertainment then on the Main Stage there was just time to nip into the now up and running Mullet Boy Studios sponsored Stage Three to catch a few songs from the diminutive blonde singer CHARLIE BARKER.
Just her, her acoustic guitar and some fine tunes that clearly mean a lot to her and are delivered with great feeling, it was a nice relaxing close to the second days events. Fortunate, really, as I had to get up early to catch the first band on Stage Three on Saturday morning.

LED ZEP TOO - Saturday 18th August - Cambridge Rock Festival 2007

The unearthly hour of 10am saw the campsite awoken to the sound of local LED ZEPPELIN tribute band LED ZEP TOO. Despite apparently saying a final farewell to their drummer the previous evening (a replacement hastily found fortunately) they delivered a fine breakfast set made all the more interesting for it's avoidance of the more obvious fare of "Stairway To Heaven" and "Kashmir" to name a couple.
Despite laughing at a request for "Trampled Underfoot" they entertained early risers with "Communications Breakdown", "Immigrant Song" and "Heartbreaker" amongst others and earned an encore for which they performed out a fine rendition of "Thank You". Not taking it all too seriously, although thanks to a blonde wig and a Les Paul guitar bearing a passing resemblance to the masters, it was a thoroughly enjoyable show.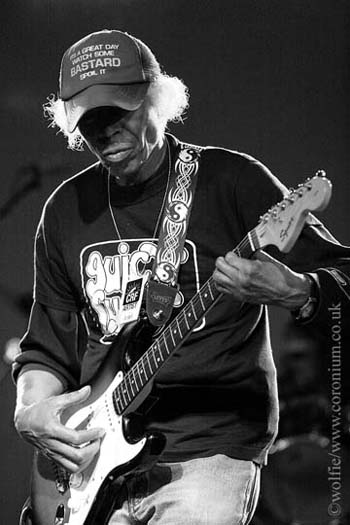 Ray Owen, photo Wolfie
Making my way later that afternoon back toward the main two stages I had the good fortune to catch part of the JUICY LUCY set with veteran frontman RAY OWEN clearly on fine form and classic track "Who Do You Love?" sounding every bit as good live as it should. By mid-afternoon though I was ready for a band I've recently started to take note of, one I should have picked up on years ago I think.

STRAY - Saturday 18th August - Cambridge Rock Festival 2007

The DEL BROMHAM fronted heavy rock three piece took to the main stage just after 3pm on the Saturday and delivered a 50 minute set that, if there were any doubt at all, proved just why they're held in such high esteem by the likes of IRON MAIDEN's STEVE HARRIS and RUSH's NEIL PEART.
A mesmerising performance with BROMHAM prowling the stage both right and centre putting on a show that more than justified Sanctuary's recent decision to reissue the band's entire back catalogue.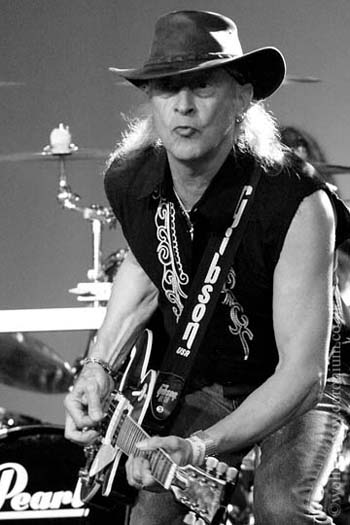 Del Bromham, photo Wolfie
The highlights of the set of course being an incendiary performance of the criminally overlooked classic "All In Your Mind" (at last I get to see the track IRON MAIDEN themselves covered done by the original band) and the stunning "Time Machine".

Later, after much needed Festival nourishment, or in other words a refreshingly reasonably priced cheeseburger, I was able to catch another band I've wanted to see live for a while, MAN.

MAN - Saturday 18th August - Cambridge Rock Festival 2007

It's become increasingly apparent to me since personally relocating to South Wales just what high regard this Swansea born Welsh institution are held in. Sure, it's not the most active of live shows with stalwart member MARTIN ACE (bass/vocals) and son JOSH ACE (guitar/vocals) both taking a few songs to break into even a satisfied smile but what a superb musical performance they deliver.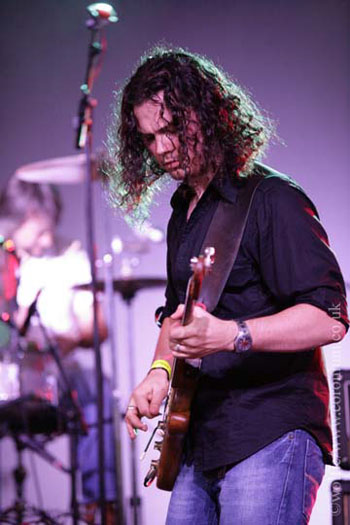 George Jones, photo Wolfie
With GEORGE JONES also on guitar and vocals in a line-up completed by long-time drummer BOB RICHARDS they lead with "Sudden Life" before showcasing the excellent "All Alone", the acidic protest of "Freedom Fries" and the title track itself, all from the strong 2006 release "Diamonds And Coal", before ultimately closing the set with the more than welcome inclusion of "Spunk Rock" from 1969's "2 Ounces Of Plastic" album.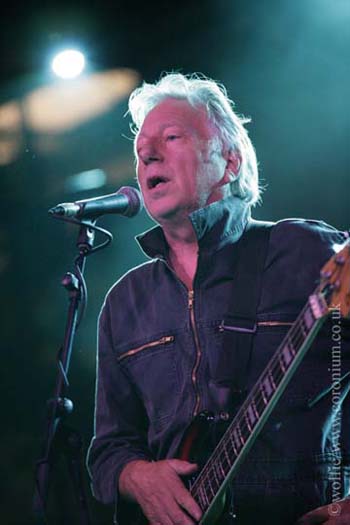 Martin Ace, photo Wolfie
Standing front row stage left, I was able to appreciate the ability of the band but was also more than impressed by the sheer enthusiasm of some of the people around me. Clearly delighted to be in the company of MAN, I enquired just how much one nearby (and he'll hopefully forgive me for mentioning, quite senior) festival goer had enjoyed the set to which he beamed and introduced me to his ex-wife explaining that although divorced, they meet up whenever there is a MAN gig in their area!
It seems the citizens of South Wales aren't alone in enjoying the music of this long established band and long may that continue.

After catching some of the set from Brazilian prog-metallers MINDFLOW and the early songs of blues band NINE BELOW ZERO I then ventured for the first time at length to the GET READY TO ROCK! sponsored "Rising Stars" stage to catch another band from South Wales.

25 YARD SCREAMER - Saturday 18th August - Cambridge Rock Festival 2007

Despite being introduced as a traditional early RUSH influenced prog-rock band Carmarthenshire three piece 25 Yard Screamer opened with a couple of songs around the four minute mark and then followed by apologising for not opening with more stereotypical genre defining epics.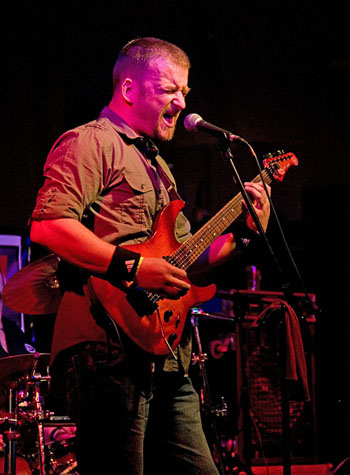 Nick James (25 Yard Screamer), photo Paul Rule
Soon corrected of course as the band delivered some highly intricate and marvellously played excerpts from the longer material on current album "Cassandra", including a couple of sequences from the 29 minute title track itself.
Suitably impressed, the keenly priced disc (£5) available on the merchandise stand was duly pocketed and the hope is there that I will next catch this band, who are based just a few miles from my home village, in live action somewhere that incurs a distinctly shorter journey than this cross country trek entailed.

THE AUSTRALIAN PINK FLOYD SHOW - Saturday 18th August - Cambridge Rock Festival 2007

The Festival's big attraction and Saturday night headlining spectacle were of course the well known PINK FLOYD tribute band that originate from 'down-under'.
With their seemingly ever increasing array of films, effects and lighting they are these days closer to a FLOYD facsimile than mere tribute although the amusing inclusion of a kangaroo in the filmed pieces, Aussie country outline as opposed to prism on "Dark Side Of The Moon" backdrop and antipodean themed introduction to "Wish You Were Here" helps identify the difference.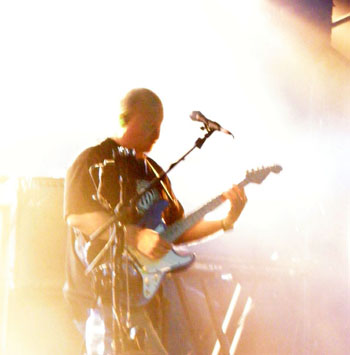 Australian Pink Floyd, photo Ian Pollard
Despite technical difficulties forcing a slightly later than scheduled beginning the packed main arena were treated to a note perfect run through of the complete "Dark Side Of The Moon" album of which the highlight was the superb "Time" with clocks flooding the backdrop and laser lighting bouncing around the arena roof.
Following a short break duly undertaken by many, a "Best Of" set filled the final hour and a half of the day with "The Wall" trio of "Comfortably Numb", "Another Brick In The Wall", "Run Like Hell" and more surprisingly "Set The Controls For The Heart Of The Sun" amongst the numbers played and enjoyed by the large, appreciative crowd.
All in all a fine tribute if indeed that's the correct term, but very definitely they fulfill a huge demand created by the real PINK FLOYD's reluctance to tour in either three man or four man form.

And so to the final day of the festival and if I'm honest a bit of a lazy start, not managing to arrive near the main two stages until early afternoon but thankfully, despite missing a couple of bands I'd have liked to have seen, most notably LOST WEEKEND, I was in place in for the set by JOHN OTWAY.

JOHN OTWAY - Sunday 19th August - Cambridge Rock Festival 2007

I have to admit that I wasn't prepared for the spectacle of the five man JOHN OTWAY BAND live in concert but ended up enjoying it immensely. I'd previously only heard the wacky, 1970's novelty hit "Really Free" so when this was aired first song up I went quickly into personally uncharted territory, and flowers thrown at the band from the audience during "Beware Of The Flowers" was just the beginning of the madness.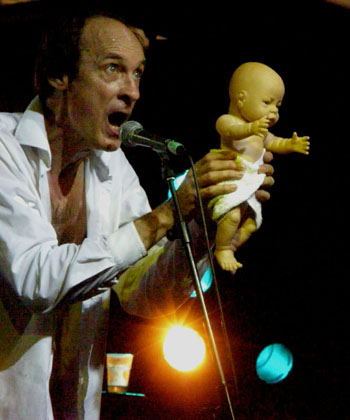 John Otway, photo Ian Pollard
A wire coat hanger was fashioned into a portable, neck hung, microphone stand to allow OTWAY to roam the stage "just like Madonna", the children's punk song "Rumpelstiltskin" given a fine outing, "We Rock", a song written because OTWAY felt QUEEN's "We Will Rock You" had too many words in the chorus ensured further audience participation whilst the set finale included a guitar solo from RICHARD HOLGARTH played behind his head... atop an eight foot step ladder!
Too much over indulgence though met with another band member pulling the lead from the perpetrator's amplifier, a punishment even handed to OTWAY himself during a theremin solo on encore selection "Crazy Horses". Absolutely mad, thoroughly enjoyable and if anything, at just 55 minutes or so duration far too short. Superb.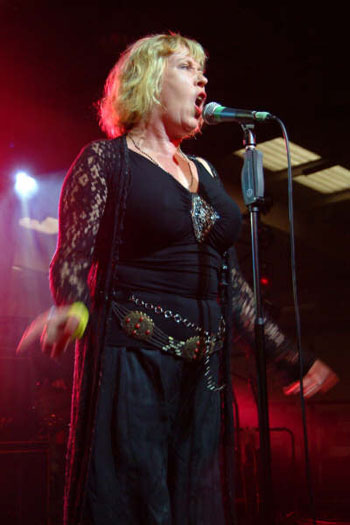 Hazel O'Connor, photo Noel Buckley
I returned to the main arena later in the evening in time to catch HAZEL O'CONNOR perform the excellent hit "Will You" complete with superbly haunting saxophone solo and also witnessed the beginning of the powerfully voiced DEBORAH BONHAM's set of which her cover of "Stay With Me" (not the FACES song, the old blues classic) was a definite highlight. Moving then onto the GET READY TO ROCK! sponsored second stage for an enjoyable hour of boogie-blues courtesy of Cambridge band TAILDRAGGER.

An embarrassment of riches in the Sunday, 9pm slot at this years Cambridge Rock Festival with WISHBONE ASH on the main stage, SACRED HEART on stage two and promising prog-rock band AWAKE performing on the third stage.

SACRED HEART - Sunday 19th August - Cambridge Rock Festival 2007

Supporting the recent release of the excellent "Shake" album, four piece melodic rock outfit SACRED HEART more than justified their headline status on the GET READY TO ROCK! stage.
Extremely well received by an appreciative audience they obviously stuck to the new disc for the majority of their set. "Lost", title track "Shake" itself, "Perfect" and "Afraid" made for a fine opening salvo firmly establishing the bands live credentials and proving them to be a bit grittier and harder edged in the flesh.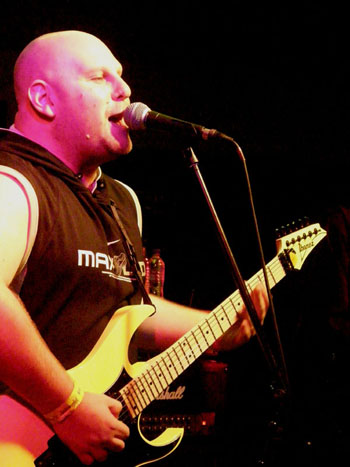 Sacred Heart, photo Ian Pollard
This in turn helped transform the albums more pop orientated moments with power ballad "Maybe" faring especially well. Guitarist MARK STEPHENSON demonstrated his considerable abilities, the rhythm section sounded tight and powerful and in PAUL STEAD they possess a frontman with a fine voice and a personable, enthusiastic nature then ensured anyone witnessing the band live for the first time soon warmed to them.
The inclusion of a couple of non-album cuts in the shape of main set closer "Rock 'N' Roll Away" and surprising set highlight "Lay It On The Line" were welcome additions whilst calls for an encore, satisfied with "Promise", were definitely well deserved.
What next for this band? Hopefully a higher profile support slot somewhere that gets them in front of a much bigger audience as it appears they have the song and the ability to carry it off.

And then, all eyes turn to the main arena once more for Sunday night headliners and the band closing the festival, British rock favourites THUNDER.

THUNDER - Sunday 19th August - Cambridge Rock Festival 2007

Firstly, what a pleasure it was to witness a band nearly lost to us forever a few years ago once again grace a large, festival stage. Sticking pretty closely to what's become the standard "Robert Johnson's Tombstone" tour set they opened with the mighty "Loser", quickly roll out newer favourites "Dirty Dream" and "What A Beautiful Day" before dipping into the classic debut album "Back Street Symphony" for the first time for the epic "Until My Dying Day".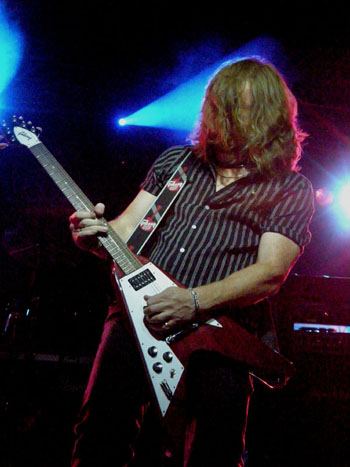 Luke Morley (Thunder), photo Ian Pollard
Further recognition from the Cambridge crowd was earned for other "Symphony" era hits "Gimme Some Lovin'" and "Love Walked In" whilst the likes of "Low Life In High Places", "You Can't Keep A Good Man Down", "Fade Into The Sun" and the blues soaked "Robert Johnson's Tombstone" itself ensure the last couple of albums remain well represented.
The unique THUNDER style is all over set closer "I Love You More Than Rock 'n' Roll" and this song closed a loudly applauded and perfectly paced main set.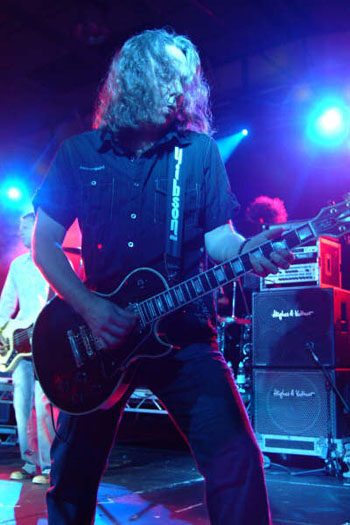 Ben Matthews (Thunder), photo Noel Buckley
Returning to the stage for a two song encore they first deliver a surprise by performing cover version "Play That Funky Music". Surely recognition that maybe not all of the festival crowd were THUNDER regulars as the hardcore would maybe prefer "River Of Pain" or the too long overlooked "She's So Fine" in this slot, but their choice proved a canny one as the response was huge.
The usual set capping blast through early hit "Dirty Love" saw normal service resumed as THUNDER once again prove their suitability to play the big event with a high billing. But then do this band ever disappoint live?

Overall a fine, well organised festival that is thankfully largely safe from the vagaries of the British Summer weather. One of the real plus points of this event is the mix of classic, established bands alongside 'rising stars' and local players with more than enough styles on show to suit all tastes.
Reasonable priced refreshments and merchandise were a positive and hopefully the event as a whole was successful enough for all parties involved in organisation to plan and deliver an equally strong line up in 2008.

Review by Bill Leslie
Photos by Wolfie, Noel Buckley, Paul Rule, Ian Pollard, Clare Pollard/GRTR!
---
Cambridge Rock Festival (programme and podcasts)
---
CAMBRIDGE ROCK INTERVIEWS (6-14 mins)

Cambridge Rock Festival 2007

Interviews by Pete Feenstra, GRTR!
Photos by Ian Pollard/GRTR!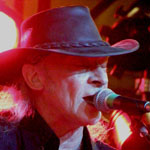 Interview 1: Stray (Del Bromham) 18.08.07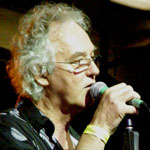 Interview 2: John O'Leary 18.08.07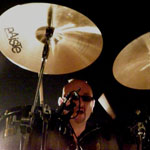 Interview 3: Thunder 19.08.07 (Harry James & Chris Childs)
Interview 4: Wishbone Ash 19.08.07 (Andy Powell)
© 2007 Pete Feenstra/GRTR! All rights reserved.
After the current interview you'll hear all interviews in sequence. If you wish to skip parts of the interview just move the slider, if you want to move to the next interview move the slider to the extreme right.
If you can't see the embedded player, you'll need Real Player. Follow the audio help link at the top of the page.
---