JUICY LUCY Do That And You'll Lose It Sore-feet JLCD002 (2006)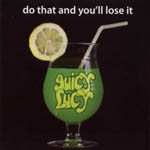 Juicy Lucy are by no means the only band from the 70's who's brand name bears little resemblance to their original line-up or their original musical genre.
Savoy Brown, Canned Heat, and of course Fleetwood Mac are prime examples, and in the case of Juicy Lucy, aside from the early days of vocalist Ray Owen who fronts the current line-up, the band have enjoyed something like four renaissances with both Owen and his successor Paul Williams fronting assorted line-ups.
While the original Juicy Lucy were ensconced in blues and made the most of Bo Diddley's 'Who Do You Love', the latest reincarnation of Juicy Lucy nails its musical intent firmly at the alter of hard rock. Guitarist Mr. Fish is obviously instrumental in this change of musical direction as his big guitar sound dominates a hard rock set that will please fan of the genre if not bemuse older Lucy fans.
Ray Owen still has a nice vocal range, and his diction comes across like an Ian Hunter/David Bowie hybrid, especially on 'Making A Name'. Ray adds rare vocal dexterity on the opening 'Silver Bird' and stars on the standout rock anthem 'Only When You Know'. Ray also contributes 7 songs on his own, including the powerful 'Freedom'.
Overall this is an album of rock solid playing with the occasional turkey, notably 'Species' which opens with some Robin Trower sounding guitar lines before lurching into some dirgy Metal. But this is a brief hiccup on a solid enough album and if the band can find a way to market their change of musical direction to a Classic Rock audience, then Juicy Lucy may enjoy more years on the boards than at one time seemed feasible.
***
Review by Pete Feenstra

Only When You Know
© 2006 Juicy Lucy. All rights reserved.