STRAY Reissues Sanctuary (2006)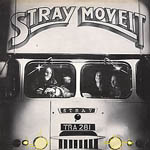 Released in 1974, Move It (Sanctuary CMQDD1468) was Stray's fifth album on Transatlantic. Usual case of, on this evidence, the band should have been huge but were apparently getting little or no label or management support (what they were doing on Transatlantic in the first place beats me).
Recorded in America, and lots of touring etc going on too, the band were hard at work. Opener 'Tap' is a drum solo, which is a rather off-putting way of starting an album. That said, the title track (a cover of a 1958 Cliff Richard song) is solid driving hard rock with nods at acoustic, boogie and American AOR anthem ('Mystic Lady' an example of the latter, polish that and you nod at Boston).
Disc 1 adds two single tracks, while disc 2 contains 10 live tracks covering 2 radio sessions. ***
A move to the Dawn label saw singer Steve Gadd move on, and guitarist / songwriter Del Bromham take on the vocals too for Stand Up And Be Counted (Sanctuary CMRDC1469).
While the opening title track is a decent rock song, the production is too big with the strings. By normal standards, a good solid if unspectacular album. For Stray, it was rather weak, and again you have to wonder if Dawn were the right choice. I think not.
Just a little too underground. **½
1976's Houdini (Sanctuary CMRCD1467) was an apt title, for they needed to escape earlier problems.
Now signed to Pye, the album immediately sounds brighter, fresher too.
Yes disco was kicking off, and alongside the odd touches of funk, there's a nod at the direction Kiss were taking too, a band Stray would tour with. But the album has crunchy guitars, punch and solos, where the previous album did not. Despite lack of label support (Stray attracted clueless non rock labels like shit does flies), it's a far superior set. ***½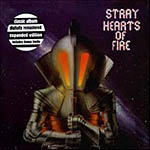 Hearts Of Fire (Sanctuary CMRCD1466), released the same year (a very hard working band), was just as good, but things working out for Stray; blame label, but also the band for management choice etc. Solid, Bromham now settled as singer and guitarist, there's several influences here but it's riff heavy and thoroughly enjoyable. ***
Sadly the band wouldn't re-emerge until the early 80s, but that's another story.
Many of these are first time on CD, and all come with bonus tracks and 2 sets of sleevenotes. A good story, part of a good rock history, and very well packaged.
Review by Joe Geesin
Album review (reissues)
---
| | |
| --- | --- |
| | Print this page in printer-friendly format |
| | Tell a friend about this page |