SACRED HEART
Sacred Heart release their 'Shake' album on July 31 and play a series of festival dates in August and September 2007. This includes the GRTR! Rising Star Stage on Sunday 19 August at the Cambridge Rock Festival.
The band appeal to a wide range of rock fan with their skillful blend of the best of classic eighties melodic rock with their own unique approach.
1. What are you currently up to? (E.g. touring/studio, etc.)
At the moment, working extremely hard preparing for the release of our new album, "Shake" and doing our best to get ready for the live dates we have coming up. It's not hard work but a lot of laborious effort needs to be put in - though fingers crossed it will be well worth the effort!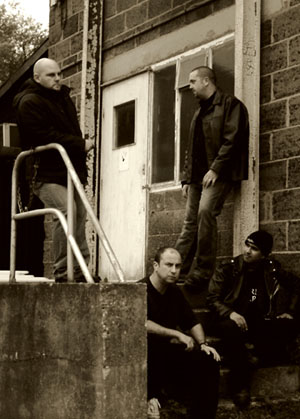 2. Could you take us through the tracks on the excellent new album 'Shake' please (eg ideas behind the songs etc)...
Certainly, but these are 100% my views/opinions - others may not agree!
"Paradise", "Tonight", "Shake", "Maybe", "Natali" & "Lift You Up" were all written after various explosive and naughty exploits in Prague - hence the "Shake" album theme. . .
"Afraid" - slow to mid-paced heavy rocker. Kind of Sabbath meets Nickelback. One of the heaviest tracks on the album but still has a sweet melody. Mark's guitar solo is superb - starts off with finger-tapping, then goes more melodic, awesome.
"Paradise" - Sleazy upbeat catchy hard rocker. Some great drumming and sin-a-long chorus - one of my faves to play live.
"Tonight" - Nickelback, Hinder territory, more modern, sweet melody & lovely chorus. It has to be said, Mark came up with one of the best guitar solo's I've ever heard. One of my favourite lines sung/written "When I saw your beautiful smile, that moment felt like a year - but was only a while. . .".
"Shake" - the title track, sleazy blues hard rocker which has a real groove to it live. Dokken meets Skynard. Fun, naughty - but true - lyrics!
"Lost" - catchy melodic upbeat rocker. Mixes classic hard rock with modern metal in our playing technique - lot's of low/down-tuned chords. Vocal melody is very sing-a-long from start to finish.
"Maybe" - the BIG ballad. I always use to describe this that it tips it's hat to Warrant's "Heaven" & "November Rain" by GnR as it has the acoustic intro and sweet vocal melody, yet builds up into distorted guitars and keys/strings. Proving very popular with those who have heard it.
"Promise" - another song proving extremely popular. Written 10years ago! I always think of Def Leppard with this one, again, catchy from start to finish.
"Natali" - something very different to what we've done before and unlike anything else on the album. It's just a guitar & piano led pop-rocker, also very catchy throughout.
"Carry On" - there's been many versions of this song, and I'm sure there will be more. Modern guitar sounds but mixed with a classic rock-esque vocal melody. Upbeat rocker.
"Perfect" - fun, tongue in cheek, bouncy and catchy. Mark's solo is a little bit Brian May, which is cool. The piano break at the end is gorgeous and will come as quite a surprise! Actually wrote it in my head while driving then had to work it all out on the guitar when I got home!
"Lift You Up" - my first venture into more modern rock. No big intro's large instrumental parts just straight in there with the vocals and a catchy melody. One of my favourite songs. Slow paced soft rock.
"1000 Tears" - the vocal melody and lyrics were written around 1996 but the music was written around 2 years ago. It's just a straight ahead in yer face hard rock song. Great solo and sweet melody for a heavy song.
3. How do you think Sacred Heart have developed musically and in song writing since the debut CD?
I think the biggest change has been letting more modern influences in. "Promise" is 10 years old and it's exactly the same, so we've not changed in a big way.
"1000 Tears" on the other hand mixes our old classic rock influences with the new, and again, the vocal melody and lyrics are even older than "Promise"!
We just now accept - and enjoy the fact - that there are more options. "Lost" is less cheesey than the original version and sounds better for it while "Afraid" and "Lift You Up" are more modern sounding.
"Natali" is completely new for us, but we love it!
4. You've got Z Rock, Cambridge Rock and the Rock of Ages festivals coming up. What sort of set list will you be playing and who are you looking forward to appearing with most and why?
Without doubt, Dokken & Thunder! Simply can't wait, will be a lot of fun and all of them a great day out.
Regards set list, the 2 from "Lay It On The Line" we'll always play are the title track and the new version of "Rock 'n' Roll away".
It will be "Shake" heavy set-lists but the longer times we're allocated will see tracks from both CD's.
5. You are releasing 'Shake' yourselves. How have you gone about marketing and promoting the album? Have you managed to get much airplay for the album yet?
Thus far we have given the CD to only 3 outlets, one to you for review, another to Fireworks Magazine and one to ARfm for airplay - of which they are kindly knocking out songs from "Shake" on a regular basis.
The promo-list is huge and we've only just started mailing out the CD's to magazine, webzines, radio stations and other promotional outlets.
What we didn't want to do was send out everything at once, see a lot of SH mentions for a couple of months and then it all go dead, so we're staggering our mail-outs. With any luck that'll mean our profile/promotion will be higher for longer.
The reviews we've had so far are incredible and considering we're unsigned and only used myspace to promote "Shake" (up until this point) we're flattered by the large amount of pre-orders!
And everyday we get emails from media outlets requesting to go on our promo list, really can't ask for much more than that. We're very upbeat and honoured by the attention.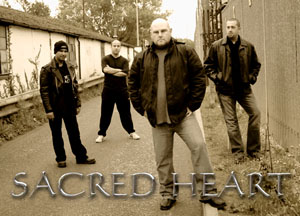 6. How do you view the current live rock scene here in the UK? Is it still tribute/covers bands stifling newer bands and have you been winning over new fans at your gigs you've performed in the past year?
I think the music scene here is utter crap, but venues need to make money - they are at the end of the day a business, they have bills & wages to pay so tribute bands are good for both them and music fans.
We've supported a number of tribute bands, as we're often guaranteed a bigger crowd than some people who were names in the past.
Though I admit, most venues are awful at promoting - it takes money to make money.
And also, music fans are a rather lethargic in their efforts to check out new music.
But we recently played with former Little Angels frontman Toby Jepson, which was an honour. Was great to see almost as many people there for us as him and we won a lot of his crowd over, awesome.
7. What have been the most memorable gigs so far - both good and bad...?
In 2004, just our 2nd & 4th gigs respectively we played in front of over 2500 people at Celtic Warriors & then supported a hero of mine ex-Europe guitarist Kee Marcello's K2.
Played a great gig at Stripes in Brentford and we enjoyed Toby Jepson.
The worst was probably a biker gig in a school sports hall where no-one stayed in for any of the bands and we simply couldn't hear ourselves because of the echo, awful!
8. If you had to sum up the Sacred Heart sound in a couple of your songs to win over a new fan what would these be and why?
"Lay It On The Line" - as we know it's won so many people over. And any of these: "Tonight", "Shake", "Maybe", "Promise", "Natali", "Lift You Up" and "1000 Tears" as they all show we can deliver the goods!
OK, so more than a couple - sorry!
9. What do you enjoy doing in your spare time?
Don't have a great deal of time for other stuff at the moment what with managing SH too. Generally though, I'm a music fan so concerts and record shopping, cinema, socialising, the usual.
10. Message for your fans?
Firstly, thank you to Jason and all at GRTR! We'll see you at Cambridge Rock.
To all our friends/fans, thank you for your patience and your continued support, we really can't thank you enough for all your effort on our behalf and your kind comments.
We'll see you on the road and we hope you come "Shake" with us July 31st!
Please visit us at sacredheartband.com & myspace.com/sacredheartshakes
Keep rockin'
---
Interview © 2007 Jason Ritchie. All rights reserved.
Artist website
---
| | |
| --- | --- |
| | Print this page in printer-friendly format |
| | Tell a friend about this page |