1. What are you currently up to?
Currently doing some gigs with Bad Influence. Also writing some songs-not for any particular project-just putting down some ideas. Preparing for the next Thunder CD release and tour-Looking forward to that. Watching a lot of football and generally chilling out! (May I mention my love for Crystal Palace FC) And answering the bloody phone! It doesn't stop ringing! Talking to a few people about future projects/albums and tours.
2. What has been the highlight(s) and lowpoint(s) of your career to date?
Highlight has to be Wembley Stadium in 1995 with Thunder supporting Bon Jovi-Mammoth day-Huge gig! Lowpoint-Difficult one really.....I tend to forget those pretty quickly!......Shitting myself on stage I suppose! That was pretty low ! (somewhere in Germany)
3. Who have been your biggest influences on your career?
Well, I've always been hugely influenced by Ian Paice, John Bonham and Keith Moon. Not forgetting my Dad of course!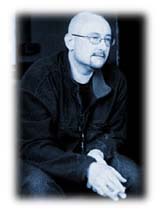 © Generic Design (http://www.harryjames.info)
4. Could you pick a few personal highlights form the new Thunder album? What are the bands plans for 2003?
It was great being in the studio with the lads again-The album sounds ace! It's called "Shooting at the Sun" and it's out March 3rd Songs are fantastic(Luke is such a clever sod!)-We had a few drunken nights as you'd expect! Danny managed to destroy the studio smoke alarm in a fit of drunken rage one night! I don't know why? But there you go! Love all the songs but my personal favourite from the new album, at the moment, is "Shake The Tree"
Plans are to tour UK in May-There's other stuff being spoken about but nothing is cast in stone! "Watch This Space"!!!!!!!!!!!!!!!!!
5. How did the Monsters of Rock tour go? What was the highlight for you? Will there be another MOR tour at all?
Monsters of Rock tour went incredibly well-One of the highlights was just walking onto that stage at Wembley (first night of the tour). Great to be back with the lads, and doing what we do! Loved it ! Incredible support from the Thunder fans. Met Mr Cooper-Nice chap-Had a nice chat. Great golfer you know ! Another MOR tour? Don't know-No plans as yet-Hope so-We'll have to wait and see???!!!
6. You are known as the showman in Thunder! How did this come about?
I think that came about spending to many nights in the pub with Luke ! I was the only member in the band to be silly enough to put some of those drunken ideas into practice. Amazing what alcohol does for you eh?!
7. You recently toured with Magnum - how did the tour go? How easy/hard was it to adjust to Magnum's style of playing? Will you be with the band in the future?
The Magnum tour was fantastic-Incredibly easy to adjust-I found it very natural to play with the lads. What was pretty unnatural were Al Barrow's feet! But you gotta love him for that!
Great songs and great musicians-Very funny too ! Made me larf ! Loudest band I've ever played with, to be honest. I like to think I fitted in pretty well-Really enjoyed it and hopefully, there'll be another album and tour later on in the year. So yes-I'll be there with the lads again.
8. Terraplane - how much pressure were the record label putting on the band to produce hit singles? Why did the band come to an end?
The pressure put upon Terraplane by the record label was immense! They initiated a change in our musical style and appearance! Just look what happened to my hair!!!!!!! The clothes...........!!!!!! Oh the memories just come flooding back !!
We had had enough of being pushed around, and wanted to play the music WE wanted to play-Hence, the birth of Thunder! We experienced the same pressures in Thunder, to a lesser degree, especially in the EMI days. And outside pressures managed to break the band up in 2000! But, thankfully, those pressures have now gone. And that's why we're back again and can just concentrate on making music, without those destructive outside influences !!!!
9. Last book that you read...
I'm not a big reader really-Just being reading a car manual though ! Interesting !
10. Message for your fans...
I loved last year-It was a busy one for me and met so many people on my travels. Made a lot of new friends and acquaintances! To all you "nutters" out there, thanks for your continued support and see you out there in 2003! Look forward to it. Cheers.