EURYTHMICS 'The Ultimate Collection, Boxed and Reissues ' SonyBMG (2005)
Re-mastered and re-released in time for Christmas, come all eight of the Eurythmics studio albums featuring bonus and previously unreleased material. Theyíre available individually or as a collectorís boxed set, cunningly entitled Boxed.
Thereís also a new Ultimate Collection CD (SonyBMG 82876737942) updating the previous Greatest Hits CD and including two brand new recordings.
To make room for the post We Too Are One releases, out go Sex Crime (1984), Would I Lie To You from Be Yourself Tonight, and Donít Ask Me Why and Angel from We Too Are One. In come I Saved the World Today and 17 Again from Peace and two new tracks Ė Was It Just Another Love Affair and Iíve Got A Life which is released as a single to herald the release of the Ultimate Collection, the re-mastered studio albums and the Boxed collectors set. Both tracks were recorded after The Eurythmics Live 8 appearance.
The Ultimate Collection opens with Iíve Got A Life and then runs chronologically until Was It Just Another Love Affair brings the curtain down.
The absence of Donít Ask Me Why and Angel strangely leave We Are Too Are One the as only hit yielding album unrepresented. But that aside, its difficult to argue with the track listing. Itís hit after glorious hit, after glorious hit and not one track is a makeweight. In fact if cdís lasted longer than eighty minutes it could have been even longer with no dimunition of content quality. Even the new tracks Ė and the sceptical could be forgiven for thinking they were are marketing ploy - are excellent and merit inclusion.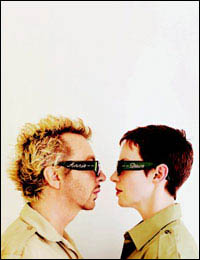 Eurythmics: 'Peace' (1999)
Dave Stewart and Annie Lennox
Photo Credit: © 1999 Anoushka Fisz
So the million dollar question is should you buy the Ultimate Collection Ė even if youíve got the 1991 Greatest Hits? Iím afraid the answer has to an unqualified yes. Itís an unparalled body of work and the re-mastering by Dave Stewart of the 6 albums from which these tracks are culled has significantly improved the clarity, depth and separation. So get it on your Christmas list now Ė no home should be without a copy. *****
If you read the individual album reviews youíll see itís an overall thumbs up for these re-releases. In truth the bonus material is pretty patchy, but the re-mastering does make it worth considering replacing cherished originals.
The Ultimate Collection is a Ďmust haveí (and itís the only way of getting the two new tracks, which incidentally are well worth having).
But if youíre a fan, Boxed (SonyBMG 82876741362) is well worth thinking about. It may cost £60, but for eight albums thatís not bad value (even if In The Garden is unlikely to see the inside of a CD player on a regular basis). ****


The remasters:
In The Garden (1981) ***
Sweet Dreams (Are Made Of This)(1983) ****
Touch (1983) ****
Be Yourself Tonight (1985) *****
Revenge (1986) ****
Savage (1988) *****
We Too Are One(1989) ****
Peace (1999) ***
Reviews by Pete Whalley