EURYTHMICS 'Be Yourself Tonight '
SonyBMG 82876561172 (1985/2005)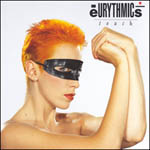 Following the controversial film soundtrack Sexcrime (Nineteen Eighty Four), Be Yourself Tonight revealed Dave and Annie's Motown and rock influences with less synth and more soul, more guitar and a number of guest appearances. And remarkably they seemed to be getting stronger with every release.
Again only 9 tracks long, the album yielded 4 hit singles – Would I Lie To You, There Must Be An Angel featuring Stevie wonder on harmonica, Sisters Are Doing It For Themselves with Aretha Franklin, and It's Alright (Baby's coming Back). I don't think I can add anything to what's already been said about these wonderful pieces of pop history.
Elsewhere, I Love You Like a Ball and Chain and Here Comes That Sinking Feeling superb rockers, the former being a particular crowd pleaser when played live. Conditioned Soul is a delicate ballad, and Adrian a synth based duet with Elvis Costello. Better To Have Lost In Love (Than Never To Have Loved At all) wraps the album up in style.
The bonus material on offer here is some of the best so far – the b-sides Grown Up Girls and Tous Les Garcons et Les Filles are both decent tracks. The 12" remix of Sisters Are Doing It For Themselves actually surpasses the album version –bringing the bass, keyboards and guitars further up in the mix adding extra funk and soul. But the 12" version of Would I Lie To You? adds little more than a 30 second extended sax run out.
You also get an excellent live version of Conditioned Soul and a marvellous interpretation of Hello I Love You.
And having the original CD version, I can also confirm that the remastering does add considerably to package. The sound is far crisper, with more depth, separation and clarity.
*****
Review by Pete Whalley