EURYTHMICS 'We Too Are One '
SonyBMG 82876561202 (1989/2005)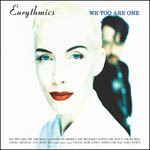 By the time of We Too Are One, things were going pear shaped for The Eurythmics. Dave and Annie were barely speaking and it was about to implode. Jimmy Iovine was brought in as producer – principally to keep them from each other's throats.
As a result, in many eyes We Too Are One is one of the weaker Eurythmics albums. Up until this point they'd always been able to pull the rabbit out of the hat when it came to hit singles, but there were no 'smash' hits from this album. And none of the five tracks released as singles feature on the new Ultimate Collection. But actually, Revival, Don't Ask Me Why, The King And Queen Of America, My My Baby's Gonna Cry and Angel have all stood the test of time rather well.
Aside from the single releases there's some excellent tracks – We Too Are One, You Hurt Me (And I Hate You) and When The Day Goes Down to name but three. And of all The Eurthmics albums it has more of a 'band' feel as opposed to being fundamentally keyboard based. Ironic really, given that they could hardly bear to be in the same room.
By way of bonus material, there are Precious and See No Evil – (the b-sides to Revival and The King And Queen Of America). Both are decent tracks, although See No Evil is a bit mono paced and it's easy enough to see why neither were considered strong enough for the album. A dance remix of The King And Queen Of America is included (but not my cup of tea) as is a 'choir version' of Angel – which somehow a bit artificial. And finally, a cover of Last Night I Dreamt Somebody Loved Me.
But despite the bonus material, this is still, for me, up there with the best of their work.
****
Review by Pete Whalley