THE EURYTHMICS 'Sweet Dream (Are Made Of This) '
SonyBMG 82876561152 (1983/2005)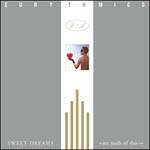 With Sweet Dreams, The Eurythmics came of age. The album includes the hit singles Love Is A Stranger and Sweet Dreams (Are Made Of This). Love Is A Stranger was released prior to the album and remarkably only reached number 54 in the charts. But the follow up Sweet Dreams (Are Made Of This) reached number 2 here (held off the top spot by Bonnie Tyler) and number 1 in the States. With that, The Eurythmics future was assured, and a re-released Love Is A Stranger climbed to number 6.
The rest of the album was light years removed from its predecessor in terms of song quality and delivery. Every track is focused and beautifully crafted pop. Iíve Got An Angel is dark, powerful and wonderful. Wrap It Up and I Could Give You (A Mirror) typical examples mid 80ís synth pop at its best.
The Walk could easily grace Ďa best ofí collection with itís gospel inspiration and laying a template for Sisters Are Doiní It For Themselves. Somebody Told Me is menacing and This City Never Sleeps wraps up the original track listing in style.
Unfortunately, the bonus material adds very little other than curiosity value. B-sides Home Is Where The Heart Is, Monkey Monkey and Babyís Gone Blue (sounds like Bjork on a bad day) sound exactly what they are Ė B Ėsides and sub-album standard. Even worse are the remixes or Sweet Dreams and Love Is A Stranger, which, if anything only detract from the originals. And to wrap it up we have a previously unreleased version of Lou Reedís Satellite Of Love. It would have been better left unreleased, adding nothing to the original. But donít let that detract from an otherwise wonderful first Ďrealí album from The Eurythmics.
***
Review by Pete Whalley