EURYTHMICS 'Savage ' SonyBMG 82876561192 (1988/2005)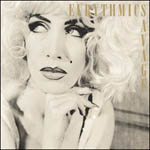 By the time Savage was released, the gaps were beginning to show. Revenge had been The Eurythmics biggest selling album and the worldwide tour to promote it had left Dave and Annie physically drained.
And so Savage became the first album where the song writing was done in seclusion – Dave recording the music and Annie adding the lyrics later – whereas up to now they had nearly always worked on the music together. It was also their most electronically ambitious album – much of it being produced on a huge Synclavier Dave had recently purchased off Buffy Sainte-Marie.
So the omens weren't good. And as the history books will show, none of the album's four singles – Beethoven (I Love To Listen To), Shame, I Need A Man and You Have Placed A Chill In My Heart - made the top 10, and only Chill managed to scrape inside the top 20. Although how I Need A Man never made number 1 is beyond me.
But coming to the album afresh after eighteen years, it actually proves to be one of their most durable and accessible. I've Got A Lover (Back In Japan) could have been a single, Savage is quite beautiful and hints at Annie's later solo work, Put The Blame On Me a wonderful piece of funk, the 'live' feeling I Need You is gob smacking, as is the gospel Brand New Day.
As on most of these reissues, the bonus material is patchy. And it's no different on Savage. The 12" remixes of Beethoven (an instrumental 'Philharmonic' version), Shame, and I Need A Man add nothing to the originals. The live version of I Need You is a nice inclusion. But the unreleased cover version – this time, The Beatles Come Together – is unmemorable.
But the album as a whole must rate as one of their best. And combined with the excellent sound quality, this re-mastered is well worth acquiring.
*****
Review by Pete Whalley