EURYTHMICS 'Revenge '
SonyBMG 82876561182 (1986/2005)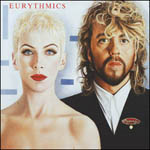 Having moved further and further away from the experimental style of In The Garden with each subsequent release, The Eurythmics returned part way to those roots with Revenge. They re-recruited Blondie's Clem Burke on drums and returned to Conny Plank's Cologne studio.
But it wasn't a regression in style, it was a further subtle evolution. And the hits continued to come – another four this time – Missionary Man, Thorn In My Side and When Tomorrow Comes and The Miracle Of Love. Again they need no introduction.
As for the rest of the album, well, it's solid, quality pop. It hit number 3 in the UK and remained in the charts for a year. Which pretty much sums it up – not a bum track to be heard and eminently listenable throughout, although the singles are the pick of the bunch.
By way of bonus tracks there are 12" versions of When Tomorrow Comes, Thorn In My Side and Missionary Man all coming in at between six and seven minutes in length. When Tomorrow Comes and Missionary Man don't add much to the originals, but Thorn In My Side is a worthy inclusion - an interesting synth version highlighting Annie's vocals.
There's an excellent live acoustic (guitar and piano) version of When Tomorrow Comes and Revenge 2 from the soundtrack of the film Rooftops. The latter is exactly what you hope for from bonus material – a little heard of gem that would have graced the original track listing. And finally there's the previously unreleased cover version (there's one on every re-release with the exception of In The Garden). This time Mary Well's My Guy gets the treatment – unfortunately it's a pretty dreadful synth version with Annie's vocals also given the synth treatment. Thankfully it only lasts 2 minutes.
But overall, a pretty damn fine package.
****
Review by Pete Whalley