EURYTHMICS 'Peace '
SonyBMG 82876561212 (1999/2005)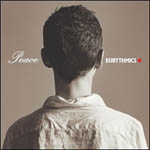 Ten years on, The Eurythmics reformed. They were older, both had children, some of life's lessons had been learned, and they had both mellowed. So had their music. But they continued to be more creative together than apart.
I've never really been that impressed by Peace. But there's no denying the years apart had not dulled Dave and Annie's ability to pull hit singles out of the bag almost at will. And Peace was no different in that regard – I Saved The World Today, 17 Again can both hold their own with any of The Eurythmics hits. And the reference to Sweet Dreams in 17 Again is a really nice touch. The public opened them back with open arms and the Peace tour – with all proceeds going to Greenpeace and Amnesty International - was quite magnificent and a huge success.
Elsewhere, Power To The Meek is an excellent Revival type effort, Peace Is Just A Word is magnificent and I Want It All shows that they could still rock out when they wanted to. But for me most of the other tracks simply don't stack up against earlier output, somehow lacking in hunger and 'edge'.
But for once the bonus material is consistently good – three excellent acoustic versions of Beautiful Child, 17 Again and I Saved The World Tonight and a decent cover of Thunderclap Newman's Something In The Air.
If you already own Peace (and a lot of people do) this probably is the cd that you're least likely to want to replace. I can't imagine the re-mastering adds that much to a recording only 6 years old, and while the bonus material is good you'd be better using your pennies to check out some of the re-released back catalogue.
***
Review by Pete Whalley