EURYTHMICS 'Touch ' SonyBMG 82876561162 (1983/2005)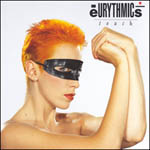 Touch was in some ways the 'difficult second album' – being rushed out to fulfil the demand following the success of Sweet Dreams. But the success of Sweat Dreams had given Annie and Dave a bigger canvas to experiment on. As a result, Touch has a wider range of influences, took a mere 3 weeks to record and produce and spawned three US top tens hits – Here Comes The Rain Again, Right By Your Side and Who's That Girl. The Eurythmics were on a roll.
But Touch was a fairly 'compact ' album featuring only 9 tracks in total. The pick of the rest of the bunch are the menacing Regrets and No Fear, No Hate, No Pain (No Broken Hearts) – a moody number with vicious vocals and almost like an extended workout of Who's That Girl.
The bonus tracks are somewhat better than those on the previous re-releases although we do have to sit through the frankly dire b-sides You Take Some Lentils… And You Take Some Rice and ABC (Freeform). We also get a 'long version' of Paint A Rumour. But what an extra 30 seconds is supposed to add to an already 7 minutes 22 synth based techno workout is a little beyond me. The icing on the cake though is a live acoustic version of Who's That Girl. Its worth the admission price alone – a delicate acoustic workout with Annie's vocals sending a shiver down the spine. Absolutely sublime. And the live version of Here Comes The Rain Again that follows is almost as good.
Closing the album we get a previously unreleased version of Bowie's Fame. Actually, its pretty damn fine, but surely they could have made it last a little longer than a mere 2 minutes 39?
****
Review by Pete Whalley