THE EURYTHMICS 'In The Garden'
SonyBMG 82876561142 (1981/2005)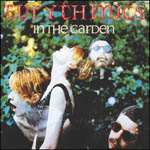 In The Garden was something of an experimental album. Formed from the embers of The Tourists, Dave and Annie headed to Germany in search of a sound of their own. But much of the album is overshadowed by the drums of Clem Burke (Blondie) whose playing and influence is instantly recognisable. And by producer Conny Plank (Devo and Kraftwerk) who adds a distinctly Teutonic feel to proceedings.
It is perhaps telling that In The Garden doesn't include a single hit, or for that matter anything that is instantly recognisable as The Eurythmics. English Summer hints at what might be with echoes of Love Is A Stranger and Take Me To Your Heart gives clues that Annie could develop into a great vocalist.
But elsewhere it's a strangely disjointed and muted affair. Annie's vocals never really soar in the way they would on future albums and the song writing doesn't really have any great depth or longevity. Although that is perhaps understandable given this was Dave and Annie's first serious writing venture.
This remastered / re-released version includes two single B-sides – Le Sinestre and Heartbeat Heartbeat – and 3 live tracks from the This Is The House 12" – Never Gonna Cry Again, 4/4 in Leather and Take Me To Your Heart. None can be claimed to be essential listening or 'must haves', although as on the studio version Take Me To Your heart does hint at Annie's potential power and range.
If you own an old version and want to replace it fine. And if you're curious to explore their formative output, fine. But the simple truth is nothing on In The Garden prepares you for the transformation that would come about with their follow up Sweet Dream (Are Made Of This) and subsequent releases.
***
Review by Pete Whalley